[disclaim]I was given a free copy of this book in exchange for an honest review. All opinions are my own. [/disclaim]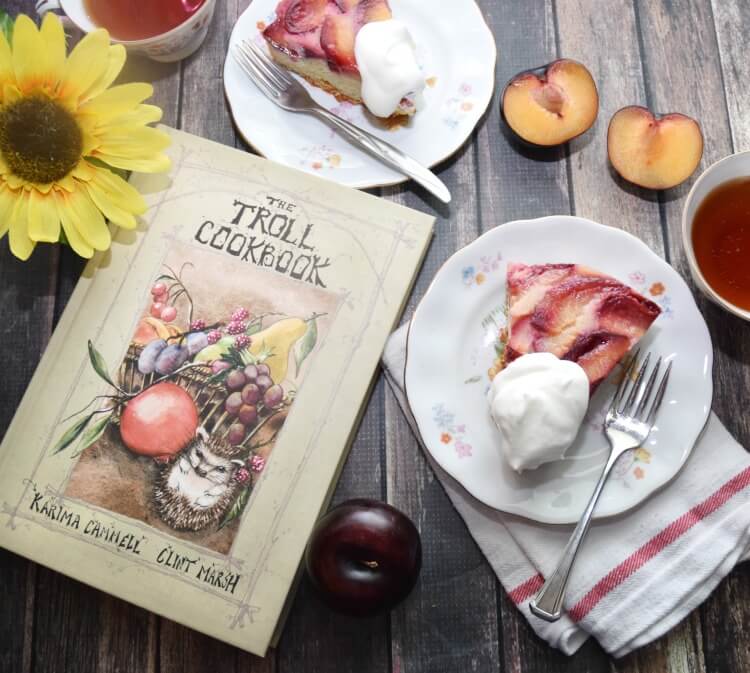 Recently, I got the wonderful opportunity to review The Troll Cookbook by Karima Cammell and Clint Marsh. It's broken down into seasons – winter, spring, summer, and fall. But, it's so much more than just a cookbook!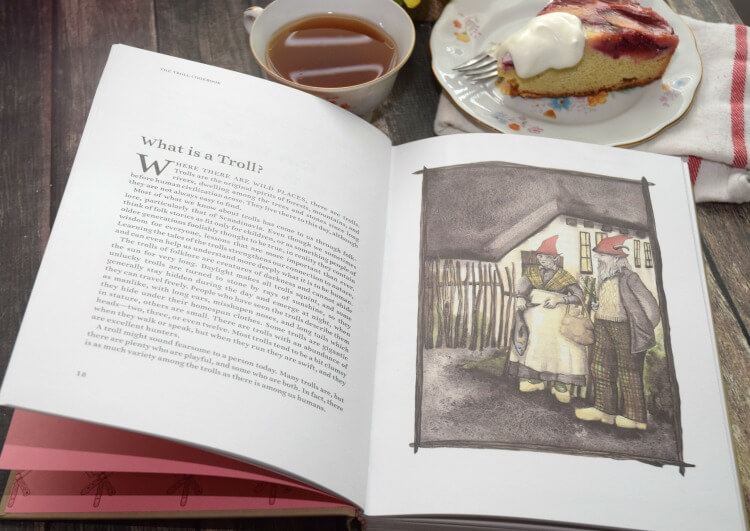 There are lovely illustrations of trolls all throughout the book. It teaches you what a troll is and all you ever wanted to know about trolls. It goes through how trolls "measure" their ingredients. It even tells you about the troll's Magic Wand — a wooden spoon and how to make one!
My favorite parts of The Troll Cookbook were the troll stories. Each season had a troll story. My 6-year-old really likes these stores. She asks me to read them at bedtime to her.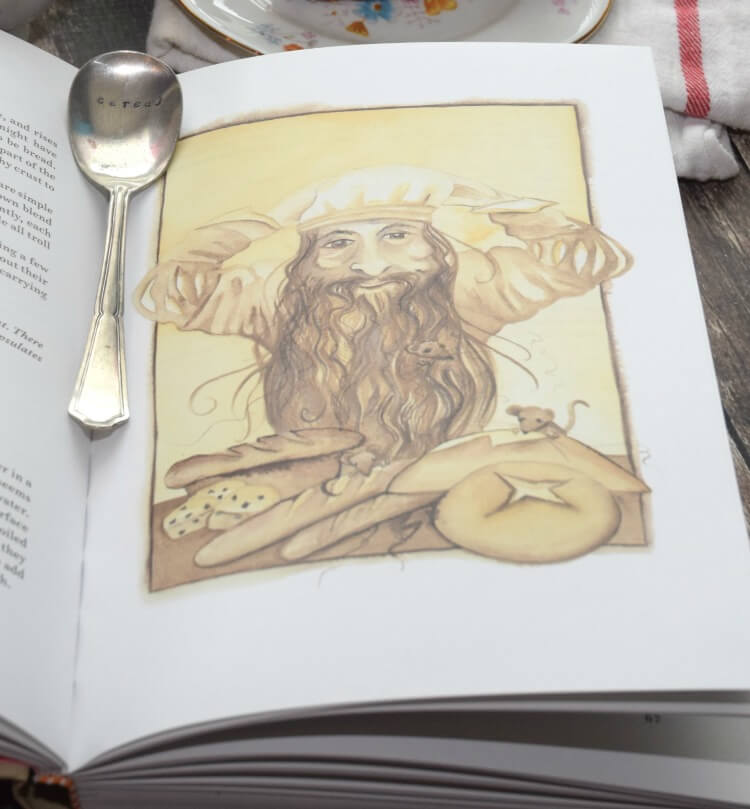 This book is chocked full of all kinds of cooking and baking. You can see how to make yogurt and bread from wild yeast. There's just so much back to basics you can learn from this from candied lemon peel to how to make your own bathtub gin! I love sitting down with a cup of tea and this book just learning new things like Dandelion Root Beer or how to make flavored salt. There's even a section on what to use from your kitchen to make your own compost. There's just so much!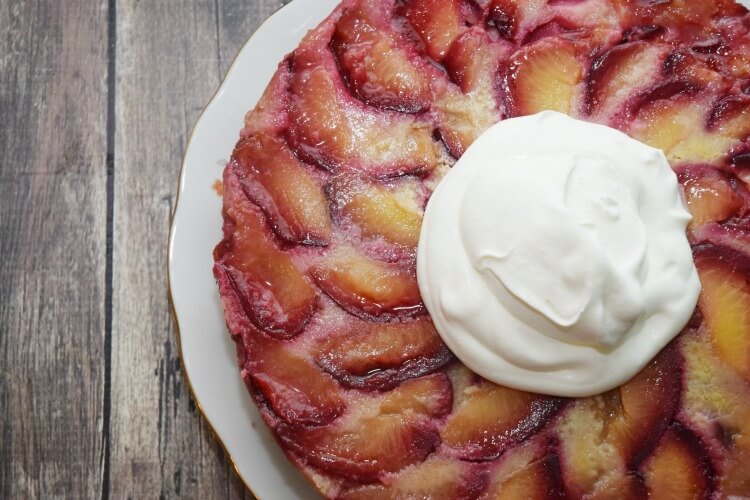 There are some lovely parts in this book for stone fruits. Stone fruits are probably my favorite things to eat. It inspired me to share my own recipe for an Upside Down Plum Cake. You don't even have to peel the plums. That beautiful purple and pink coloring comes from the skins when they are baking. I just love this cake.
Start off with six large plums, and they can be red or black, or any kind of plum. Cut them into 1/4 to 1/3 inch thick.
Once you have sliced up the plums, grease the bottom and sides of a 9-inch spring form pan and place the plums on the bottom of the pan.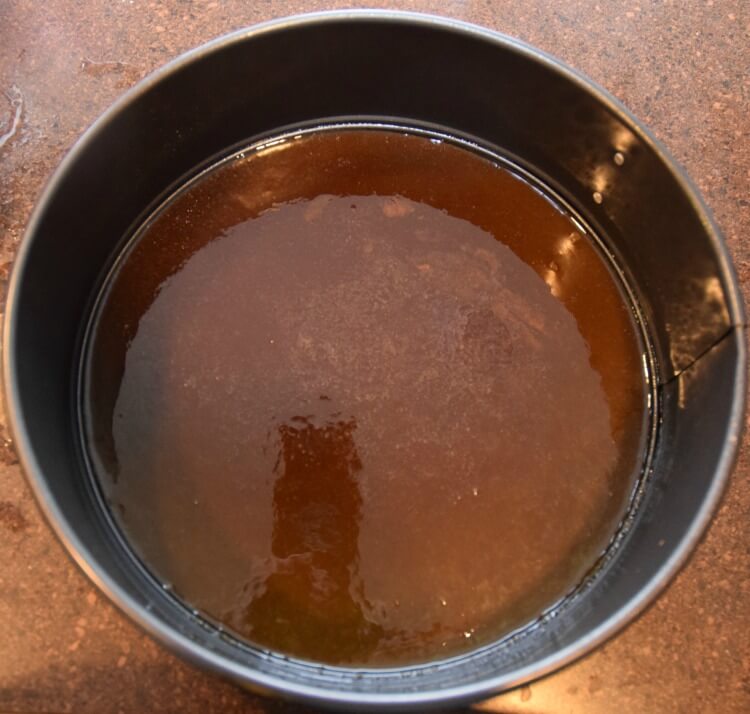 Next, we will make a caramel sauce from brown sugar, butter, and water. I like to do it in the microwave because I do not want to slave over a hot stove, but you can also stir it on medium heat until it thickens.
I combine all the ingredients and put them in a microwave safe bowl. I heat for 3 minutes and then stir. Then, I head for an additional 2 minutes and stir. If it still feels runny (like water), I heat it for an additional 1-2 minutes. If you heat it too long without stopping and stirring, it will bubble over into a hot mess. It is not fun to clean up — believe me!
Once it feels thickened (about 5 minutes of cooking or so) pour it all over the plums. Then, set aside the pan while we make the cake.
Combine eggs, sugar, vanilla, and butter and beat with an electric mixer until combined. Add in everything else BUT the whipping cream. Beat for about 30 seconds until combined. Then, beat on medium for an additional two minutes. Lastly, add 1/2 cup of whipping cream and fold it in with a spatula until combined.
Add the cake batter to the plums and gently spread it around so you don't displace your pretty plums. Bake until a toothpick comes out clean when you check. Make sure you put a foil-lined pan on the rack below to catch any caramel dripping out. I had this happen.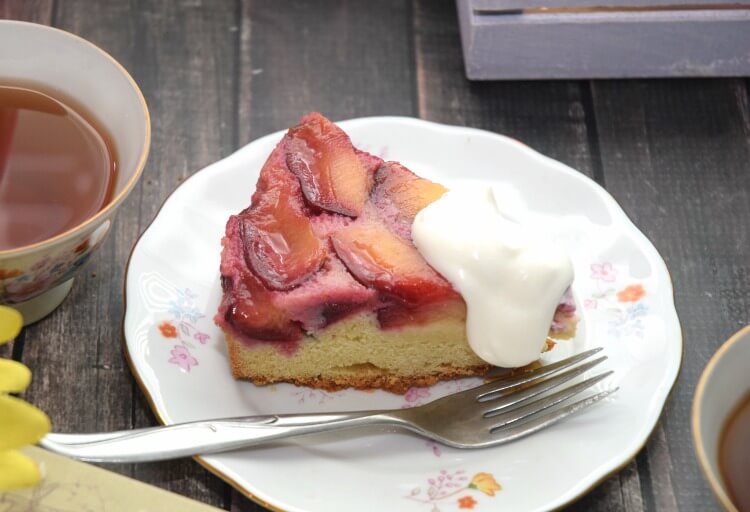 Let it cool for about 30 minutes before placing it in the fridge to cool completely for a few hours. I let mine stay overnight in the fridge because the very first time I made this cake, I did not wait long enough and my plums were not "gelled" to the cake, so they just slide off everywhere. It was not pretty. Once you're ready, unlatch the spring form pan and remove the outer part. Then, flip the cake over onto your serving plate. You might need to use a knife to gently release the bottom. I have had to do this many times.
When I serve my Upside Down Plum Cake, I like to add a big dollop of fresh whipping cream right to the middle of the cake.
Print
Upside Down Plum Cake
---
Fruit
6

plums, sliced 1/4 inch thin
Caramel Sauce
2/3 cup

brown sugar

1/4 cup

water

2

tbs butter, softened
Cake Batter
3

eggs

1 1/2

sticks of butter, softened

2/3 cup

sugar

1 tsp

vanilla extract

1 1/2 cups

flour

1/2 tsp

baking soda

1 tsp

baking powder

1/4 tsp

salt

1/2 cup

whipping cream
---
Preheat oven to 325 degrees. Grease the bottom and sides of a 9-inch spring form pan.
Slice the plums into 1/4 inch slices.
Place the plums in a nice circular pattern around the bottom of the pan.
Combine brown sugar, water, and butter in a microwave safe bowl and heat for 3 minutes and stir.
Heat for an additional 2 minutes and stir. If still runny, heat for an additional 2 minutes.
Pour the caramel sauce over the plums and set aside.
Combine butter, sugar, vanilla, and eggs in an electric mixer and beat until combined.
Add the flour, salt, baking soda, and baking powder and mix on medium for 30 seconds.
Beat for an additional 2 minutes on medium.
Gently cover the plums with the cake batter using a spatula.
Bake for 40-50 minutes, until a toothpick comes out clean.
Let cool for 30 minutes before placing in the fridge for a few hours to completely cool and to allow the plums to gel together. I put mine in the fridge overnight.
When ready to serve, gently remove the sides of the spring form pan. Flip the cake over onto the serving plate, and with a sharp knife, gently go around the edge of the bottom of the pan so it will release.
Serve with a dollop of fresh whipping cream in the middle of the cake.
Recipe Card powered by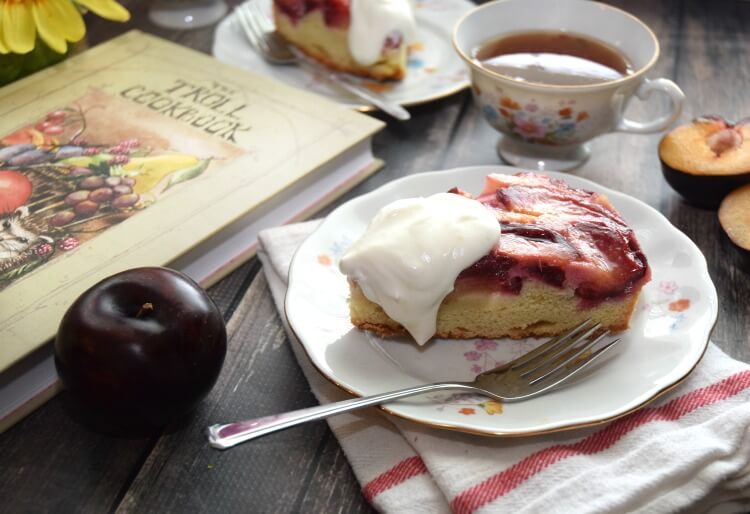 If you are a craft or DIYer who loves to cook and bake with natural ingredients, you will love The Troll Cookbook. Please visit the authors Karima Cammell on Twitter and Instagram and Clint Marsh on Twitter and Instagram.