[disclaim]This shop has been compensated by Collective Bias, Inc. and its advertiser. All opinions are mine alone. #MyKCMasterpiece #CollectiveBias[/disclaim]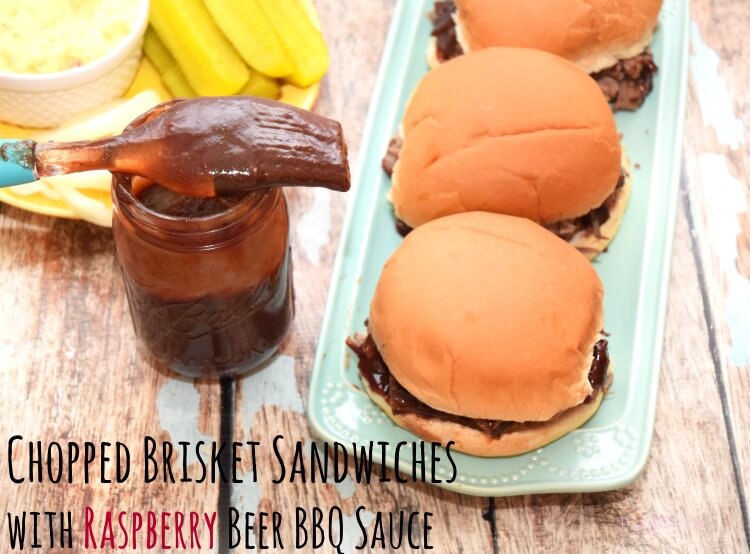 Down here in Texas barbecue is a food, not an outdoor event or occasion. My favorite type of barbecue is slow-cooked brisket. The best way to eat it is chopped on a sandwich, slathered in a sweet and tangy barbecue sauce. There is nothing better.
I love a good homemade barbecue sauce, and to make it easy there's KC Masterpiece® BBQ Sauce Mix & Dry Rub. It's brand new, and I found it at Kroger in the condiment aisle right alongside the barbecue sauces.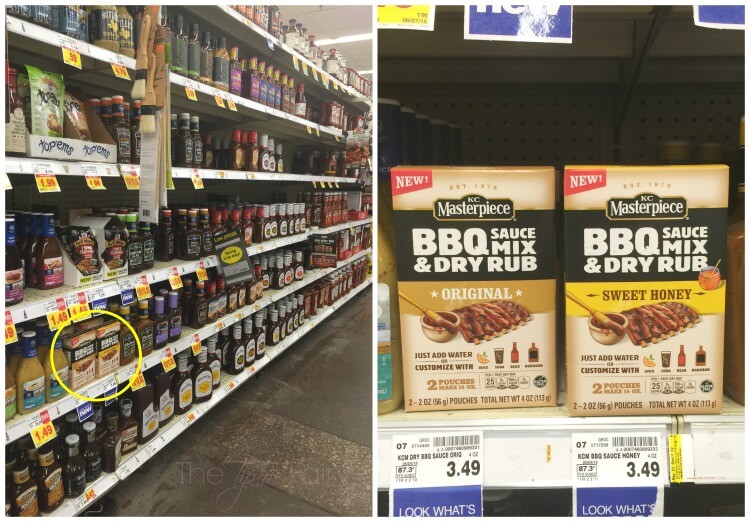 I have to say I love this stuff. There are two flavors you can get, Original and Sweet Honey. Each box comes with two 2 oz. packets. You can use one to dry rub the meat, and the other is perfect to make into a BBQ sauce. If you use both packets to make sauce, it will make 16 oz of delicious BBQ sauce.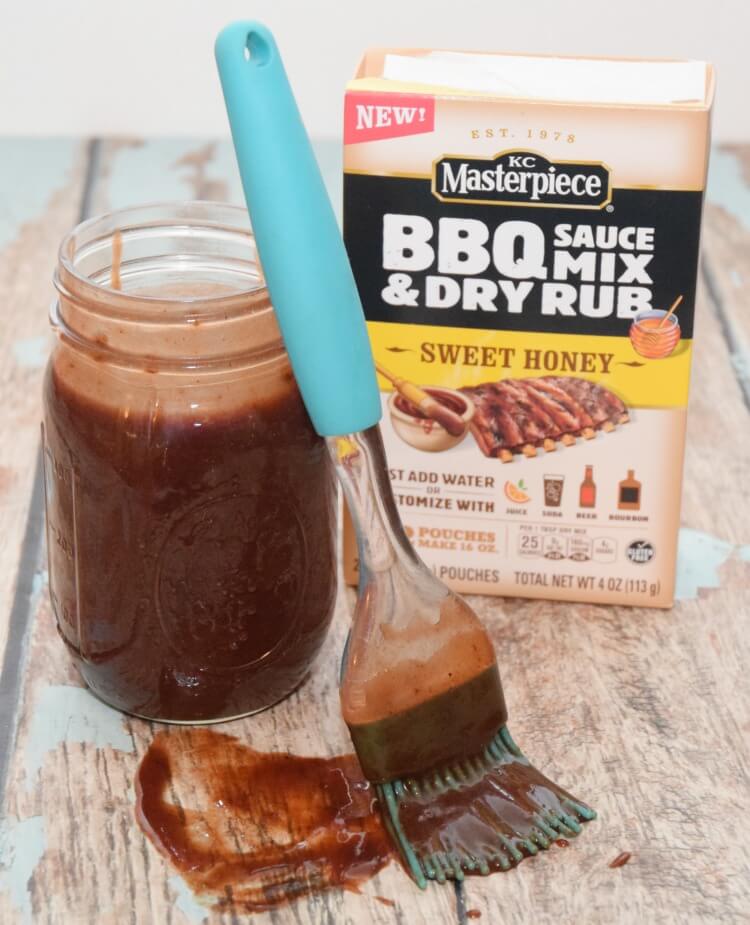 The best thing? You can make it exactly how you want it. You can just add water or….Love a little sweetness? Add some honey. Love a certain soda flavor? Add it! You can even add beer or bourbon or maybe even coffee, lemonade or pineapple juice. The choice is yours!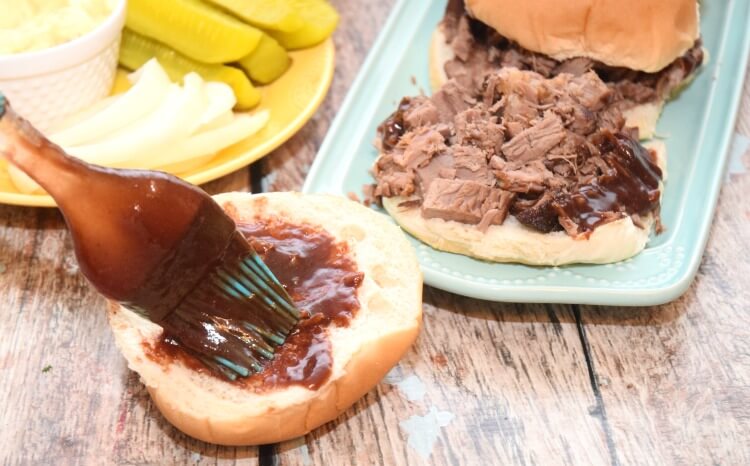 My favorite way is with a Lambic raspberry beer. It's the only beer I like to drink because it's very sweet and fruity. It makes a wonderful sauce that's perfectly sweet and tangy. With KC Masterpiece® BBQ Sauce Mix & Dry Rub it turns into the best BBQ sauce to go with my chopped brisket sandwiches. Here's how I like to make this mouthwatering meal.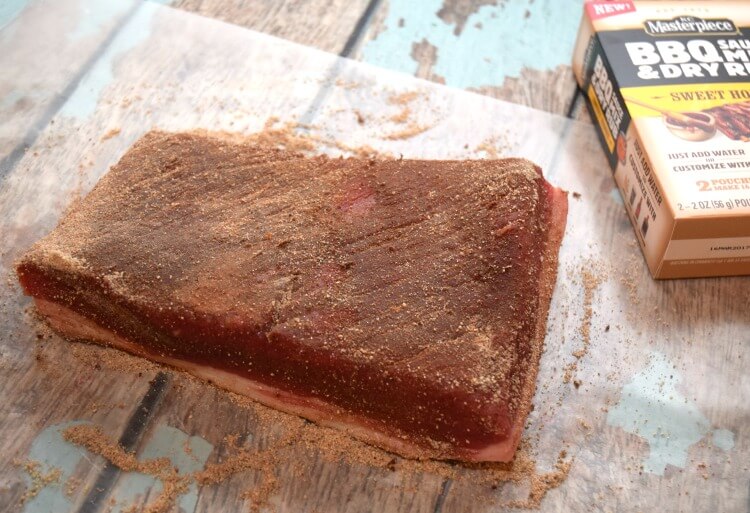 We do not have a smoker, so I usually slow cook my brisket in the oven in my roasting pan. If you don't have a smoker, I recommend buying either the point or flat cut of brisket as it's smaller and easier to fit into your roaster, and it won't take forever to slow cook.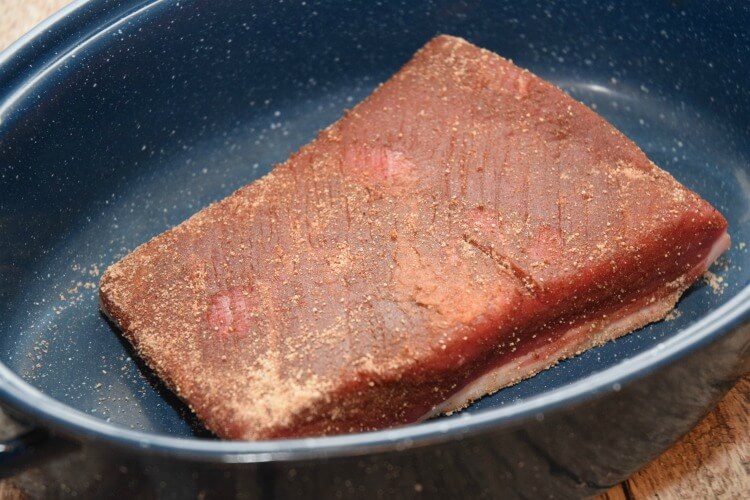 I set my oven on 300*F and let it preheat while I rub the meat down with one packet of KC Masterpiece® BBQ Sauce Mix & Dry Rub. Then, it's into the oven for about 3-5 hours, depending on how large it is. This one was on the smaller side, so it was ready in about 3 1/2 hours.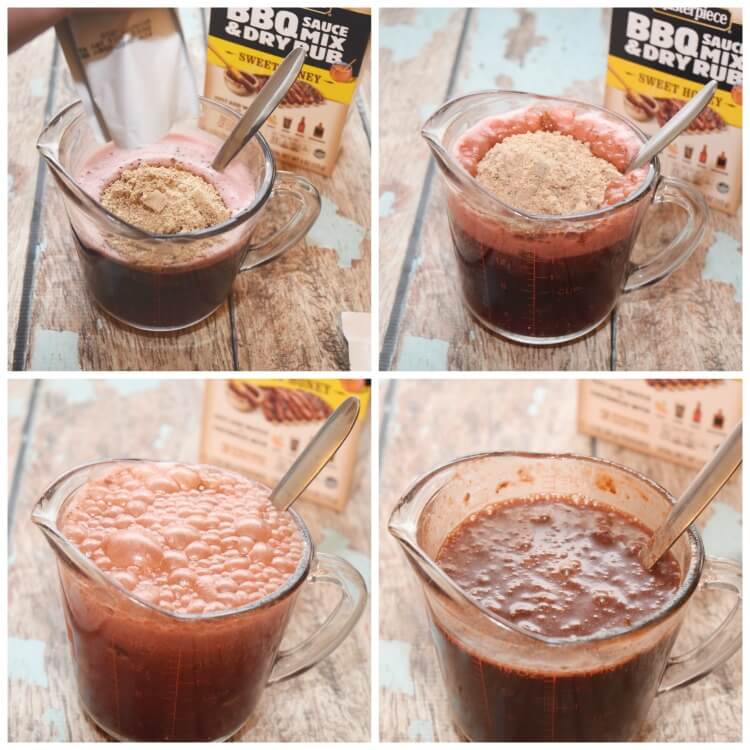 About an hour before it looks like the meat will be done I whip up the barbecue sauce. It calls for 3/4 cup of liquid to 1 packet of KC Masterpiece Dry Mix, but I added a cup of liquid just because I wanted it to go a little further with five of us. Even with a cup of liquid, it thickened up to a wonderful consistency. The flavor is amazing. It's sweet, tangy, and a little zippy from the carbonated liquid.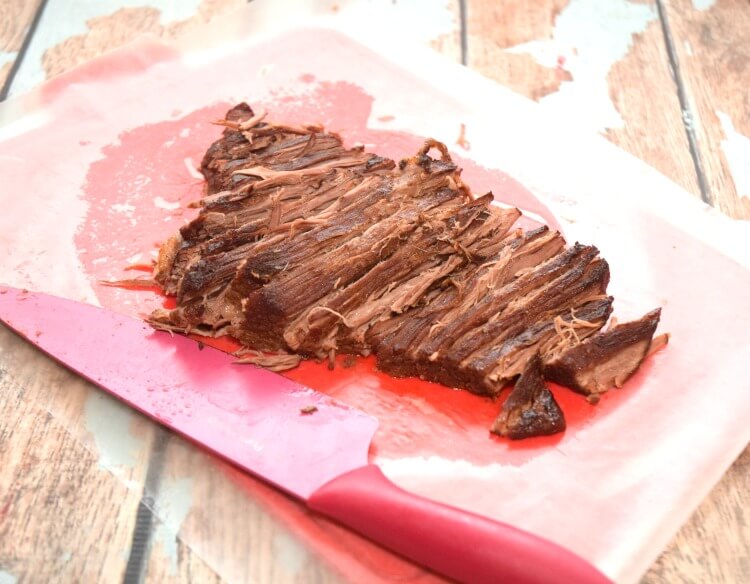 When the brisket is tender and ready to go, I let it rest for about 15 minutes before chopping it up.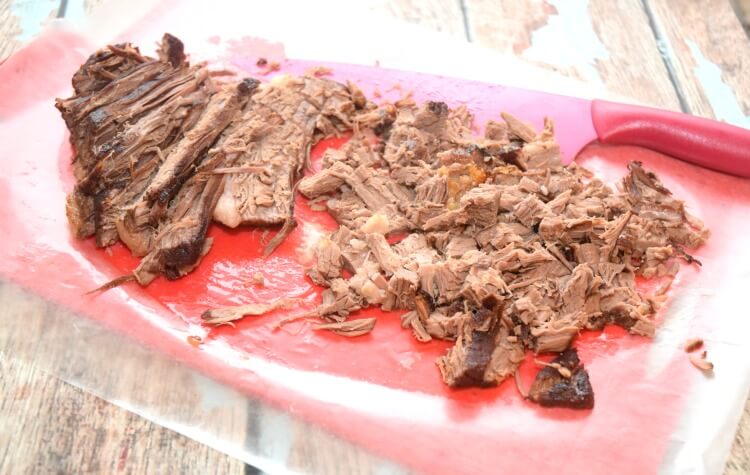 Next, it's time to make the sandwiches. We tend to love brisket, so we don't add too many fixin's to our chopped brisket sandwiches apart from the sauce, but potato salad, a few onion slices, and pickles are the perfect sides.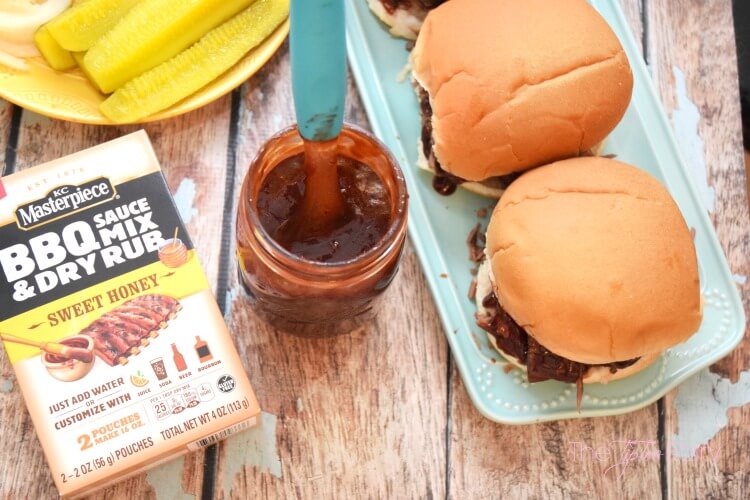 Print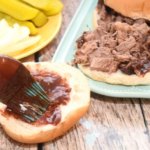 Chopped Brisket with Raspberry Beer BBQ Sauce
---
1

point or flat brisket

1

box of KC Masterpiece® BBQ Sauce Mix & Dry Rub

1 cup

of lambic raspberry beer
---
Brisket
Preheat oven to 300° F degrees.
Take 1 packet of the KC Masterpiece® BBQ Sauce Mix & Dry Rub and rub the brisket down.
Put the brisket in a roasting pan, fat side down, and slow cook for 3-5 hours.
When it's done, remove from the oven and let sit for about 15 minutes or so.
Slice off the layer of fat.
Chop the brisket and place on hamburger buns.
Top with Raspberry Beer Barbecue Sauce.
Raspberry Beer Barbecue Sauce
About an hour before the brisket is done, combine 1 cup of lambic raspberry beer and 1 package of KC Masterpiece® BBQ Sauce Mix & Dry Rub.
Mix until completely smooth.
Allow it to thicken before serving.
Recipe Card powered by
KC Masterpiece® BBQ Sauce Mix & Dry Rub is the perfect addition to your barbecue. You can use it to make a BBQ Sauce, Dry Rub, or even a marinade! There are so many possibilities. This sweet and smoky barbecue mix is great on chicken, pork, beef, and even veggies.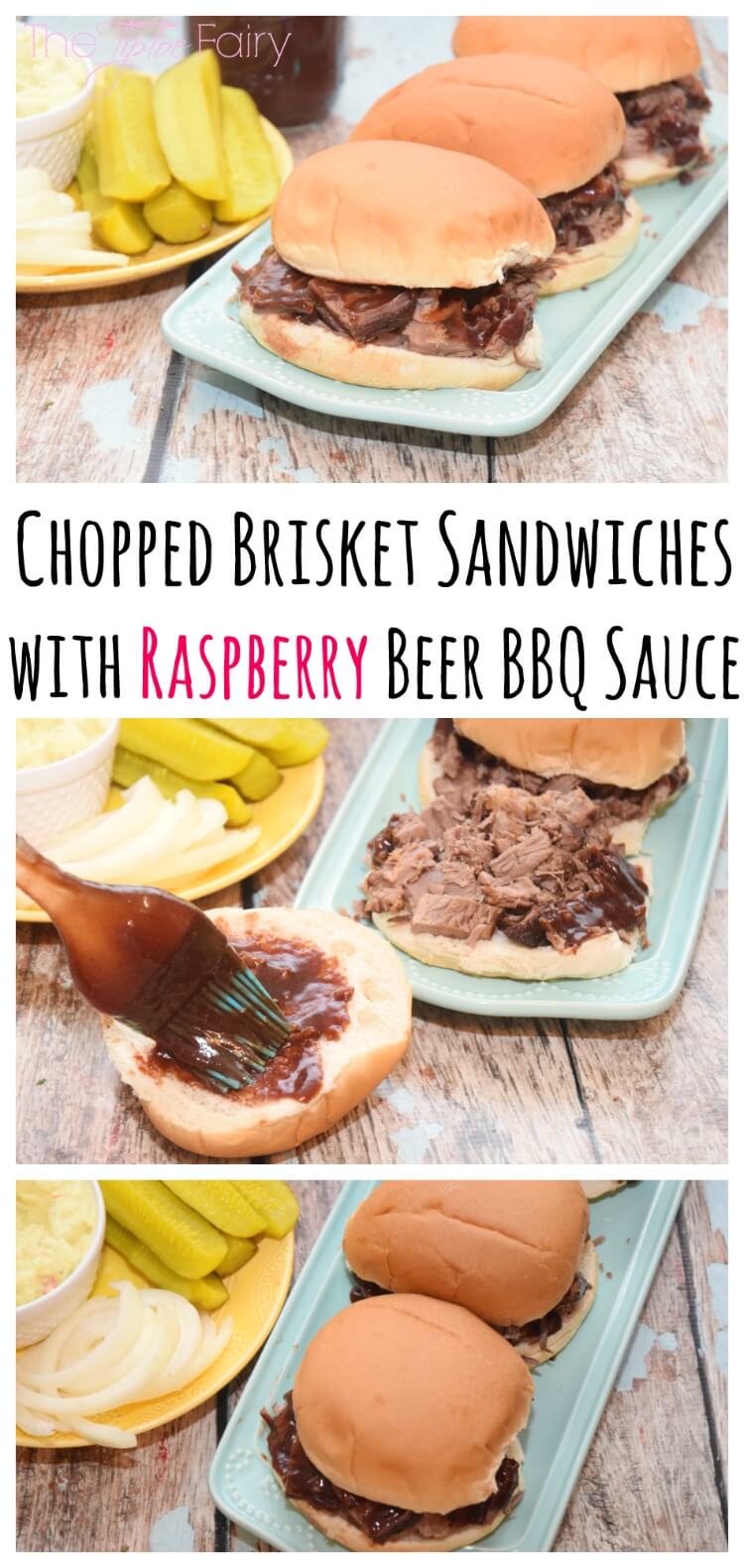 Check this store locator to find it near you! From 6/18 to 8/31 you can get $1.00 of 1 KC Masterpiece® BBQ Sauce Mix & Dry Rub. Follow this link to take advantage of this offer and many others!
What would you make with KC Masterpiece® BBQ Sauce Mix & Dry Rub?