This post contains affiliate links. A few days ago I shared how I like to make apricot pie filling and hand pies with the apricots from my tree. We had such a great crop of apricots, I was able to make pie filling, jam, and butter this year. Today I'll be sharing the Apricot Jam recipe I made a few weeks ago.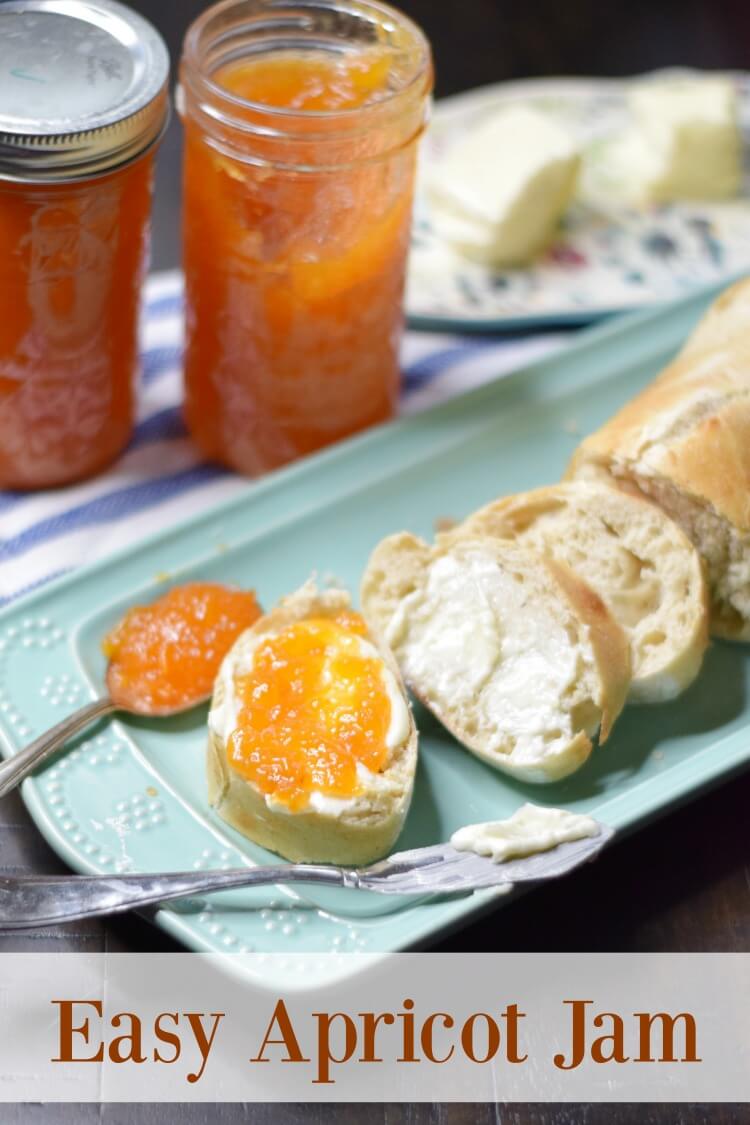 My whole family just loves it. We are already on the third jar of the batch. Thanks goodness I made plenty.
Easy Apricot Jam
I decided to go with 12 oz jam jars instead of 8 oz jam jars because I felt it was less canning to do. However, make sure you have a tall enough canner because you'll need to boil the jam-filled jars for about 10 minutes with 1 inch of water over the tops of the lids. I have a really tall dutch oven and was able to do that, but it was close. Next year, I plan to just use 8 oz jars to make it easier to can next year.
My favorite thing about making things with apricots is that you don't have to remove the skin before preparing them. It doesn't get tough like peach skin or plum skin. I hate having to boil peaches or plums to remove the skin. I'm so terrible at it.
I did do a little guesstimating on this recipe, but my results were excellent. I did not have a scale, and I remember reading that about 24 small apricots was 2 lbs, so I used 36 apricots for this recipe. I pitted them and halved them.
I transferred the apricots to my food processor and pulsed until they were pureed. I did a bunch of research on apricot jam recipes before I made this, and one thing I saw mentioned a few times was to puree but not liquefy. I'm honestly not sure what the difference is.
Then, it's time to mix ingredients and put it on the stove. This recipe boils quickly, so it doesn't take forever. When you're done canning your jam, let the jars sit on a towel until they have completely cooled off. Then, it's time to label and put them up or gift as gifts.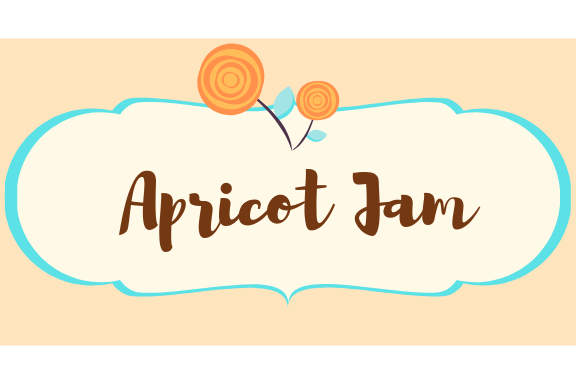 I've made some cute labels to print off. I just covered them with clear packing tape to apply to the jars. I find it's much easier to remove tape than sticky labels.

Need some ideas for all that apricot jam?
It tastes amazing heated up as a glaze spooned over cheesecake like this Peach Blueberry Cheesecake.
A freshly baked slice of sourdough bread slathered in butter and apricot jam is just the best.
Skip the syrup and top your pancakes or waffles with apricot jam for a delicious fruity treat.
It's even yummy heated up as a glaze over ham and pork.
My personal favorite way is a big puff pastry tart slathered in sweetened cream cheese and then topped with apricot jam like these Spiced Apricot Tarts.
More Apricot Recipes
Yield:

about six 12 oz jars
Super Easy Apricot Jam
It's apricot season and the perfect time to make a batch of Apricot Jam. This recipe is extremely easy, even for a newbie.
Ingredients
3 lbs apricots (36 small apricots)
1 pkg pectin (Sure Jell)
1/4 cup lemon juice
7 cups white sugar
Instructions
Pit and halve the apricots.
Transfer the apricots to a food processor and puree.
Transfer the apricot puree into a large saucepan and combine with the lemon juice.
In a large bowl add 7 cups of white sugar and set aside.
Add 1 package of pectin (Sure Jell) into your fruit and mix until combined.
Turn on the heat and bring the mixture to a rolling boil.
Add the sugar to the fruit mixture, mix, and bring it back to a rolling boil, stirring constantly.
Boil for 1-2 minutes then remove from heat.
Let the fruit sit for about 1-2 minutes then skim off the foam from the top.
Ladle the jam mixture into prepared canning jars, wipe the rims clean, cover with the lid and screw top and process for 10 minutes in a canner.
Remove from water and set on a towel to cool completely. Make sure the lids have sucked down and "popped" to seal.
Notes
Make sure you sterilize your jars and lids before canning.