I just love stone fruit, and I hate waiting for it in the produce department until summer or fall. So for now, I love using frozen or canned stone fruits like apricots and peaches for desserts like this Apricot Blueberry Puff Pastry Tart.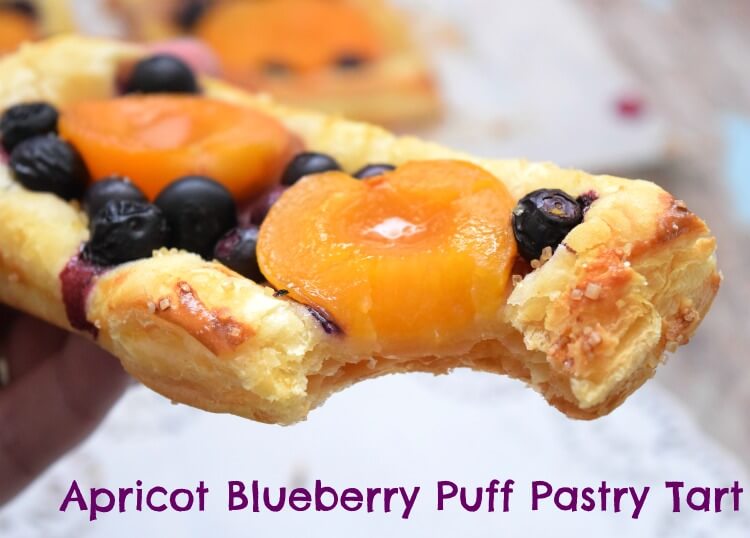 This past week I noticed our fridge was not doing so hot. The compressor was staying on all the time, and the inside of the fridge was starting to get warmer not matter what we tried. It was several years old. We'd already replaced the ice maker and the door baskets. The shelves were cracking and the new door baskets were cracking again. Plus, we bought it when we had a rent house, so it didn't match any of our appliances.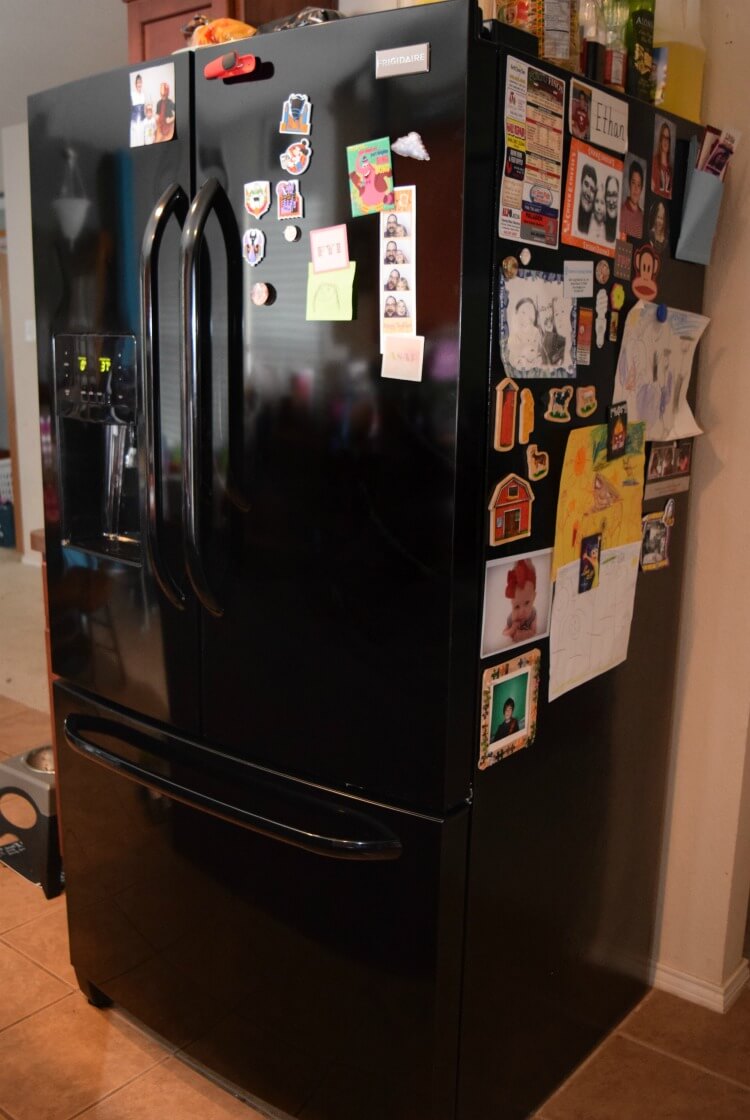 So, this weekend, we went to the store and got a new one. It's one of those french door fridges with the freezer on the bottom. My biggest complaint for our old fridge was that it was a side by side and you could not fit a frozen pizza in the freezer to save your life! I hated it. This one holds pizzas! And…we found it on clearance! It was delivered on Sunday, and I've already covered it in my children's drawings and photos as usual.
I had to clean out the fridge on Saturday night in preparation, so I did a lot of baking with things like frozen puff pastry as the freezer was still good. I threw away about 90% of everything in the fridge section because I just didn't trust the fridge temp to keep things safe for the past few days.
One of the things I made with the puff pastry was this Apricot Blueberry Pastry Tart. OMG! These things are so simple to make, and the taste is amazing!
Defrost your puff pastry like normal and cut it into rectangles. You can do squares and just use one apricot half per square, but I am an apricot-a-holic, so I made rectangles with two apricot halves per rectangle. In one sheet of puff pastry, I was able to get 5 rectangles, but you can get 9 squares easy, too.
I used canned apricots in fruit juice. I try to avoid the ones in heavy syrup. I also used fresh blueberries, which I had to get out of the fridge.
On each rectangle just place two apricot halves. Then sprinkle some fresh blueberries all around.
Next, I had to use up my eggs from the fridge, so I beat one egg and went around the edges of each tart with it.
Take about 1-2 tablespoons of raw sugar and just sprinkle it all over the tarts.
Then pop them in the oven at 400 F degrees for about 20 minutes or until the edges of the puff pastry are a golden brown.
Let them cool for a couple of minutes and then devour!
So easy and delicious and full of my favorite fruits! If you have leftovers, keep them in the fridge for a couple days.
More Tart Recipes
More Puff Pastry Recipes
Apricot Blueberry Puff Pastry Tart
Ingredients
1 sheet of puff pastry
1 can apricot halves in fruit juice
1/2 cup fresh blueberries, washed
1-2 tablespoons raw sugar
1 egg
Instructions
Preheat oven to 400 F degrees.
Cut the puff pastry into 5 rectangles (or 9 squares) and place on parchment paper on cookie sheet.
Place two apricot halves on each rectangle (or 1 apricot half on each square).
Sprinkle blueberries around the apricots.
Beat one egg and add an egg wash around the edges of the puff pastry.
Sprinkle liberally with raw sugar.
Bake for 15-20 minutes until puff pastry is golden around edges.
Allow to cool for a few minutes before serving.