Lately at our local grocery stores, the peaches aren't quite in season. But, I bought some plums, and oh my goodness, they are like perfect-o – so sweet and a little tart. I just can't get enough of the plums lately.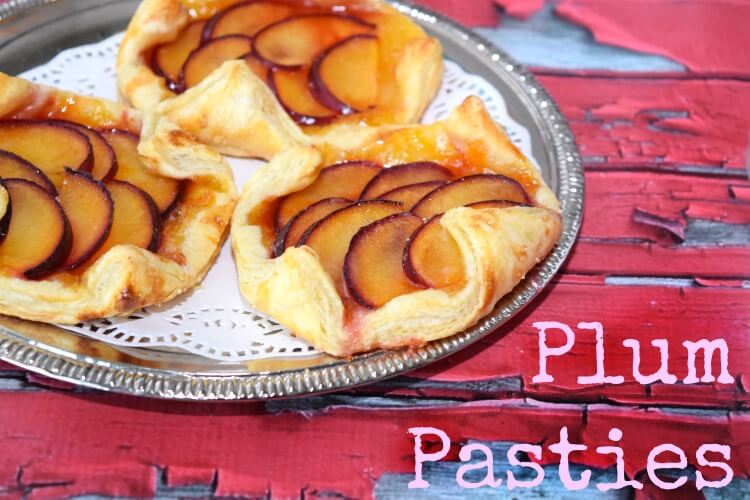 This has become one of my favorite desserts. The plums are so sweet and juicy and combined with the flaky puff pastry and the apricot preserves, it's just heavenly!
It's amazingly easy and quick to put together and bakes in just 15-20 minutes.
Start off my slicing the plums very thinly, about 1/4 inch thick.
After defrosting the puff pastry, unless you are fancy enough to make it yourself, then unfold it and cut into squares. I would love to make my own, but with a newborn, I gotta take shortcuts, lol!
Next, add about a teaspoon of apricot preserves or apricot jam. Or you can really use any kind of jam. I just LOVE apricot.
Smear the jam around each puff pastry square.
Next, just layer the thin slices of plums. I fit about 8 slices per square.
Fold the edges inward and add a little dab of egg wash to keep them down.
Sprinkle some raw sugar over the top.
Then, add egg wash to the folded puff pastry to get golden brown baking edges.
Then, it's baking time! Make sure to let your plum pasties cool completely because that jam or preserves gets HOT. I have experience with burning my mouth because I could not wait for a bite.
Ingredients
2 puff pastry sheets
4 plums
apricot fruit spread
raw sugar
1 egg
Instructions
Allow puff pastry to defrost for about an hour on the counter.
Preheat oven to 400 F degrees.
Thinly slice four plums.
Cut each puff pastry sheet into 4 squares.
Spread a tablespoon of apricot jam or fruit spread over the middle of each square.
Arrange and layer about 5-7 slices of plum on the fruit spread.
Fold the four corners inward of the puff pastry.
Beat an egg.
Brush with egg wash the corners and edges of the puff pastry.
Sprinkle liberally over each pasty with raw sugar.
Bake for 15-20 minutes or until golden brown.
Allow to cool for a few moments before serving.
Store leftovers in a ziplock bag in the fridge for up a week.
Nutrition Information:
Yield:

8
Serving Size:

1
Amount Per Serving:
Calories:

71
Total Fat:

3g
Saturated Fat:

1g
Trans Fat:

0g
Unsaturated Fat:

3g
Cholesterol:

23mg
Sodium:

28mg
Carbohydrates:

9g
Fiber:

1g
Sugar:

5g
Protein:

2g
Any nutritional information on thetiptoefairy.com should only be used as a general guideline. This information is provided as a courtesy and there is no guarantee that the information will be completely accurate.