Compensation was provided by Amwell via Momtrends. The opinions expressed herein are those of the author and are not indicative of the opinions of Amwell or Momtrends.
Many of you know that I had a beautiful baby girl three weeks ago. Due to some scary complications, she had to arrive more than a month early, so she is considered a late term preemie. All of my other children were full term pregnancies, so having a preemie is something very new to me.
I have breastfed all of my children, and I have nursed all of my children for a total of more than 12 years. One thing I was very worried about was the challenges of nursing my new baby, Ivy, with all of our complications. Due to my placenta complications, I had to have a hysterectomy at the same time as my c-section. Though, my doctor reassured me that my milk supply should be just fine, it was still a worry for me.
Unfortunately, after the birth, since I had a general anesthesia, we both had issues and ended up on ventilators longer than expected. This kept me in the ICU and baby Ivy in the NICU, and we didn't get to meet for 3 days after she was born. As soon as I was no longer sedated, getting started pumping was my main concern since we had to be apart.
I had access to a wonderful lactation consultant who helped my husband pump my breasts while I was stuck flat on my back in the ICU due to my ventilator and my femoral artery balloons. She continued to help me in the hospital and checked on me and the baby when we finally got to be together. By the last day of our hospital stay, we were nursing good with a good latch, and my milk had definitely come in.
However, once we left the hospital, we were a bit on our own. One big issue we had and are still having is slow weight gain. Truth be told, this is always an issue I have with all of my babies. They tend to lose more than 10% of their weight while in the hospital. Then, they gain weight very slowly, and it's always a battle with the pediatricians.
I really wanted to get answers from a lactation consultant who knew about slow weight gain. I was very excited to get the opportunity to get additional breastfeeding support from Amwell. Looking through all the lactation consultants, I was thrilled to find Mary who was knowledgeable about babies with slow weight gain. I easily set up an appointment that was convenient for me.
When our appointment started, I gave her all our pertinent information about the complications of our delivery and being a preemie, and more. I told her my biggest concern was the weight gain. After she asked all the important questions about our nursing relationship, then she told me about research that showed that babies born via c-sections have inflated weight due to the mother's IVs. Because of this inflated weight, they also tend to lose more weight than the standard 10%, and it usually takes them around 3 weeks after birth to get back to their birth weight.
This explained so much about every single one of my babies, including my newest little preemie baby. I've had c-sections with all four of my births, and all four had the same weigh-gaining issues. This time, with Ivy's birth, I had three IVs that started the day before she was born.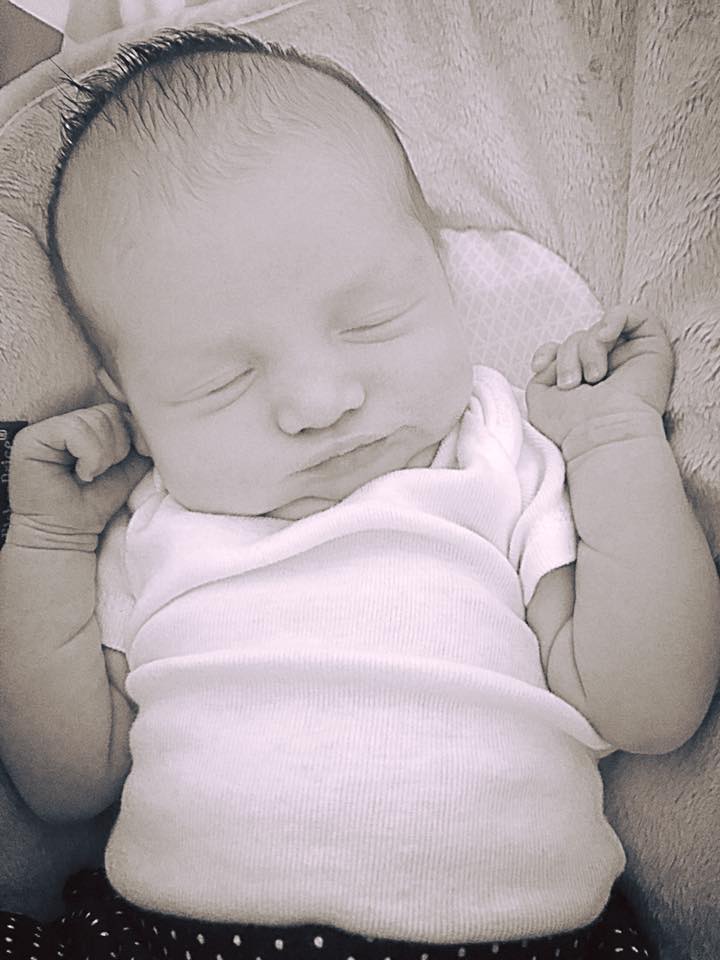 Mary was very reassuring. She felt we were on the right track with breastfeeding and based on our numbers, Ivy was gaining weight as she should. She also recommended I see if we could do a pre- and post-feeding weight on a very sensitive scale, such as at the pediatrician's office or even the hospital where she was born to see how much breast milk she was getting.
By the time we got to the pediatrician's office a couple days later, Ivy's weight was back at birth weight at her 3-week visit. She had been gaining an ounce a day since we were last at the doctor, which was great, so the doctor felt there was no need to be concerned and to just keep nursing like we have been.
If you are having breastfeeding issues, a visit with a lactation consultant can really help you be successful, and Amwell makes it so easy. You don't have to bundle up your newborn and go off to an office. You can do it right in your own home!
You can visit Amwell on your computer or even download the app on your smartphone for your video consultation.
Having access to a lactation video consult allows new moms to ask questions, address concerns, or get advice concerning breastfeeding and everything that comes along with feeding their newborn. They can provide help on so many issues from a good latch to breast pain, milk supply, and even pumping. It can really make a difference when you feel your nursing relationship with your baby is not going well.
I've got a special promo code just for my readers! You can get 50% off 2 visit with a lactation consultant at Amwell! You can use this code twice: NEWMOM12
Please note that you have to put your credit card information in to hold the appointment, then once you log back in for your appointment time you will be prompted to enter the promo code.
Your first visit, which is normally $130, will be discounted to $65, and then your second visit, which is normally $75, will be discounted to $37.50. This code expires on 12/31/2017.
Visit Amwell on Facebook, Twitter, Instagram, and Pinterest.