One of the things I love about spring and summer are the seasonal fruits. I love apricots. I love them fresh in the summer, I love dried ones, and I love to eat the canned ones, too. These Apricot Pie Pops are perfect to make with fresh apricots or canned ones.
I needed a quick dessert the other day. I had ready made pie crusts in the fridge, but I didn't have enough fresh fruit to make a regular pie. So, I decided pie pops would be quick and easy. With the canned apricots, I would need just one apricot half per pie pop, and that would be enough to make the dessert.
What do you need to make Apricot Pie Pops?
2 pie crusts
1 can of apricots
1 egg white
2 tbsp sugar
1 tsp cinnamon
lollipop/cake pop sticks
How do you make Apricot Pie Pops?
Roll out the pie crusts.
Cut circles from pie crusts. (2 circles per pie pop) Use a cookie cutter or just use a cup or glass with diameter between 3-4 inches.
Place on parchment paper on a cookie sheet. Make sure to space them out to accommodate the sticks.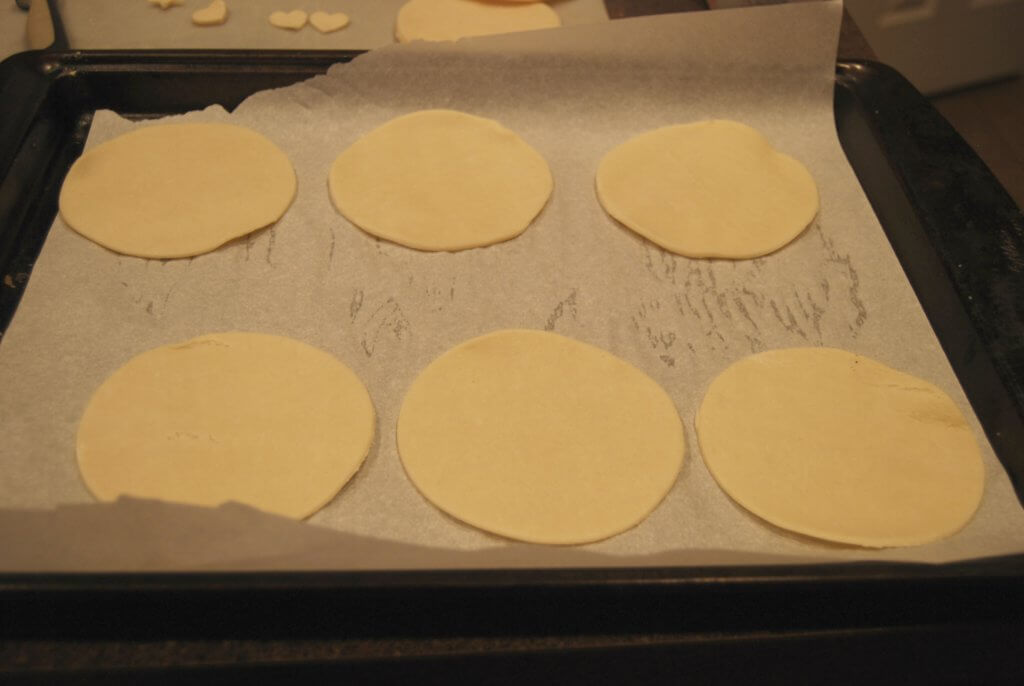 Mix together the sugar and cinnamon.
Drain the apricot halves.
Place one apricot half in the center of each pie circles.
Top each apricot halve with a sprinkling of the cinnamon/sugar mixture.
Place a lollipop stick about halfway up the pie crust, under the apricot.
Take a small piece of leftover pie crust, brush it with egg white and lay it over the stick and push it gently into the pie crust.
Top each apricot with the second pie crust. Press the edges together with a fork or fingers, or however is easiest.
Brush each pie crust with egg white.
Optional: With the leftover pie crust, cut little hearts or stars, etc. Brush each one with egg white before setting it in the middle of a pie crust.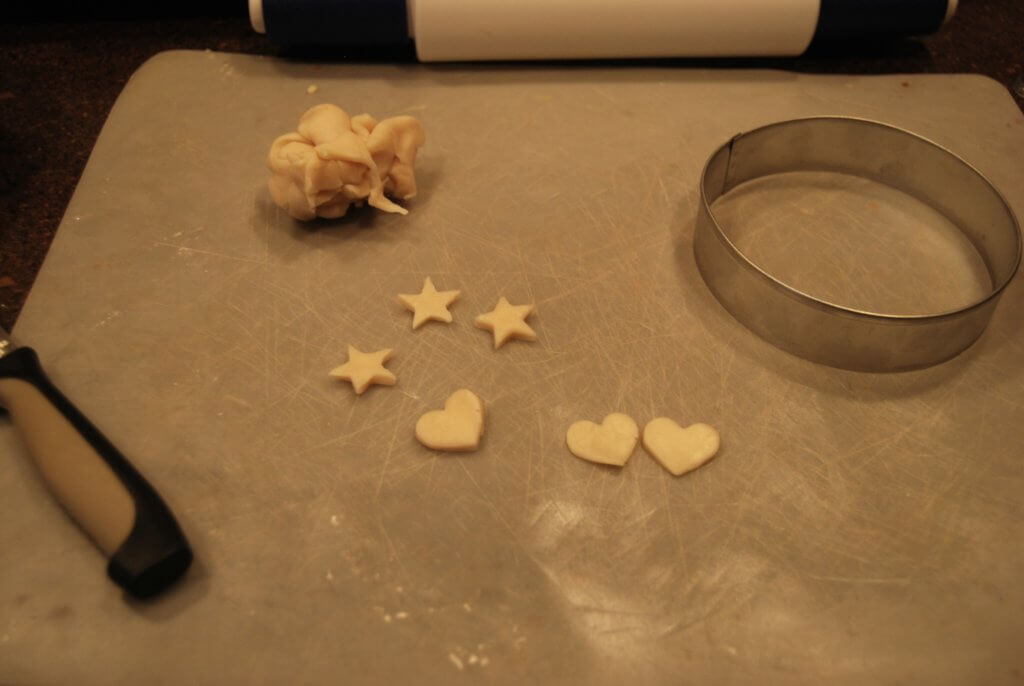 Then brush the top of it with egg white.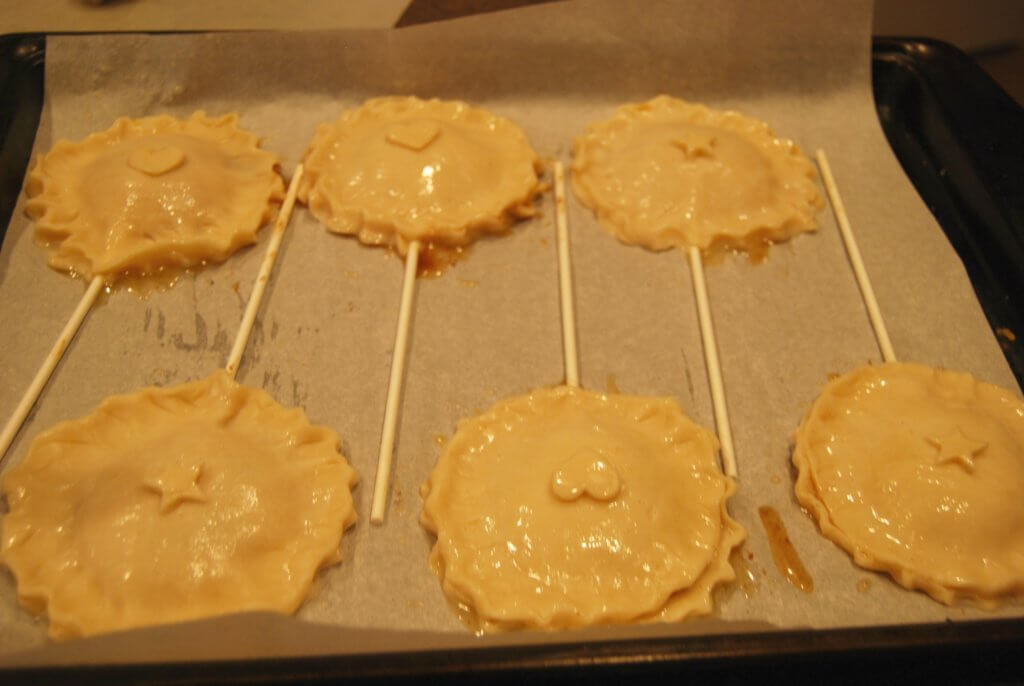 Bake for 25-30 minutes. Juices may bubble out the seams.
Allow to cool completely before picking up. (They can be placed in the fridge to do this quickly.)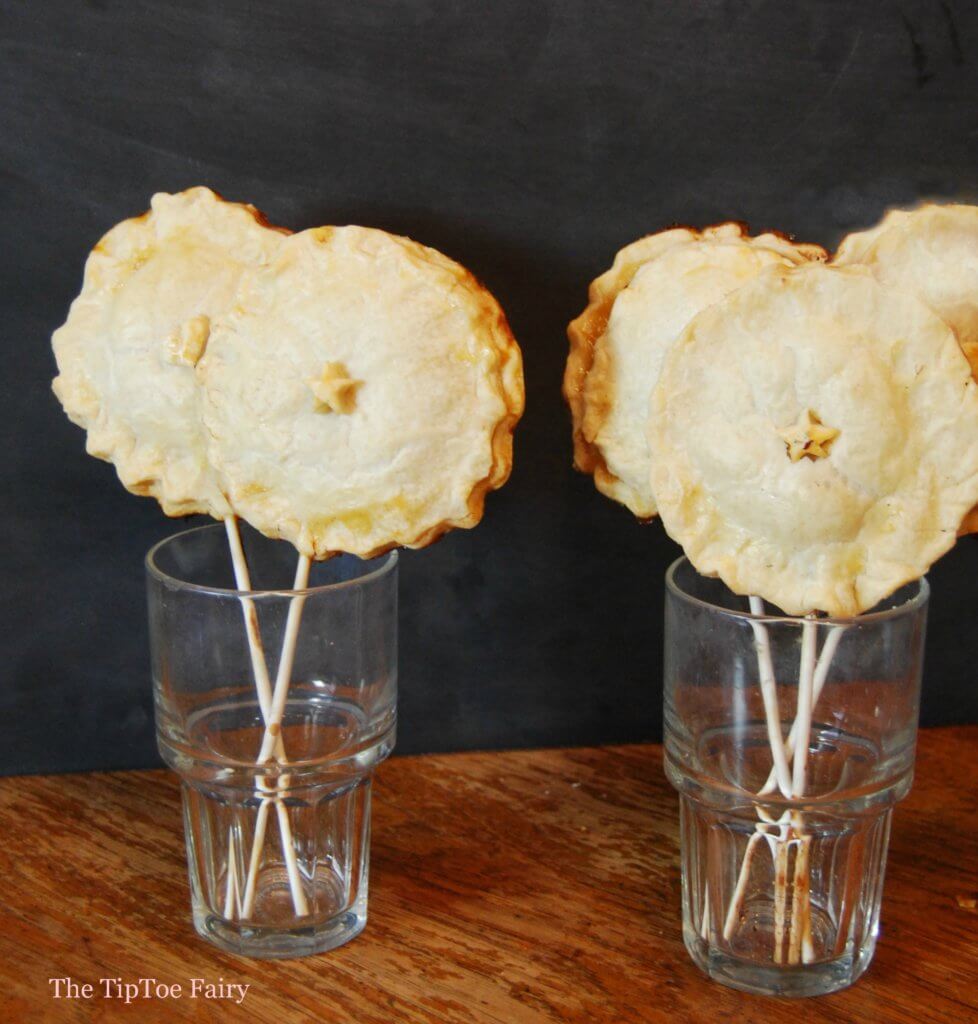 More Pie Recipes
More Apricot Recipes
Ingredients
2 pie crusts
1 can of apricots in lite syrup
1 egg white
2 tbsp sugar
1 tsp cinnamon
lollipop/cake pop sticks
Instructions
Preheat oven to 350.
Roll out the pie crusts.
Cut circles from pie crusts. (2 circles per pie pop) Use a cookie cutter or glass with diameter between 3-4 inches. Place on parchment paper on a cookie sheet. Make sure to space them out to accommodate the sticks.
Mix together the sugar and cinnamon.
Drain the apricot halves.
Place 1 apricot halve in the center of each pie circles.
Top each apricot halve with a sprinkling of the cinnamon/sugar mixture.
Place a lollipop stick about halfway up the pie crust, under the apricot.
Take a small piece of leftover pie crust, brush it with egg white and lay it over the stick and push it gently into the pie crust.
Top each apricot with the second pie crust. Press the edges together with a fork or fingers, or however is easiest.
Brush each pie crust with egg white.
Optional: With the leftover pie crust, cut little hearts or stars, etc. Brush each one with egg white before setting it in the middle of a pie crust. Then brush the top of it with egg white.
Bake for 25-30 minutes. Juices may bubble out the seams.
Allow to cool completely before picking up. (They can be placed in the fridge to do this quickly.)