This Gingerbread Poke Cake is simple to make by starting with a base from a Spice Cake box mix. It's a delicious treat that totally puts you in the mood for the holidays. This post contains affiliate links.
Instead of pudding, we'll fill the poked holes with sweetened condense milk a bit like a tres leches cake.
What do you need to make this Gingerbread Poke Cake?
This cake is best made in an 8 x 8 inch pan or 7 x 11 inch pan. To make the poked holes, you'll need either a straw or the end of a wooden spoon.
The base of this gingerbread poke cake is a Spice Cake box mix. You'll need the basics for making the cake like eggs and oil. But, we'll also be adding molasses and buttermilk and spices like ginger and cinnamon.
We'll also add sweetened condensed milk and then top it with Cool Whip and crushed gingerbread cookies.
How do you make a Gingerbread Poke Cake?
You will need to start making this cake a day before it's going to be served due to the need to chill it.
What I love about this one is that you can just dump all the cake ingredients together and mix it up. Then, it's time to bake.
Once it's done baking, let it cool completely. You can do this a little faster by popping it in the fridge.
Then it's time to put the "poke" in this gingerbread poke cake. I like to use the end of a wooden spoon, but you can also use a straw and poke holes throughout the cake.
Now you'll pour a can of sweetened condensed milk all over the cake into the poked holes. I find it's easier to spoon it into the holes. Then, if there's any left, I gently slather it on top of the cake and holes.
If you baking pan has a lid, use it and put the cake in the fridge over night or for at least 4 hours. If you don't have a lid, I like to use plastic wrap or foil to cover it.
Make sure you defrost the Cool Whip in the fridge at the same time, so it's ready to spread when the cake is ready.
While the cake is chilling, make sure to crush the gingerbread cookies. I do this in the blender or food processor or often, I do it in a mini food processor. You'll need to crush just a handful of cookies.
When the cake is sufficiently chilled, take about half the Cool Whip and frost the top of the cake.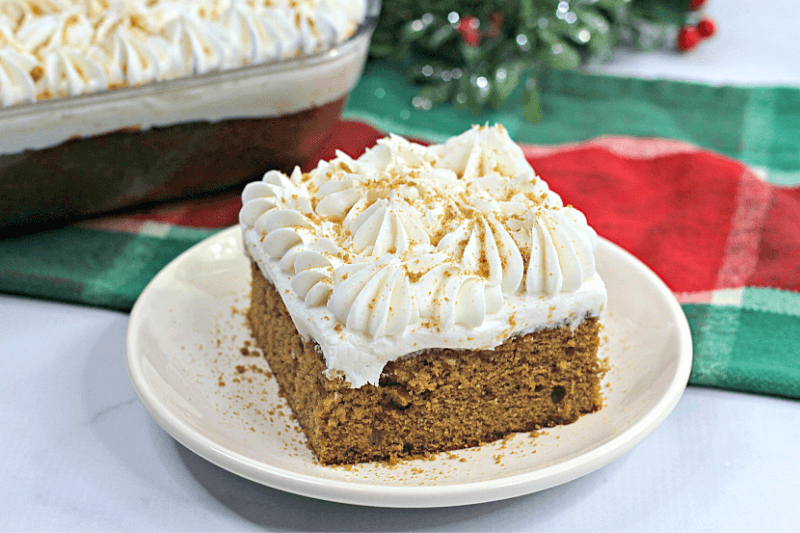 Now, we're going to make it fancy! Take the rest of the Cool Whip and put it in a pastry bag with a star tip. Add dollops all around the cake. It's very easy to do.
Then, chill the cake until it's time to serve.
More Holiday Desserts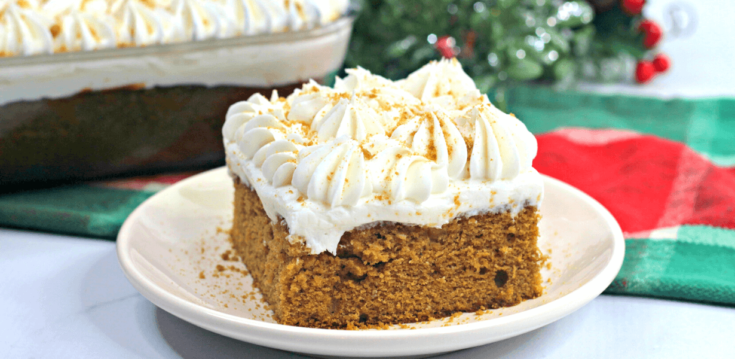 Yield:

12 servings
Gingerbread Poke Cake
Total Time:
6 hours
40 minutes
Ingredients
Cake Ingredients:
1 box spice cake mix (15.25 oz)
1 tsp ground ginger
1 tsp ground cinnamon
1/2 C buttermilk
1/2 C molasses
1/3 C vegetable oil
4 eggs (large)
1 can sweetened condensed milk
Topping Ingredients:
1 tub Cool Whip (8 oz) (Chilled in refrigerator)
1 box Gingerbread cookies (15+ cookies crushed)
Instructions
Preheat oven to 350 degrees.
Prep cake pan with cooking spray. Set aside.
Add the dry cake mix, spices, buttermilk, molasses, eggs, and oil to a large mixing bowl. Mix until well combined.
Transfer batter into the prepared cake pan.
Bake at 350 degrees for 30-32 minutes, until an inserted toothpick comes out clean.
Remove from oven. Set aside cake until it has cooled completely.
Once the cake has cooled completely poke holes in the cake with a wooden spoon handle or straw.
Pour the sweetened condensed milk over the top of the cake. Make sure you cover all of the holes on the cake with sweetened condensed milk.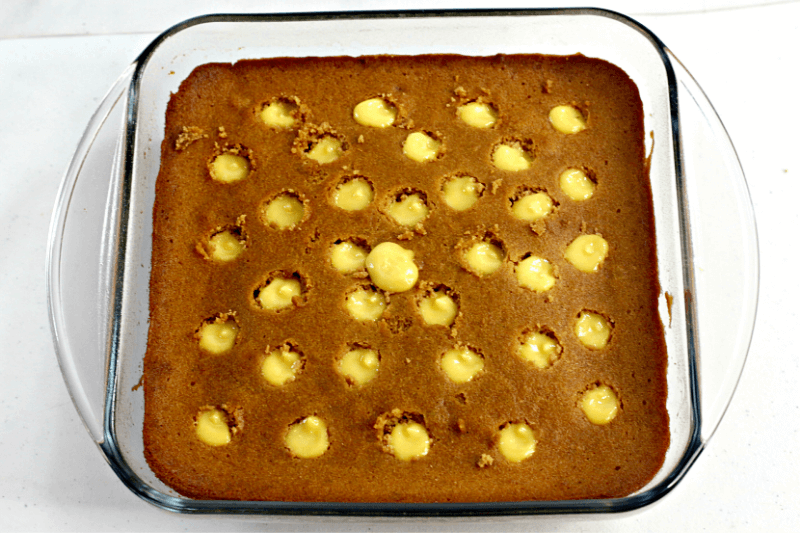 Cover the cake with plastic wrap or foil. Then, transfer the cake to the refrigerator to chill at least 4 hours or overnight.
Crush the gingerbread cookies with a food processor or blender.
When it's chilled, cover the cake with half the tub of Cool Whip using a spatula to smooth it evenly.
Put a star tip in the pipping bag and scoop the rest of the Cool Whip in the pipping bag. Cover the entire cake with star shaped dollops.
Sprinkle the cake with the crushed gingerbread cookies.
Return the cake to the refrigerator to chill for an additional 2 hours.
Nutrition Information:
Yield:

12
Serving Size:

1
Amount Per Serving:
Calories:

309
Total Fat:

10g
Saturated Fat:

2g
Trans Fat:

0g
Unsaturated Fat:

7g
Cholesterol:

65mg
Sodium:

379mg
Carbohydrates:

51g
Fiber:

1g
Sugar:

33g
Protein:

4g
Any nutritional information on thetiptoefairy.com should only be used as a general guideline. This information is provided as a courtesy and there is no guarantee that the information will be completely accurate.