With Christmas being a little different and a lot smaller gatherings this year, there is one thing that will put a smile on my kids' face — a Christmas Sweets Charcuterie Board.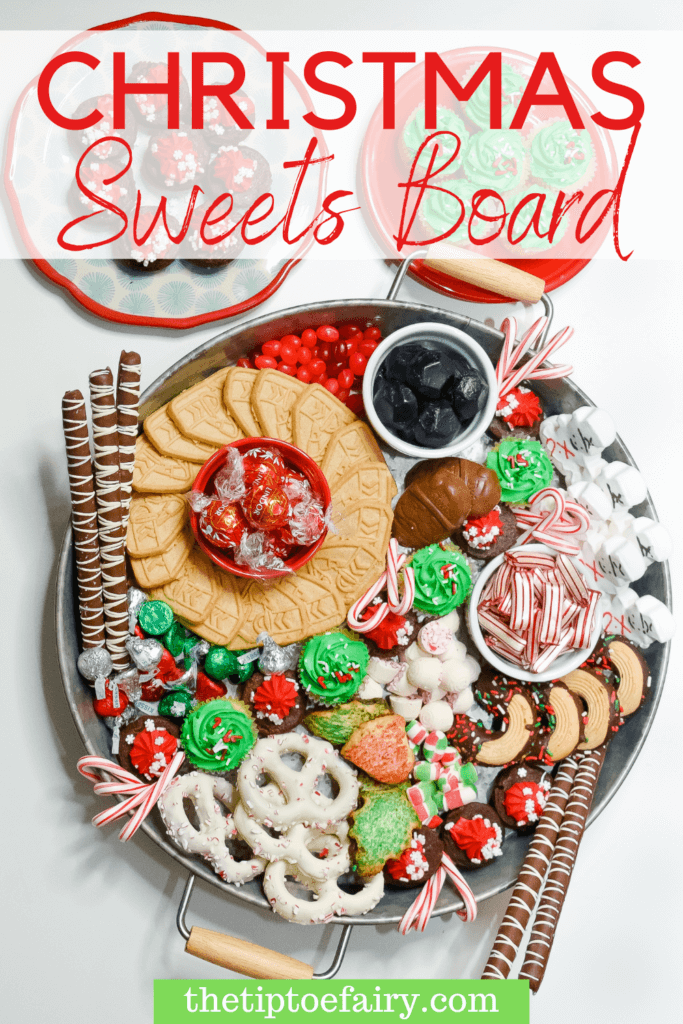 This is the perfect way to cheer up family when you're stuck at home for the holidays. This post contains affiliate links.
No matter what holiday, whether it's Valentines, Shark Week, Christmas or whenever, when my kids see me making a charcuterie board, they get excited.
What's a sweets charcuterie board?
It's a charcuterie board (or even a tray) full of candy, cookies, and treats to go along with the holiday or season. I've made quite a few of these for parties. Christmas is such an easy one to put together.
Back before the quarantine, last year I threw a Valentine's Day party for my kids and my brother's kids, and they could not wait to dig into and neither could my 40-something brother.
What kind of Charcuterie Board to use?
You do not need to go out and buy yourself a fancy charcuterie tray. A charcuterie "board" can be just about anything. You can use what you already have such as a wooden cutting board, a lazy susan, a silicone cutting mat, or maybe just lay down some wax paper and use the table or a granite island or anything.
I have this galvanized tray that I thought would work perfect, so that's what we used. And it worked out great! Here's a few more ideas:
How to put together a Christmas Sweets Charcuterie Board
You'll need things like different candies, cookies, and sweets like cupcakes or donuts, etc. There is absolutely no wrong way to make this. We started with big things and then put piles of candy around them to fill it all up. Your goal is to just cover the entire surface of the board or tray you're using.
Since this was Christmas themed, I chose red, green, and chocolate foods. Here are the treats we used:
Brownie Bites
Christmas Cupcakes
I check the board occasionally and fill it up as needed. Sometimes, I fill it back up with a few different things that didn't fit the first time around. That's a nice way to give some extra variety.
If you are having a few people over, I often give everyone a sandwich-size zipper baggie and let them fill it up with what they wanted to take home from the tray. This is an easy take-home party favor.
More Christmas Ideas
We have a TON of ideas to make Christmastime special. Click HERE to see it all! Here's a few kid friendly ideas they will love: