I definitely have a few indulgences I like to keep all for myself — cheesecake, a few certain television shows, a really good book, and a few more. Over the years my husband and I have picked up a few things from each other. There are even a few of my indulgences that my husband has "stolen." 😉
#1 Bare Feet
He used think I was crazy for being barefoot all the time. I just hate wearing shoes. The kids are the same way. If I can be barefoot, I will. When we first moved in together, he would put his shoes on in the morning and keep them on all day. I couldn't imagine how that felt. I like my feet to breathe. But, then…it took him just a short while before he was just as barefooted as the rest of us. Now he never wears shoes either.
#2 Streaming Television
We cut the cable cord many years ago, so we watch shows on streaming channels. There are certain shows that are definitely my own personal indulgences. I wait until the kids are in bed, and then relax and watch a show. There are some we have agreed to watch together. HOWEVER, I have found him on more than one occasion watching them ahead without me! What the?
This past week, we were on vacation and in a hotel room. I look over, and he's all snuggled up in the bed, has in earbuds, and what is he watching on his phone? The latest popular streaming series that we had been watching together.
#3 Kisses
This is one of those indulgences that I don't mind if he steals. Even after almost seven years of marriage, he still likes to steal kisses from me just about wherever we are. I just love that about him.
#4 Skinny Cow Chocolately Dipped Ice Cream Sandwiches
I buy the kids their own frozen treats, but the Skinny Cow ones are mine! I just picked up these Vanilla Bean Dream flavor with vanilla ice cream sandwiched between two chocolate wafers and dipped in a rich, chocolatey coating. These are my newest indulgence. They are so good! You can find them in three delicious flavors:
Vanilla Bean Dream
Ultimate Chocolate
Creamy Caramel
I've been noticing the boxes get empty fast, and then I caught him! He's been stealing my Skinny Cow!
Even though women buy Skinny Cow for themselves, we've figured out that the men in our lives are eating them, too! Skinny Cow isn't just for women, it's for everyone! Check out what else men are stealing from the women in their lives:
Just because the man in your life likes to sneak your Skinny Cow and leaves you with a "mysteriously" empty Skinny Cow boxes in your freezer, there's an easy solution! Let him share in your indulgence, too!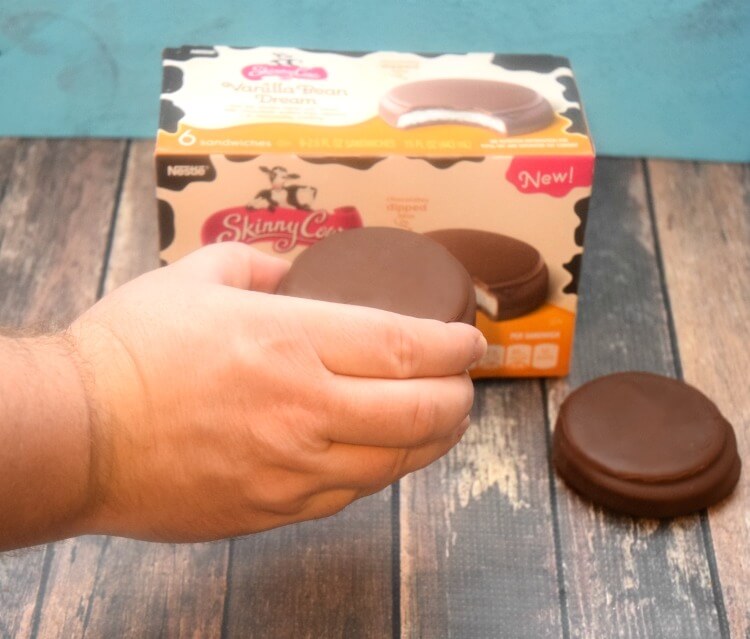 Lately, we've been sharing the Skinny Cow Vanilla Bean Dream sandwiches while watching some of my favorite shows together again.
Buy your favorite flavor and share with your husband! Click HERE to find a store near you with Skinny Cow!