[disclaim]This shop has been compensated by Collective Bias, Inc. and its advertiser. All opinions are mine alone. #ScrubbingPower #CollectiveBias[/disclaim]
Do you ever avoid something in the kitchen because it's such a pain to clean? That would be my springform pans. It is a HUGE hassle to clean — especially if I let it sit a few hours. It used to take some serious elbow grease to get it clean without scratching it. But, I found the secret to easily cleaning your springform pans! Now I can make all my favorite cheesecakes and upside down cakes like my favorite Brown Butter Peach Upside Down Cake.
Want to know my secret to get one clean? I found something that easily cleans a springform pan in a snap – the NEW Scotch-Brite® Scrubbing Dish Cloth! Not only does it have this amazing scrubbing dot technology, but it's also washable, resuable, and will hold up to those messes. Those Scrubbing Dots Power Through More Messes!
I found them in the cleaning aisle of Kroger when I was restocking our cleaning supplies. You can find them in two packs in grey, mint, tan, and navy at Kroger for $2.99 for a 1-pack and $5.49 for the 2-pack.
After seeing how easy it was to clean my springform pan with this amazing scrubbing dish cloth, I couldn't wait to whip up a Brown Butter Peach Upside Down Cake. This cake is notorious for leaving a big mess to clean in the pan, but it will wow your guests. It's actually a doctored up butter box cake mix, but instead of using regular butter, I make brown butter. Brown butter has this amazing nutty flavor to it that just turns a regular cake into a "WOW" cake.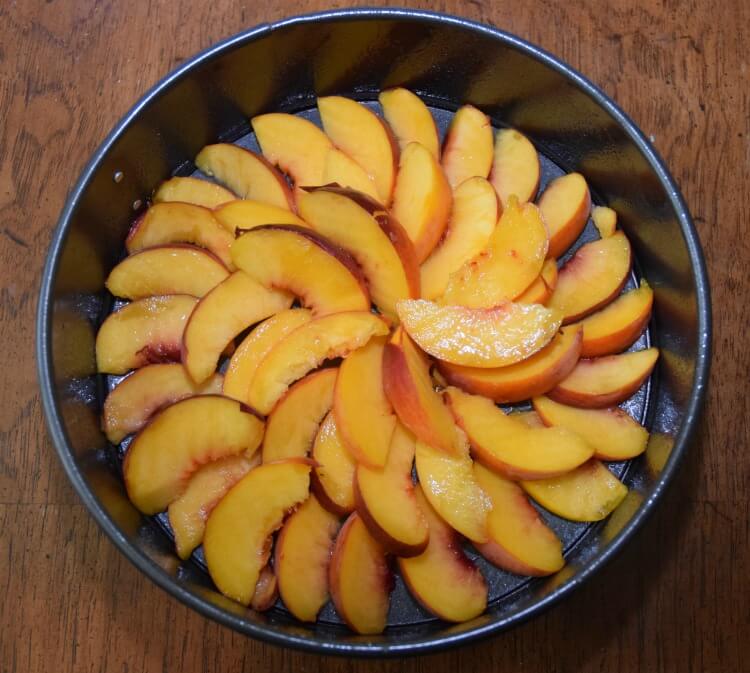 First, spray the pan so that the peaches don't stick too bad. Then, take three fresh slightly ripened peaches and slice them to about 1/4 inch thick and place them pretty around the bottom of the springform pan.
Next, sprinkle about a tablespoon of brown sugar all over the peaches and set the pan to the side.
Now we're going to make the brown butter. It's really easy. Take one stick of butter and slice it up into a pan on medium heat. Stir occasionally and just keep an eye on it. In a couple of minutes, it will boil until it's really foamy, but keep going. Once the foam boils away, you will start to see brown flecks at the bottom of the pan. (This is easier to do in a light colored pan.) You should also smell a slightly nutty aroma. When this happens, turn the pan off, pour the butter into a bowl and set it in the freezer for 15 minutes. You do not want the butter hot when you add it to the cake mix. The edges of the butter in the bowl will begin to harden. When that happens, it's ready to come out.
While the brown butter is cooling, it's time to make the cake batter. Add the butter cake mix, 3 eggs, the brown butter, 1/2 cup of whipping cream, 1/2 cup of water, and a dash of cinnamon together and beat for 2 minutes with an electric mixer. Pour the batter over the peaches and gently spread it around.
Bake for about 45-55 minutes until it's golden brown and a toothpick comes out clean. Do not open the springform pan. Let the cake cool on the counter for about 30 minutes, and then place it in the fridge for a few hours (or overnight). Then, carefully unlatch the pan and lift the cake out. Place a plate or serving platter on the cake and flip over. Gently release the base of the pan from the top of the cake. Sometimes I need a knife to gently do it. Sometimes, I just gently wiggle it off.
To finish it off, I love to whip up a batch of yogurt whipped cream. I use Greek yogurt to add a little bit of tang and thickness to the whip cream.
Print
Brown Butter Peach Upside Down Cake
---
Cake
1

Butter cake box cake mix

3

eggs

1

stick of butter, softened

1/2 cup

whipping cream

1/2 cup

water
dash of cinnamon

3

peaches

1 tablespoon

of brown sugar
Yogurt Whipped Cream
1 cup

of whipping cream

1/4 cup

sugar

1 cup

Greek yogurt, plain
---
Brown Butter
Slice the stick of butter into 8 pieces and place in a skillet on medium heat.
Continue through boiling the butter until the foam disappears.
When you smell a nutty aroma and brown flecks begin to appear, remove from heat.
Pour the brown butter into a bowl and freeze for 15 minutes, until the edges of the butter begin to solidify.
Cake
While the butter is in the freezer, preheat oven to 350 F degrees.
Spray a 9-inch springform pan with olive oil.
Slice 3 peaches into 1/4-inch slices, and place all around the bottom of the pan.
Sprinkle 1 tablespoon of brown sugar over the peaches. Then, set aside.
Combine box cake mix, eggs, whipping cream, water, and cinnamon. Mix with an electric mixer just until combined.
When the butter is ready, add it to the batter, and beat for 2 minutes on medium.
Transfer the batter to the springform pan, and spread gently over the peaches.
Bake for 45-55 minutes, until golden brown and a toothpick comes out clean.
Yogurt Whipped Cream
Chill the mixing bowl for about 20 minutes.
Add whipping cream, yogurt, and sugar.
Beat on high just until hard peaks form.
Add a large dollop to the middle of the cake, or serve a small dollop on each slice.
Recipe Card powered by
While I was making this delectable cake, I thought it would be so nice to have a substitutions printable in my cabinet. There are so many times I'm about to make something, and I'm out of an ingredient. Then, I either run to the store, or search the internet to see what I can substitute for what I'm missing. This printable includes the ones I usually need to substitute.
I thought it would be so easy to just keep a copy in the cabinet. While the cake was cooling, I made one! You can download your own copy HERE!
The Scotch-Brite Scrubbing Dish Cloth combines the power of Scotch-Brite scrubbing dots and the best of a high quality dish cloth for a quicker and easier clean. You don't even have to use a knife or your fingernails to get those stuck on messes.
Check out how dirty this pan was when I was finished! The New Scotch-Brite Scrubbing Dish Cloth had just the scrubbing power I needed to get it clean in just a quick minute. You would not believe how easy this dish cloth makes it!
When you head to Kroger look for a $1 off a 1 pack and $1.50 off a 2 pack of the Scotch-Brite Scrubbing Dish Cloths on clips strips with the product display.
Click HERE to see more recipes you can clean up easily with Scotch-Brite Scrubbing Dish Cloths!