This is a sponsored post written by me on behalf of The Hershey Company. All opinions are 100% mine.
Need something fun to accessorize that Ugly Christmas Sweater for National Ugly Sweater Day? How about an Ugly Sweater Christmas Lights Necklace? And, it's made with Hershey's Kisses Kissmas Sweater Chocolates which you can only find exclusively at Walmart!
If you want to win an Ugly Christmas Sweater contest it has to be a head-to-toe ensemble from tacky shoes and hair to the accessories. This is also a fun craft to make at your Ugly Christmas Sweater Party so everyone can accessorize, including the kids!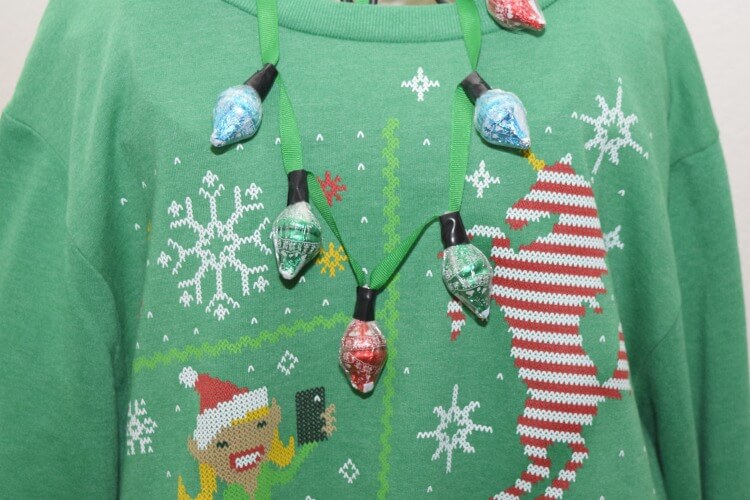 This will take about 30-45 minutes to complete.
Supplies:
Hershey's Kisses Kissmas Sweater Chocolates
black or gray electrical tape
clear plastic wrap
1 yard of 1/4 or 1/8 inch green ribbon or cording
Directions:
1. Sort out 2 of the same color chocolates per each light. I made a 9-light necklace. 2. Cut the plastic wrap in approximately 4-inch squares. Do not attempt to layer it and cut several layers at once because it just sticks together into a big mess.
3. Take two Hershey's Kisses Kissmas Sweater Chocolates and put one with the point side down into the center of the plastic wrap, then put the second on top with their bottoms together.
4. Wrap the plastic wrap up and around the chocolates so it's really tight and the excess is gathered at the top point. Then, give it a twist and set aside. Do this for 9 or however many "lights" you want on your necklace.
5. Start in the middle of ribbon and begin tying it to the gathered plastic. Space the "lights" about 2-3 inches.
6. Snip off the excess plastic wrap from the top of each "light."
7. Pull up the ribbon, and then take a piece of electrical tape about 1 inch to 1 1/4 inches long and wrap it around the tied part of the ribbon down to the point of the chocolate, so it looks like a Christmas light. I found I needed to trim a little off the width of my electrical tape, about 1/8 of an inch to make it look more like a Christmas bulb. Do this to each light.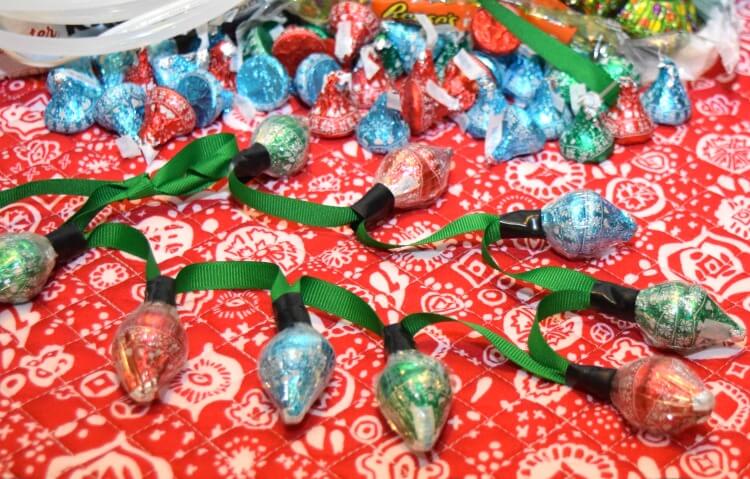 When you're finished, measure the length to tie it on and snip off any excess ribbon. You're ready to slip on your Ugly Sweater Christmas Lights Necklace for the party! Whether you're hosting the ultimate ugly sweater party or you're just hanging out in pajamas watching your favorite holiday movies, celebrate with Hershey's! Hershey's Kisses Kissmas Sweater Chocolates in any candy dish are sure to make everything delightful!
Exclusively at Walmart, The Hershey Company is offering several festive treats this holiday season to inspire you to make someone's season merry and bright, including:
Hershey Kisses Kissmas Sweater Chocolates
Reese's Peanut Butter Cups Miniatures in holiday foils
a three-pound Hershey's Milk Chocolate Bar
a giant Hershey's Kisses Milk Chocolates
a one-pound Reese's Peanut Butter Santa
How do you accessorize your Ugly Christmas Sweater?