I was provided free tickets to attend Medieval Times Dinner & Tournament. However, all opinions are my own.

This was our very first visit to the Medieval Times dinner and show, so we weren't quite sure what to expect. However, we were pleasantly surprised and had a great time.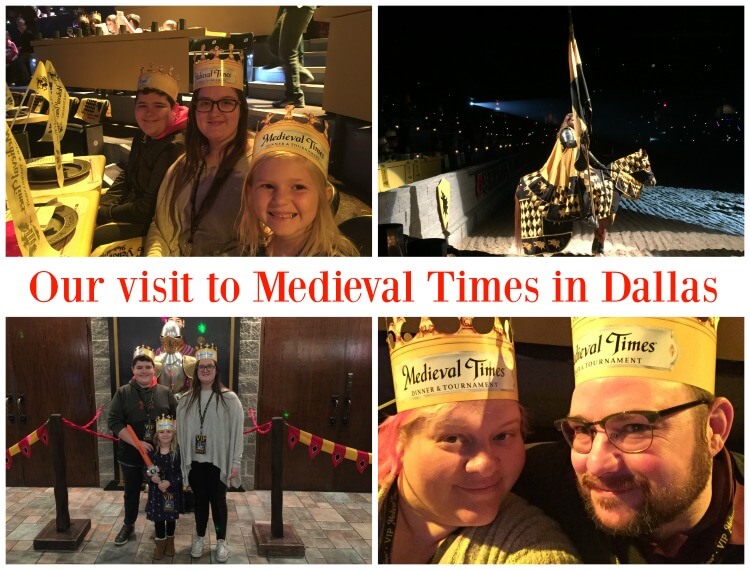 They recommend getting to the show when the doors open, which is 75 minutes before show time as seating is first come, first serve. We arrived just as the doors opened, and there was little wait time. We were checked in quickly, got our picture taken and entered the great hall to have a look around. When you check in, they assign you a knight color, which is your meal ticket and your crown to wear.
There's lots to see. My youngest loved watching the horses getting groomed. Some were coming from the previous show, and some were getting ready for our show.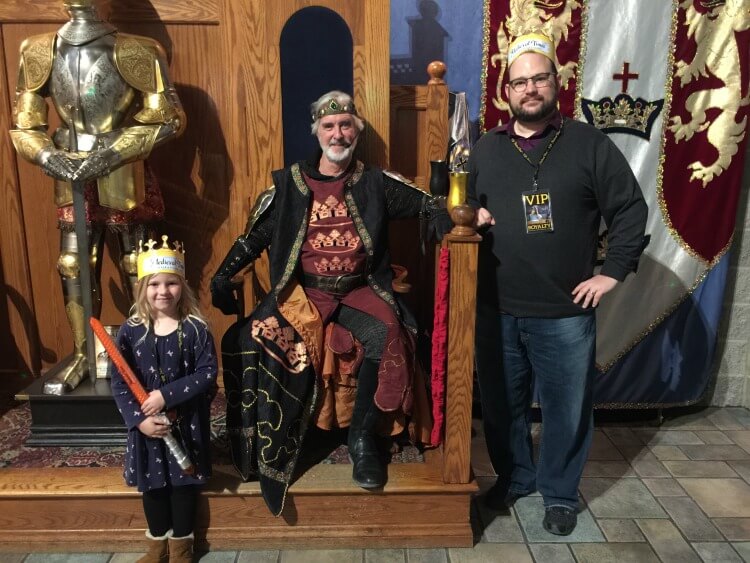 There are two huge bars where you can order drinks, including slushies for the kids. There are several places to purchase souvenirs. Our youngest chose a light up sword. There were also all kinds of dress up items from princess crowns to armor for little knights. Plus, you can get your photo taken with the king and see some knight ceremonies. One thing we noticed was a few little girls came wearing princess costumes, which is a great idea to make it special.
There's also a torture museum where you can see relics from the past that were used to torture people. It does cost extra and was not open when we were there. Plus, it was recommended not to bring small children to the museum.
After we had a look around, there were several tables down by the largest bar where we sat, had a drink, and waited for about 15-20 minutes before they opened the doors for the show.
When it's time to enter the arena, the trumpeters play and the announcer explains what to do. Then, he calls out various knight colors to enter certain doors, so it's not crowded at all. Those with the royalty packages are allowed to enter first. We had a royalty package, so we got special VIP badges to wear and were escorted to our table on the front row of the Yellow Knight's section. One tip I do have is to ask for a booster seat if you have a little one.
Once you're seated, they begin serving drinks and garlic bread immediately. The entire menu is on your napkin to see what's coming. The delicious hot tomato bisque soup comes soon after the bread, all while you're watching the beginning of the show. The kids loved the soup, and so did I as it had been a cold night.
When the knights compete, they get a certain amount of flowers to throw at their section after each event. My 6 year old was practically dancing on the table for him to notice her, but every time he threw them to someone else. Then, he looked over at us and mouthed at my daughter "I've got something special for you." We didn't know what that meant!
At the end of the last jousting event, each knight was given a special sash tied to the end of their lance by the princess. Our yellow knight came right to my daughter and held out his lance to our table for her to pull it off. This was her special something! She was "Queen of the Tournament" and was thrilled. They come right over to take a picture, so I totally forgot to take one myself.
Then, the king proclaims it's time for the official feast, and soon after, the staff is out with roasted chicken, corn on the cob, and herbed potatoes. It was plenty of food served hot and delicious, and you get to eat with your hands just like they did back then. My kids all loved the food and ate heartily. The chicken was definitely our favorite thing to eat! After awhile, they bring out to-go boxes as well as warm wet wipes to clean your hands.
Then, it was onto coffee and cake for dessert. This was when the sword fighting began. Our Yellow Knight fought gallantly, but he was the first one out in the sword fight. We were sure he was going to win as he grabbed an axe to keep fighting when he lost his sword. In the end the yellow/red knight won. The winning knight goes up into the stands of his section and presents a girl with a special royal purple sash and a tiara.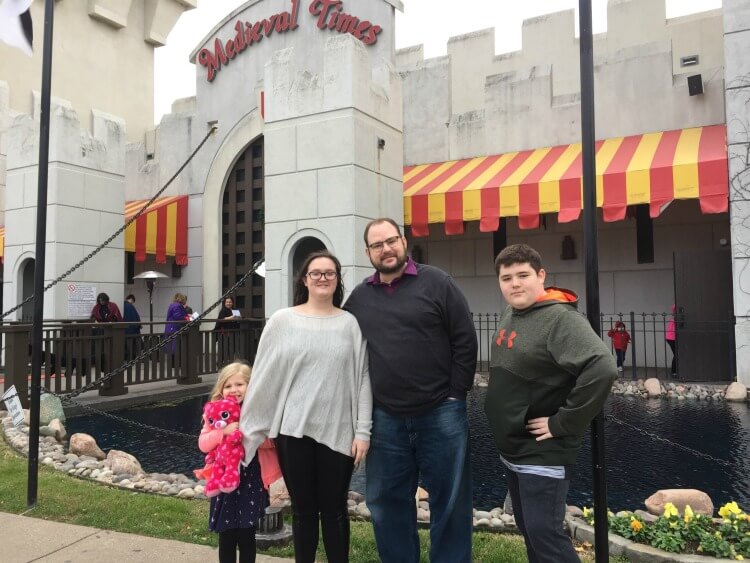 The food was plentiful, and the show was great fun for the whole family to watch. There was sword fighting, a falcon flying through the air, horse dancing, and even an evil villain who wanted to take the princess. It was definitely a great experience for a family outing!
Here's a special deal just for you! Adults are just $36.95 and children (12 and under) are just $29.95 with the code MT3629 through 2/28/17. Click HERE to get your tickets now!
We had such a blast, and I'm giving away a 4-pack of tickets to Medieval Times in Dallas, Texas! You will love it! Enter below & good luck!