I have this Very Berry Cream Cheese Pie recipe that I get rave reviews about. I love this pie. Everyone loves this pie. It's perfect for any occasion, especially Valentine's Day.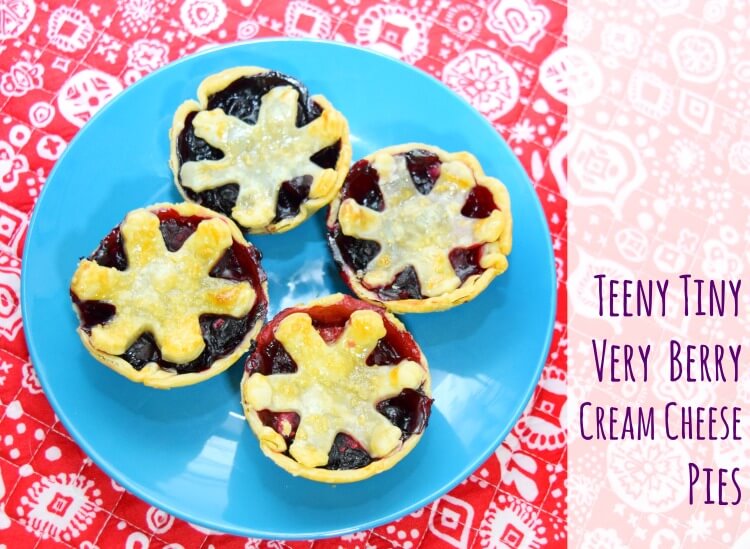 When I got a hankering for these very berry cream cheese pies, I decided to make a dozen mini versions. Who doesn't love perfect little bite-size pies? Then, I decided to make it a little fun for "winter" by cutting out snowflakes for the top of the pies. They came out so cute and so dang good!
These little pies are very simple to make and taste amazing. Each has a layer of sweetened cream cheese on the bottom and then you can use just about any kinds of berries together. You can use fresh or frozen berries. For these mini pies, I actually used both fresh and frozen berries.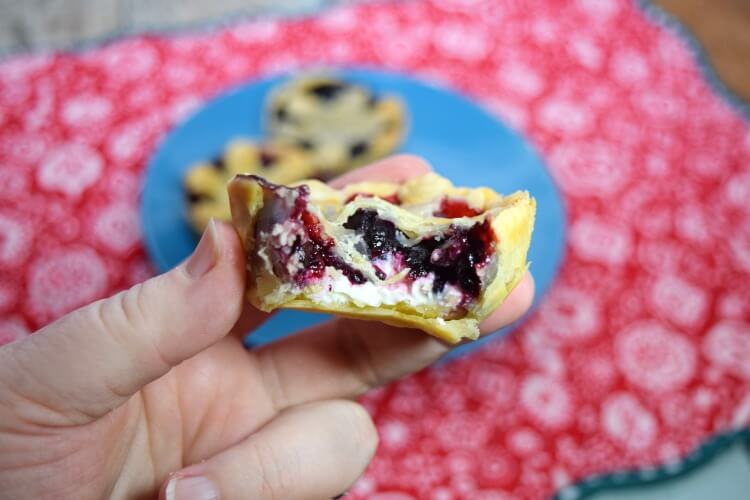 I originally made these for our New Year's Day celebration. Everyone was down with the flu, and I was finally getting over it. So, I made a pot of creamy chicken noodle soup and cleaned out the fridge of pie crusts and frozen and fresh berries from over the holidays to make these little treats. My kids and husband devoured them all by mid afternoon.
How do you make Mini Very Berry Cream Cheese Pies?
Tips for Mini Very Berry Cream Cheese Pies
To make the mini pies, you'll need a circular cookie cutter that's about 6 inches in diameter. After going through various sizes, I found that was the perfect size to fit in the regular muffin tins. You could probably use a saucer and just cut around it with a knife if you're in a pinch.
When you mix up the corn starch and berries, it will look like a chalky mess. But, once it comes out of the oven, the corn starch does a beautiful job thickening up the berry juices so they don't run all over your hands.
Also, I found that this recipe works well for just one kind of berry, too. I used it to make just mini blueberry pies and it came out delicious.
More Mini Pie Recipes
More Mini Dessert Ideas
TEENY TINY Very Berry Cream Cheese Pies
Ingredients
2 refrigerated pie crusts
1 egg
1 tablespoon raw sugar
3 cups of mixed berries, fresh or frozen
2 tablespoons sugar
2 heaping tablespoons corn starch
8 oz cream cheese, softened
1/2 cup powdered sugar
Instructions
Preheat oven to 400 F degrees.
Grease a 12-cup muffin tin.
Roll out the pie crusts.
Use a 6-inch circle cutter and cut out 12 mini pie crusts. Leave the leftover crust laying there.
Fit each pie crust into a muffin tin.
Mix the berries with 2 tablespoons of sugar and corn starch.
Next mix the softened cream cheese and sugar until it's completely mixed.
Add a tablespoon of cream cheese to the bottom of each mini pie.
Then, add around 1/4 cup of berries to each mini pie.
With the leftover pie crusts, cut out cute shapes to top the pies. I used a snowflake cookie cutter.
Top each pie with the cut out shapes.
Beat one egg.
Brush the tops with egg wash.
Then, sprinkle on the raw sugar.
Bake for 20-25 minutes or until golden brown.
Allow to cool before serving.
Refrigerate leftovers for up to a week.
You can cut out all kinds of shapes for the top of your pies. I loved the snowflake cookie cutter and thought it went perfectly. But you can do hearts, flowers, whatever over the top of the pies. I just brushed each one with the egg wash and sprinkled the raw sugar. That little bit of raw sugar just adds some oomph to the pies and makes them so scrumptious. My husband just raved about them for days.