[disclaim]This is a sponsored post on behalf of Banfield Pet Hospital®. All opinions are 100% my own. [/disclaim]
One thing my kids want more than anything is a dog. Unfortunately, my husband and I are allergic to both cats and dogs. We have a compromise where they can go spend a few nights at Grandma and Grandpa's house with Sookie the basset hound.
She's a spunky little thing who loves my kids. She knows when Grandpa gives her a bath that the kids are coming for a visit, and she just can't contain herself until they arrive.
Sookie loves getting her teeth brushed. Learning the importance of pet dental care is great for kids, and now there's a new book to learn all about it. Banfield Pet Hospital® has its second children's book out called "My Very, Very Smelly Breath."
It's a scratch-and-sniff story written to educate children on the importance of being a responsible pet owner especially for their pet's dental health.
It's a sequel to their 2014 book, "My Very, Very Busy Day." It follows Queen Esther as she learns she has very smelly breath. Her friends, Captain Noodles and Kitty, help her find her way to a healthy mouth.
It's perfect for families to learn new ways for pet dental habits like dental treats for their pets, regular visits to the vet as well as brushing their pet's teeth, which should always be done by an adult.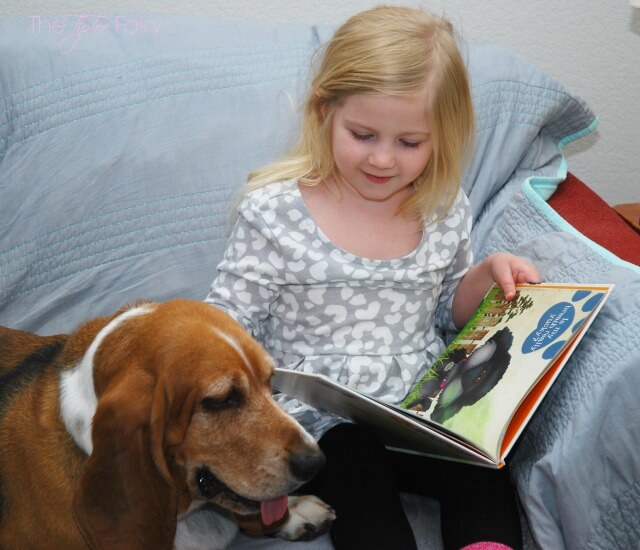 Molly loves giving Sookie a dental dog chew after she has her dinner. Not only do kids learn how important it is for their pets, but it helps them also realize how important dental care is for everyone.
Molly is just learning to read, so she couldn't wait to read the book to Sookie. We did not like the scratch and sniff of poor Queen Esther's breath. She really did have some stinky breath. Later in the book her breath smelled much better.
Candace Cameron Bure plays a veterinarian in the new Netflix series Fuller House. She's now partnering with Banfield Pet Hospital to spread awareness of the importance of pet dental health!
My Very, Very Smelly Breath! is available at your local Banfield hospital for the suggested donation of $10 per book. One hundred percent of the donations will go to the Banfield Foundation™.
To learn more visit Banfield on Twitter, Facebook, and Instagram.
What kind of pet do you have?