[disclaim]This post contains affiliate links. All opinions are my own.[/disclaim]
We are working our way to eating healthier this year, and one thing that really helps is to plan out our meals. When I get in a busy rush, I don't have time to plan for dinner at the last minute, so we go out to eat, which isn't always the healthiest choice.
I've found the best way for me to stick to good-for-us meals with my busy schedule is the slow cooker. I can easily just pull the meat from the freezer to defrost and pull other ingredients so it's all ready for me to add to the slow cooker when I get home from dropping off the kids at school.
I will admit I've had many slow cookers and crock pots, but my hands down favorite is this ONE. I've mentioned it before with this slow cooker chili recipe, but the more I use it, the more I love it. My favorite feature is the hinged lid. Plus, you can program it for up to 10 hours, and then it will automatically keep the food on warm.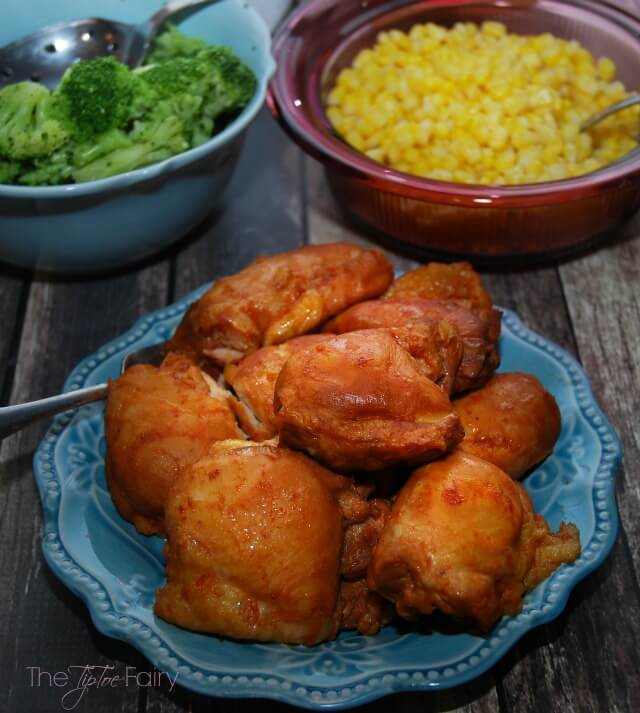 This was the slow cooker I used to make my FIVE Ingredient Barbecue Chicken. I use the exact same ingredients as my popular FIVE Ingredient Crockpot Ribs except I use boneless chicken thighs. Plus, this recipe just takes 3 1/2 to 4 hours. If you're like me and forget to put anything in the slow cooker until oh say about 2 pm, it will actually be ready at a decent dinner time!
I'm not a big fan of white meat chicken (yes you can call me crazy), and my husband has a fear of chicken on the bone. When he was a kid he choked on a chicken bone, so he avoids it. Boneless chicken thighs work out just perfect for us, and the kids love it.
Print
Slow Cooker Five Ingredient Barbecue Chicken
---
about

3

lbs boneless chicken thighs, defrosted

1

large onion

1 tsp

garlic powder

1/2 tsp

black pepper

1

bottle of bbq sauce (

16

–

18

oz)
---
Add boneless chicken thighs to slow cooker. Just pile them on top of each other.
Chop onion and add on top of the chicken.
Sprinkle garlic and pepper over the chicken and onions.
Pour in 1 bottle of bbq sauce all over the ribs.all over. Then, stir gently.
Cook for 3 1/2 to 4 hours.
Turn the broiler on the oven.
Remove the chicken and place on a cookie sheet covered in foil.
Broil for 3-5 minutes to make the chicken a little crispy on the outside
Serve immediately.
Recipe Card powered by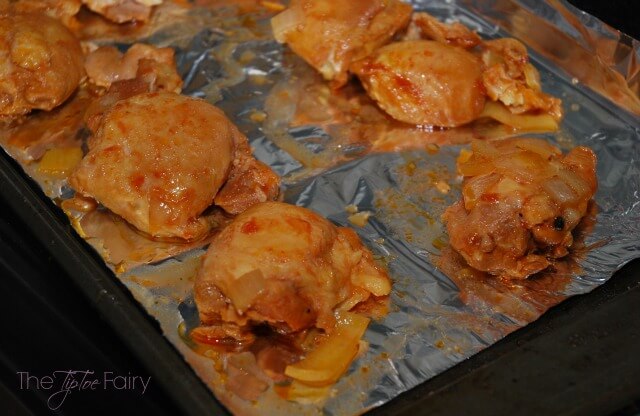 This recipe comes out juicy and fall apart tender. When it's time to pull the chicken out, I like to broil it for just a few minutes to add a little crunch to the top. Be careful because it will just fall apart on you as you pull it out of the slow cooker. This happens to me all the time.
What's your favorite way to eat chicken?
Here's a few more slow cooker recipes you'll love: