This post may contain affiliate links. Do you like edible cookie dough? Then, you're gonna love this colorful Guardians of the Galaxy Edible Cookie Dough in Gamora's colors!
Did you see Avengers Infinity War yet? There are some very strong feelings popping up on the internet, but I don't want to spoil anything if you haven't seen it. It's been a week since they saw it, but my son is still raving about it and my husband is still in shock. I'm patiently waiting until I can leave the baby with my husband and go check it out for myself.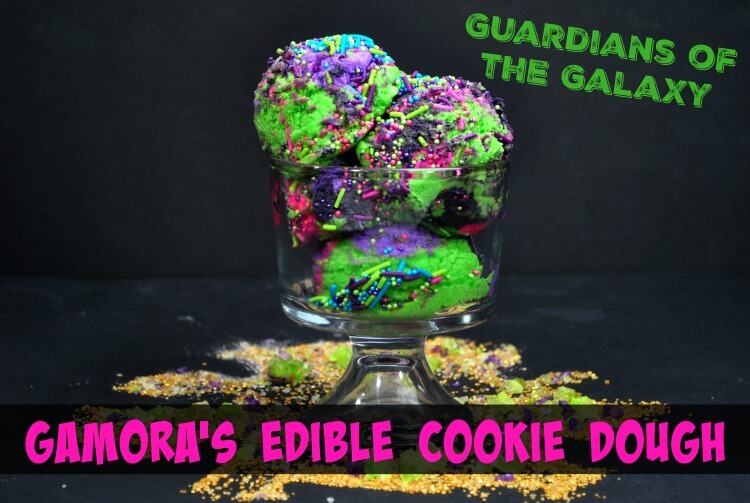 Here's a little treat from one of Thano's daughters you are sure to love! It's Gamora's Edible Cookie Dough in her favorite colors!
Safe Cookie Dough with Baked Flour!
We love edible cookie dough, but did you know that you need to bake the flour to kill any potential harmful bacteria? Most people don't think about this, but flour is always used in cooking after it's been through a high heat process. But, this isn't the case when you make edible cookie dough.
A few years ago, there were recalls for flour due to bacteria, so it's not safe to use raw. That's why when I make edible cookie dough, I bake it for a few minutes.
Gamora's Edible Cookie Dough
More Avengers & MCU Treats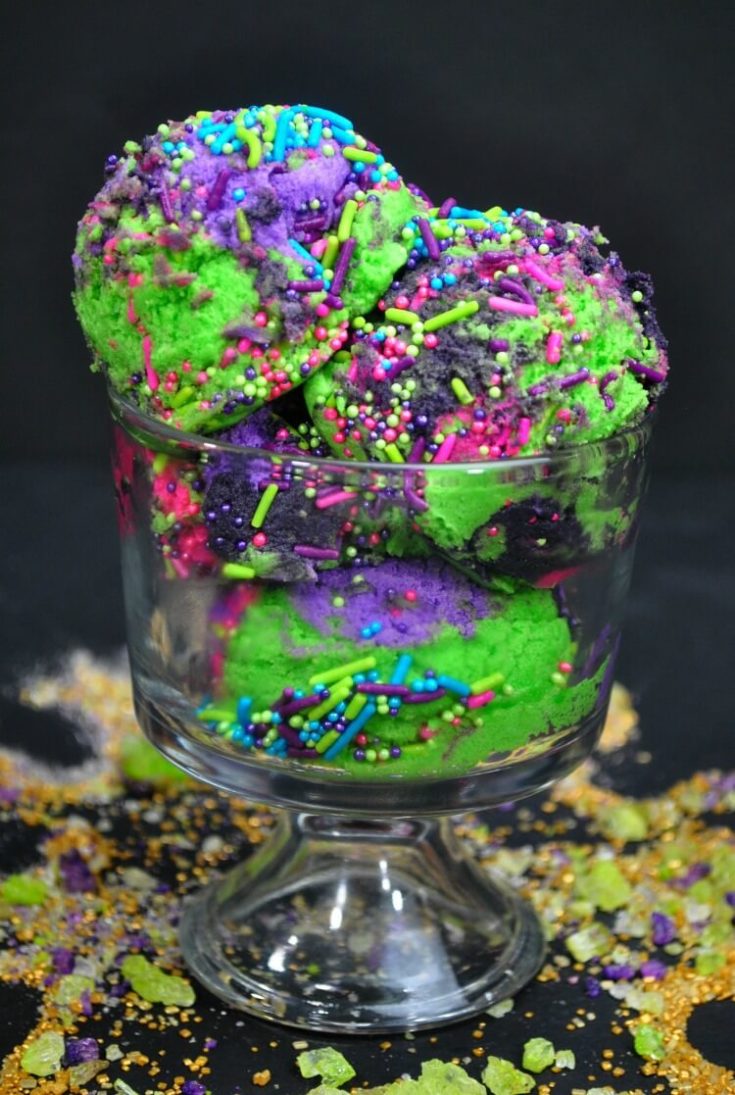 Guardians of the Galaxy Edible Cookie Dough
Ingredients
2 1/2 C sugar
2 C unsalted butter, softened
2 1/2 tsp vanilla extract
2 tsp kosher salt
2 1/2 C flour
1 C of Gamora Sprinkles
Purple, Black, Pink and Green gel food coloring
Instructions
Lay out parchment paper on a cookie sheet and sprinkle out the flour all over. Bake for 5 minutes at 350 F degrees.
Using a standing mixer, cream together the sugar and butter until fluffy and combined.
Mix in the vanilla and salt until combined and fluffy.
Beat in the flour 1/4 of a cup at a time just until it's all combined.
Divide the dough into 4 portions and add one food coloring color into each bowl -- pink, purple, green, and black.
Mix each dough until the food coloring is completely combined.
Place the dough back into the mixing bowl, and add in the Gamora sprinkles and slightly mix together but now to much so that the colors fully combine!
Use an ice cream scoop to scoop portions out or eat out of the bowl yourself! Make sure you have a big glass of milk! Then, cuddle up on the couch with your Guardians of the Galaxy Edible Cookie Dough and catch up on all the Avengers movies before heading to Infinity War this week!
Come Join Us!
Liked this article and want more? Follow along on Instagram, Facebook, Twitter, Pinterest, TikTok, and YouTube!
Come over and join us on Facebook in the group Recipes, Crafts, and more with TipToe Fairy or Sewing and Crafting with The TipToe Fairy!
Visit Our Other Blogs!