My son loves comic book characters, and I love him telling me the whole stories behind different characters. Lately, we've been researching Avengers Infinity War Thanos and where he comes from and what he's all about. So, I put together a fun little Thanos Mocktail!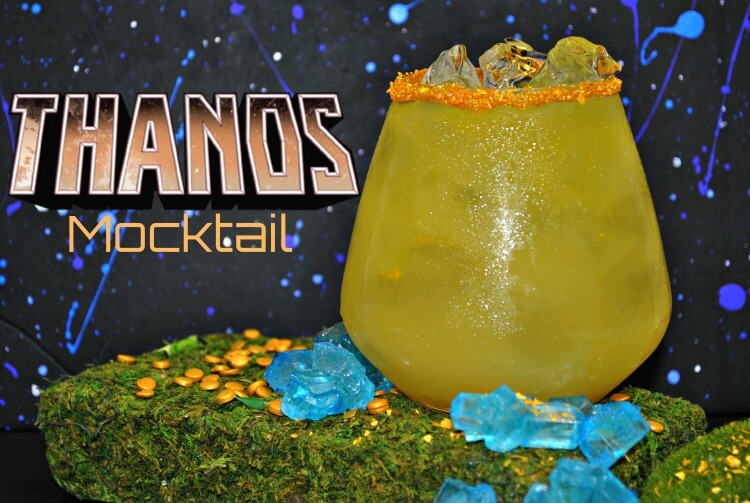 Did you know he comes from Saturn's moon Titan? There were other Titans who came from there, but apparently, he killed most of them. He has two daughters, Nebula and Gamora, who apparently he basically stole and then adopted.
He's a bit mysterious, but do you know when Thanos was first seen in the movies? It was actually in the credits in The Avengers, the first movie! He was Loki's benefactor. He was played by another actor back then, but since Age of Ultron he has been played by Josh Brolin.
Any ideas on who is not going to make it out of Avengers Infinity War? I have no idea. According to my son, when Thanos filled the gauntlet with the Infinity Stones in the comic books, no one made it out alive except his daughter, Gamora. She took one of the stones and made time go backwards to revive everyone. This sounds like it's not looking good for the Avengers.
Avengers Infinity War Thanos Mocktail
I love having fun themed drinks for new movies, and this one did not disappoint. It's perfect for the kids, and perfect to go along with Avengers Infinity War Thanos. This recipe will make 1 glass of this yummy Thanos Mocktail. You can double or even quadruple to serve more.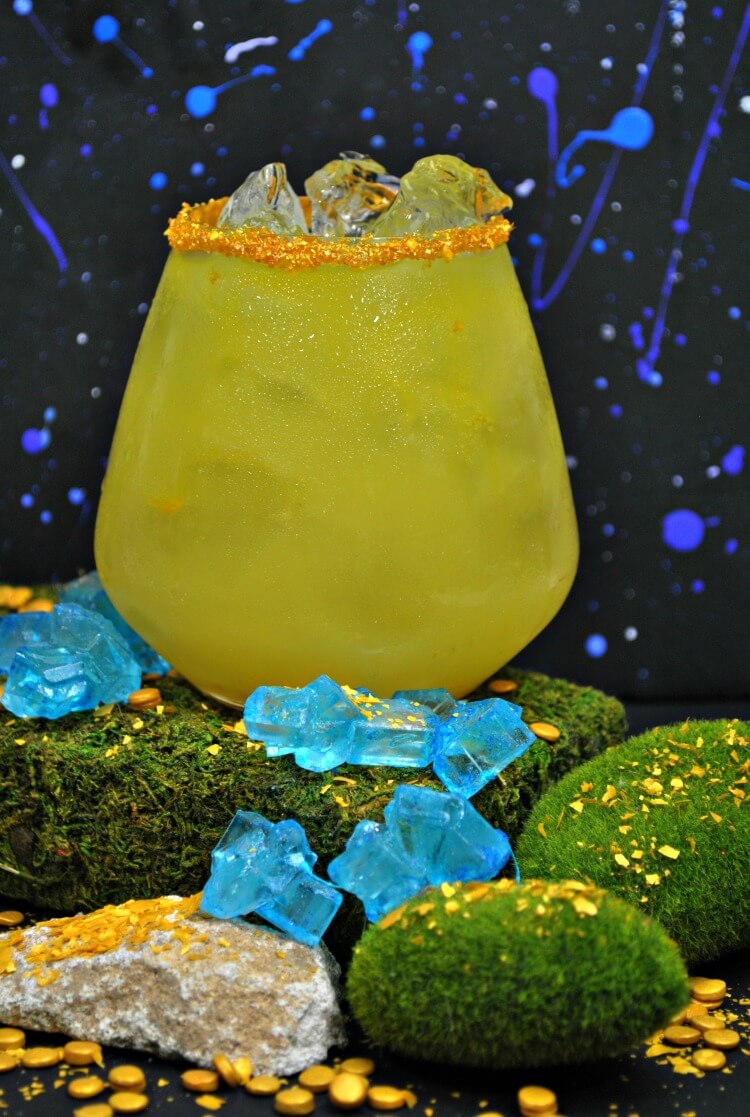 For this recipe, you'll need to make a simple syrup, which is basically water and sugar. I make it easily in the microwave, you can check it out in this recipe to make your own.
More Marvel & Avengers Recipes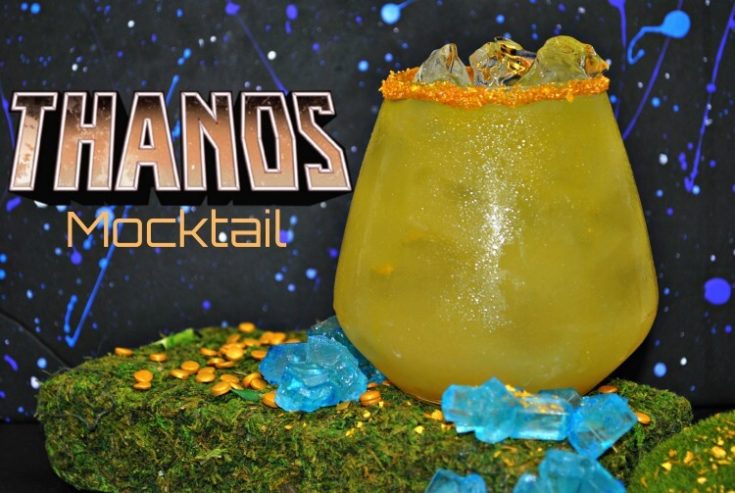 Avengers Infinity War Thanos Mocktail
Ingredients
Ingredients:
2oz Sweet and sour mix
2oz Pineapple juice
2oz Sprite
Ice
1 tsp. Silver cake shimmer dust
2 tbsp.Gold cake sprinkles
2 tbsp. Gold flake cake sprinkles
2 tbsp. Simple syrup
Instructions
Mix 2 tbsp. of each sprinkle on a appetizer plate.
Dip the rim of your glass into the simple syrup and then into the cake sprinkles. Set to the side.
In an extra glass add your sweet and sour, pineapple juice, and sprite.
Stir to combine
Fill your glass with ice
Now add your silver shimmer
Stir to combine
Pour your liquid mix into the glass
Come Join Us!
Liked this article and want more? Follow along on Instagram, Facebook, Twitter, Pinterest, TikTok, and YouTube!
Come over and join us on Facebook in the group Recipes, Crafts, and more with TipToe Fairy or Sewing and Crafting with The TipToe Fairy!
Visit Our Other Blogs!