This shop has been compensated by Collective Bias, Inc. and its advertiser, Mars, Incorporated. All opinions are mine alone. #BensBeginners #UncleBensPromo #CollectiveBias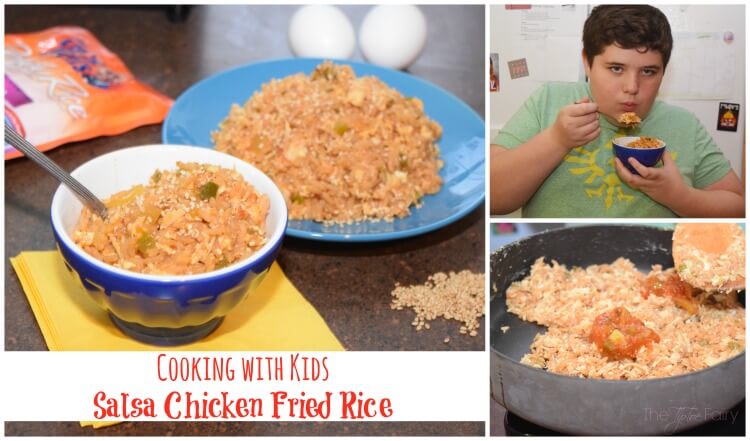 One of the greatest gifts you can give your kids is to teach them how to cook. My 17-year-old started venturing in the kitchen when she was about 11 years old. Now my 12-year-old son is ready. He can do very basic things like make himself some toast or heat up leftovers. But, he has been wanting to learn how to scramble eggs and start using the stove.
Learning to cook is not just good for you, it's also a lot of fun and a great way to spend time together.
I wanted to start with something fairly easy, so I decided to let him make Chicken Fried Rice. While I was grocery shopping at Walmart I picked up all the ingredients from chicken to eggs as well as Uncle Ben's Ready Rice Teriyaki Style.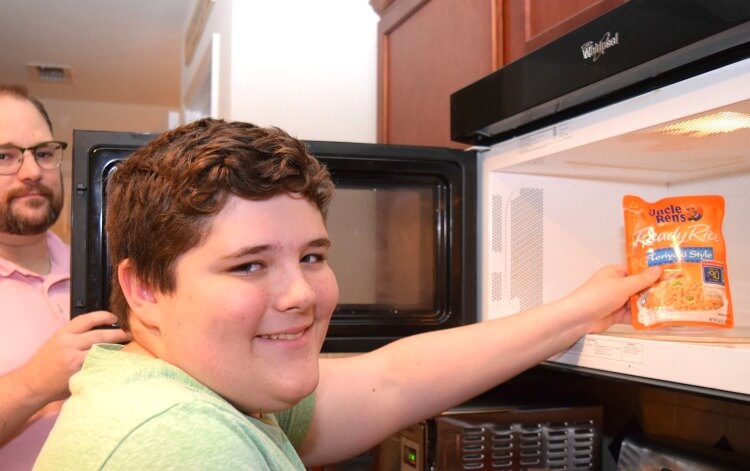 First, he followed the directions on the Uncle Ben's Ready Rice and cooked it in the microwave for 90 seconds.
While the rice was cooking in the microwave, he turned on the burner and added the olive oil and chicken. Then, he sauteed it.
For this quick recipe, we bought canned chicken. Sometimes canned chicken and have a strong odor and taste, so I showed my son how I rinse it in a colander to get ride of that.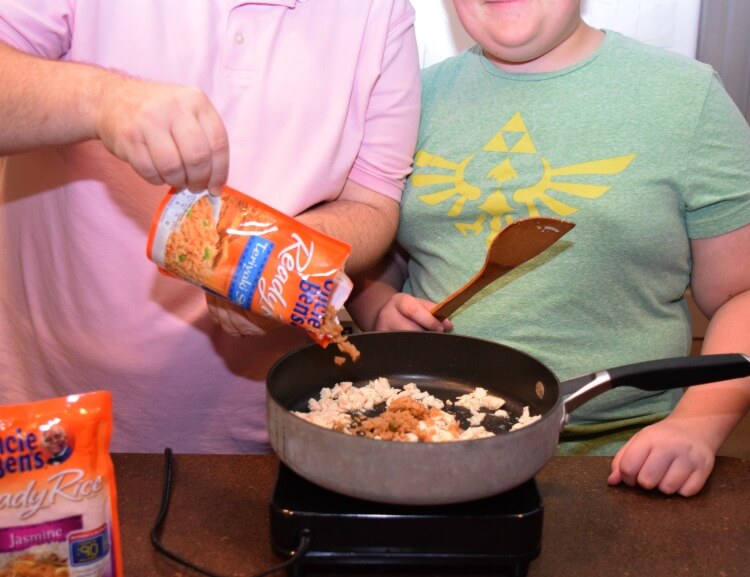 Next, since the rice was very hot, my husband poured it into the pan.
Since my son likes eggs in his fried rice, it was time to add an egg to the rice. I explained how to keep stirring to scramble the egg, and once he knew what to do it was easy! He cracked the egg and dropped it directly into the rice and started flipping and moving the rice around to scramble the egg. He kept moving it for about 3 minutes until the egg was thoroughly cooked, and there was no more runny egg.
I think it's important to let kids experiment. He decided on his own to add a little extra special ingredient. My son LOVES spicy food, and he wanted some kick to his chicken fried rice and turned it into Salsa Chicken Fried Rice.
We had just opened a fresh jar of our Grandbea's homemade salsa, so that's what he decided to add. Grandbea is always sending us home with veggies and jams and more. She makes her salsa straight from her garden of veggies. He added 3 heaping tablespoons of salsa and mixed it all up before turning off the fire. The Salsa Chicken Fried Rice was ready for a taste test!
When we dished it up, he fancied it up a bit with a dash of sesame seeds. Both he and my husband couldn't wait to dish up a bowl. They both loved it, and it had the perfect amount of kick. My son was so proud of himself, and he can't wait to make it again.
Print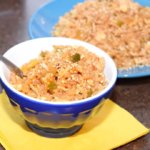 Salsa Chicken Fried Rice
---
1

package of Uncle Ben's Ready Rice Teriyaki Style

1 tablespoon

olive oil

4 oz

can of premium chunk chicken

1

egg

3

heaping tablespoons salsa
---
Prepare Uncle Ben's Ready Rice according to package.
Turn skillet to medium high and add the olive oil.
Pour off the juice and rinse the chicken. Then, add it to the olive oil.
When rice is done, add it to the chicken and saute for 1-2 minutes.
Crack and add the egg to the rice.
Keep stirring and mixing until the egg is thoroughly scrambled and cooked, about 3 minutes or so.
Add 3 heaping tablespoons of salsa and saute for another minute.
Remove from fire and serve immediately.
Recipe Card powered by
Uncle Ben's has a program to get kids to cook called Ben's Beginners. It gives them a sense of accomplishment when they can learn to cook. Uncle Ben's is the perfect helper to make quick and easy meals with your family, especially during this back to school time.
When you head to the store get this Ibotta offer for $0.75 off Ready Rice products exclusively at Walmart!
Want to help your kids' cafeteria? Check out the Ben's Beginners program and contest & you can enter for a chance to win! 5 families will win $15,000 for themselves + a $30,000 cafeteria makeover for their kid's school. Enter now!
You can also enter to win for a chance below at Walmart eGiftcards!
How do you teach your kids to cook? Check out these easy recipes, find lessons, and get some great ideas with Uncle Ben's to get your kids cooking!