I received products as compensation for this post. All opinions are my own. This post contains affiliate links which give me a small commission if you purchase through the links.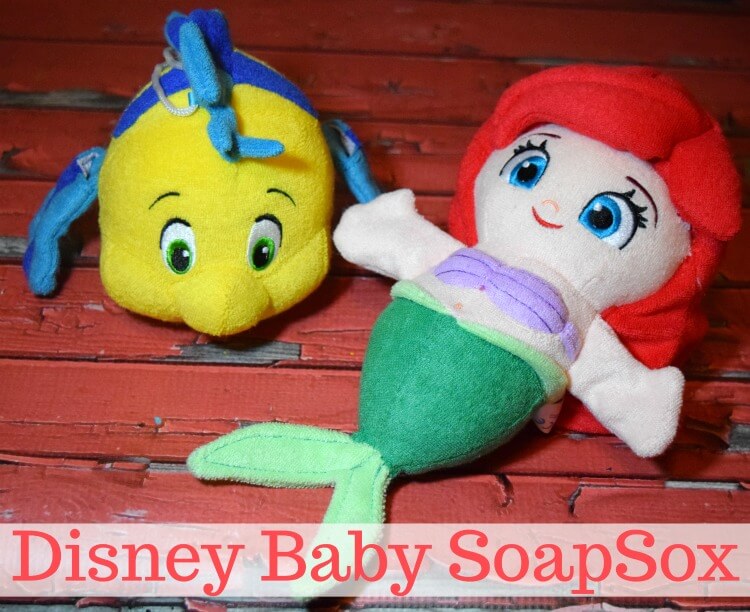 Between my 6 month old and my 7 year old, SoapSox® are a big hit with us. These are the perfect bath toys. Not only are they lovable plush toys, but they can also go in the bath. Your kids can have fun soaping up with SoapSox and have good clean fun at bath time!
Now, SoapSox has a brand new Disney Baby line of characters. We received Ariel and Flounder from The Little Mermaid, but there's also Mickey & Minnie Mouse who are dressed ready to dive as well as Nemo and Squirt from Disney Pixar's Finding Nemo.
SoapSox are good for ages birth and up. My 6 month old loves holding onto Flounder while we have a bath in the sink. My 7 yr old loves play time with both Ariel and Flounder while she's taking a bath, and she also loves playing with them with her other stuffed toys when they're dry. I love it when I can find a toy that a variety of ages will love.
Each SoapSox comes with built-in finger pockets that allow for secure scrubbing and fun puppet play, and there is also an opening for liquid or bar soap.
You can toss them in the washer and dryer to get extra clean. You can also hang your SoapSox to dry. Each one comes with a hang-drying cord. This is what we've done the past few times after wringing all the excess water. They are dry within 24 hours.
Size: 9 x 3 inches

Soft terry cloth exterior and an anti-microbial sponge interior

Built-in finger pockets

Machine wash warm, tumble dry low

Feed SoapSox liquid or bar soap, add water, lather, and scrub
MSRP: $14.95. You can find them at SoapSoxKids.com, BuyBuyBuyBaby.com, and on Amazon.