I prepare and prepare for Halloween starting in August because it's my absolute favorite holiday. But…I'm always down to the last minute getting treats ready for school parties and costumes ready. So, if you're last minute like me, these little Pumpkin Goodie Bags are super easy to whip up the night before. This post contains affiliate links.
updated 8/31/2022
My kids schools now do a parade instead of a party, but I still like to do a little treat for their class. It's always fun to get something special, and my crafty 7 year old LOVES to make things like these. So here's what you need:
Pumpkin Goodie Bags
Supplies
Directions
Cut orange paper into approximately 10 inch squares and stack 3 squares for each pumpkin.
Cut green paper into strips about 13 inches long and about 2 inches wide.
Stack 2 green strips on top of each other and lay on top of each stack of orange squares so that the ends will stick out past the orange paper edges.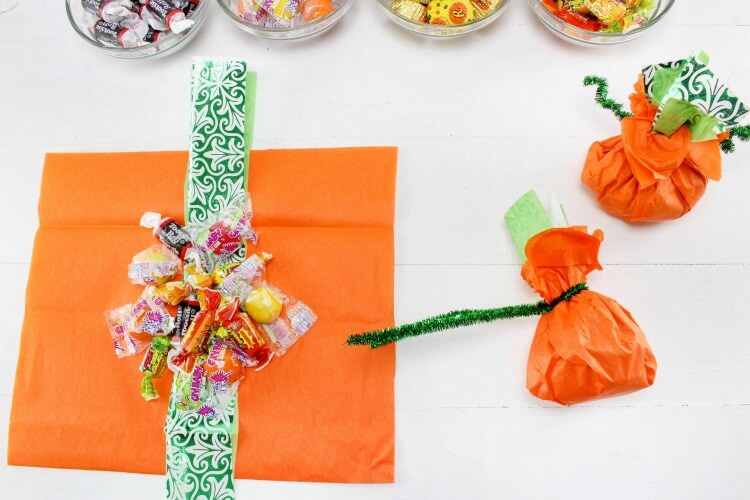 Put a handful of candy in the center of the paper and pick up each corner and start bringing the paper together in a ball shape hiding the candy inside.
Be sure to make sure the ends of the green paper stick out at the top of the orange ball you have made.
Take one of the pipe cleaners and wrap it tightly around the top of the pumpkin to hold it all together.
Twist the ends of the pipe cleaner to look like vines, and trim off excess green paper to make sure it looks like a pumpkin stem.
This is a fun and easy Halloween project for kids. They can totally help you make these while you watch a Halloween movie together like Hocus Pocus!
More Halloween Fun
We have TONS and TONS of Halloween content around here from crafts to recipes to games, and more! Check out a few here:
Need more Halloween treats? Check out a few of these:
Need some ideas to get the party started? Check out some of these fun free printables. There's something for everyone:
Come Join Us!
Liked this article and want more? Follow along on Instagram, Facebook, Twitter, Pinterest, TikTok, and YouTube!
Come over and join us on Facebook in the group Recipes, Crafts, and more with TipToe Fairy or Sewing and Crafting with The TipToe Fairy!
Visit Our Other Blogs!