Many thanks to Fruit Shoot for sponsoring this post and inspiring me to share fun creative lunch box ideas!
Buying lunch at school is not an option for our family, it's just too expensive to do every day. I make my kids' lunches daily, and it can be a challenge to keep up variety. I try to send my 10 year old a whimsical lunch when he least expects it, so it's a nice little surprise from mom. Both he and my 3 year old love these fun lunches.
Their favorite is when I make the "Going Fishin'" Lunch Box. It's super easy! The key essentials are pretzel sticks for the "fishing rods" and something small for the "fish" such as goldfish crackers, oyster crackers, chocolate chips, raisins, grapes, and other small bites. Next, to catch the fish, you need some sticky dips like cream cheese or peanut butter. If peanut butter is a problem, you can try hazelnut spread, almond butter, or even cookie butter. Neither of mine likes crust on a sandwich, so I like to use large cookie cutters to make fun sandwich shapes.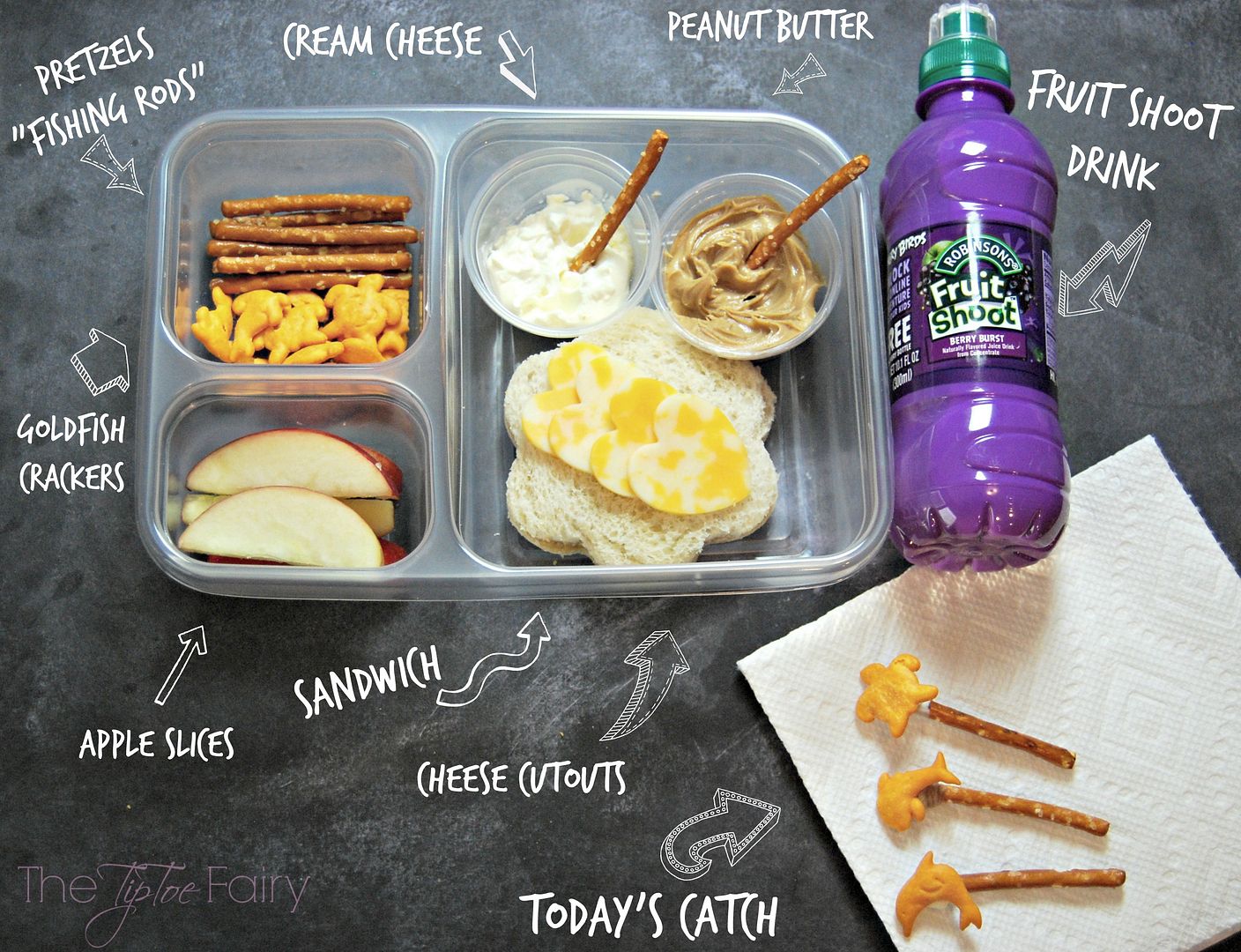 Molly is only 3 and still in preschool, so she doesn't eat lunch at school — though she really, really wants to. To make up for it, I bring her lunchbox in the car when I pick her up. She loves to hold it in her lap and snack while we drive, and then finishes is up at home.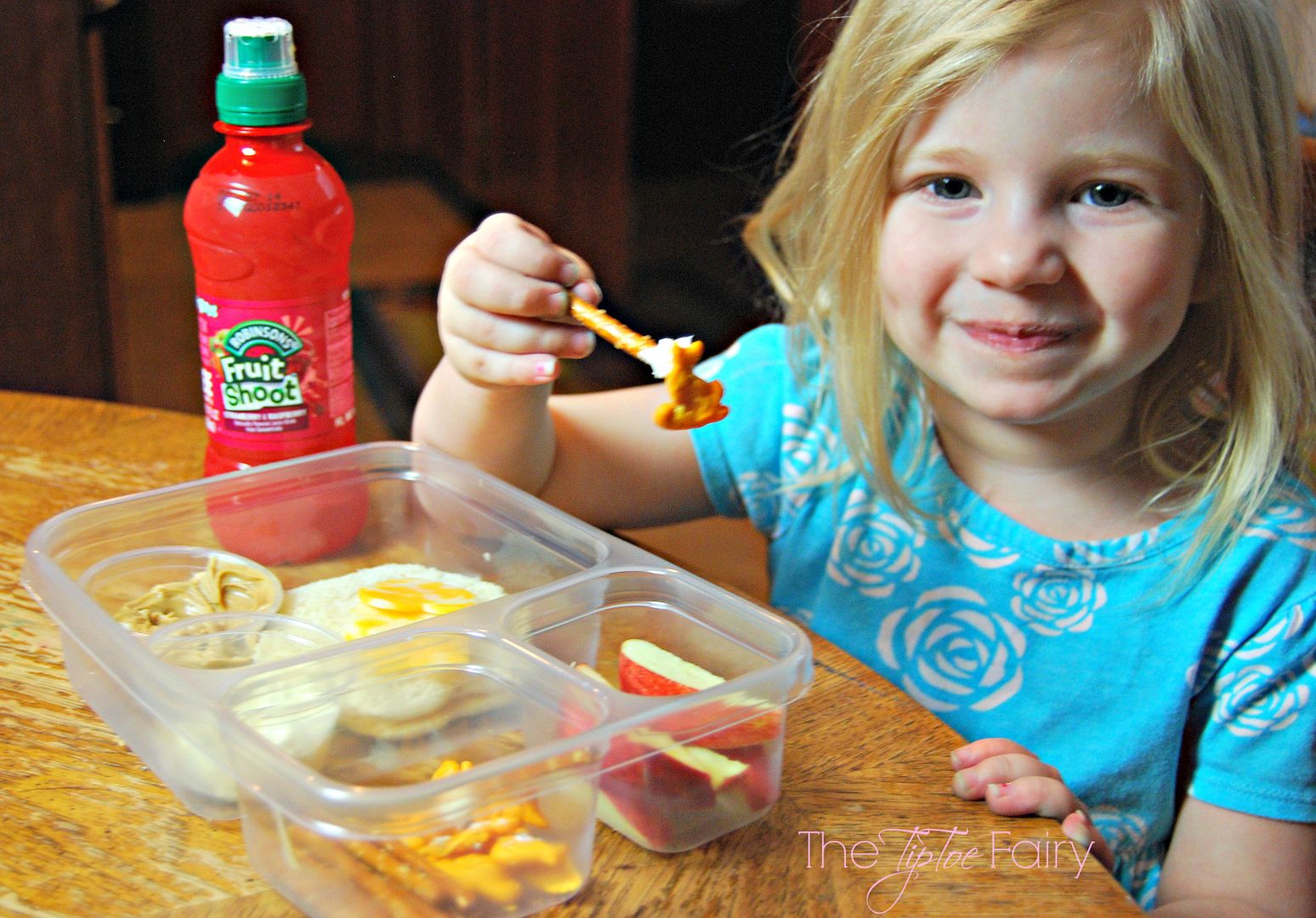 What's perfect about Fruit Shoot for preschoolers is the new no-spill cap! You have no idea how many times she's dropped a juice box or an open bottle of chocolate milk on the floor of the minivan. She can drop the Fruit Shoot, and there's no spill.
I have to admit, I enjoy drinking Fruit Shoot myself. They come in tasty flavors of Orange, Apple, Berry Burst, and Strawberry/Raspberry. I think my favorites are a toss up between Strawberry-Raspberry and Apple. Both are super yummy! Did you know it contains real fruit juice and no high-fructose corn syrup?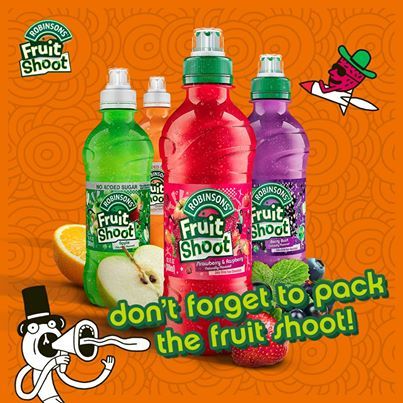 Go checkout all the fun stuff at the Fruit Shoot Facebook page and to find out even more! You can find out how to unlock a FREE Angry Birds game!
Where can you find Fruit Shoot? I am in Texas and found it both at Kroger and Dollar General. Here are other places you can find it: Walmart, KMart, Kroger, Lowes Foods, Harris Teeter, Dollar General, Family Dollar, Spartan, Speedway, Meijer Gas, Sheetz, Kangaroo, WilcoHess, Handee Hugo, Family Fare, Giant Eagles, Marc's, Dave's, UDF, Traxx, Redi Mart, J Clarks
#fruitshoot #fuelyourimagination