This post contains affiliate links. If you purchase something from these links, I will make a small commission which helps keep the blog running.
We tend to practice natural parenting in our house. I've done this from the very beginning with my first baby back in 1999. Part of that is using cloth diapers. I have cloth diapered all four of my kids pretty much as soon as we get home from the hospital.
My view is that I don't like wearing plastic and paper down there, so why would a baby with such delicate new skin? Cloth diapers are soft and comfy.
Currently, my 6 month old is in cloth diapers. We use a regular trash can as our cloth diaper pail. Some people use a wet diaper pail for cloth diapers in that they fill it with water and put the diapers in to avoid the smell. Since our diaper pail sits on the carpet I use a dry pail without any water.
We usually wash diapers every 3 days, so by the end of day 2, the pail is getting full and that means that sometimes that ammonia smell from urine can become strong.
To combat this, I make my own homemade DIY Cloth Diaper Deodorizer using simply baking soda mixed with essential oils. Then, I put it in a large metal spice jar to shake over each diaper when it goes in the pail. It stops the smells almost instantly.
DIY Cloth Diaper Deodorizer
Supplies
Directions
I got a 22 oz spice shaker (they call it a dredge) on Amazon.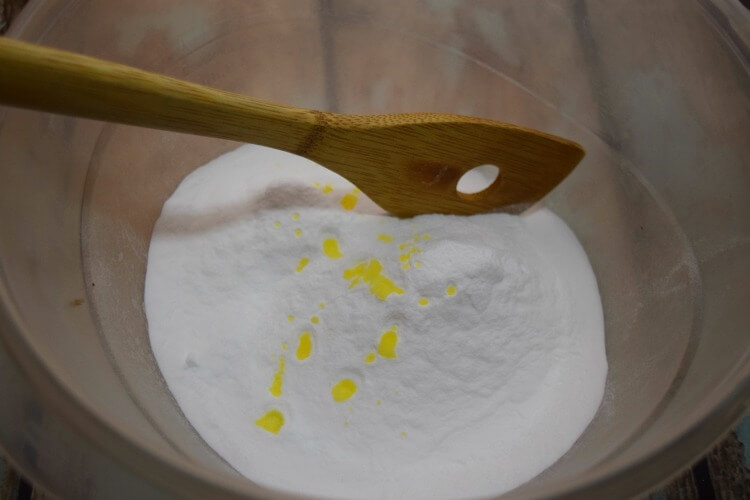 Next, I combined 2 cups of baking soda with about 15-20 drops of essential oils. I used a combination of orange and lime. Though, I found the lime smells kind of like toilet cleaner, so next time I'm just using orange oil. I LOVE the smell of orange oil.
I mixed the baking soda up and let it dry with the oil. I did this over about an hour. I'd mix it up and let it sit and come back and mix it up and let it sit. Otherwise, the oil will clump the baking soda and won't be spread evenly.
Then, when it was all completely dry, I poured it into the spice shaker.
I screwed the lid back on and found a place in the diaper changer so I could easily pull it out and shake it over the diapers each time I changed my baby.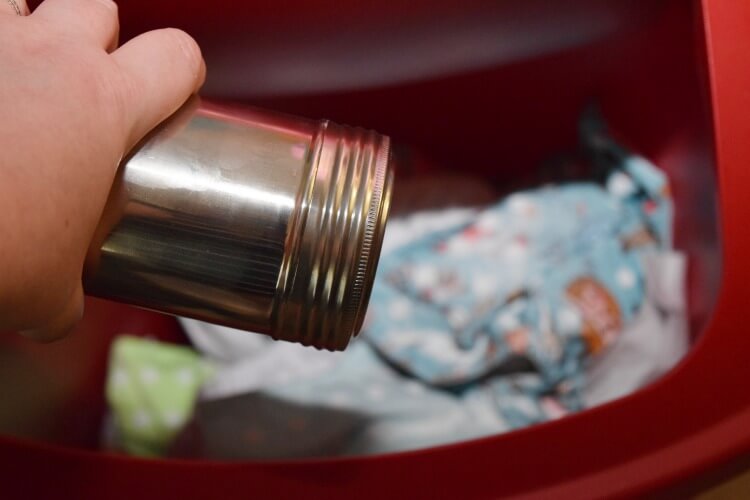 As soon as we sprinkle the DIY Cloth Diaper Deodorizer, the area around the diaper pail begins to smell like citrus. Even my husband, who is super sensitive to smells says it smells amazing.