This is a sponsored post for Wondery's Melon's House Party. All opinions are my own.
At the beginning of the year, I told you guys all about a new podcast just for kids – Melon's House Party. We LOVE this show and listen to it all the time. Guess what? Melon's back with Season 2 of Melon's House Party, and we are thrilled!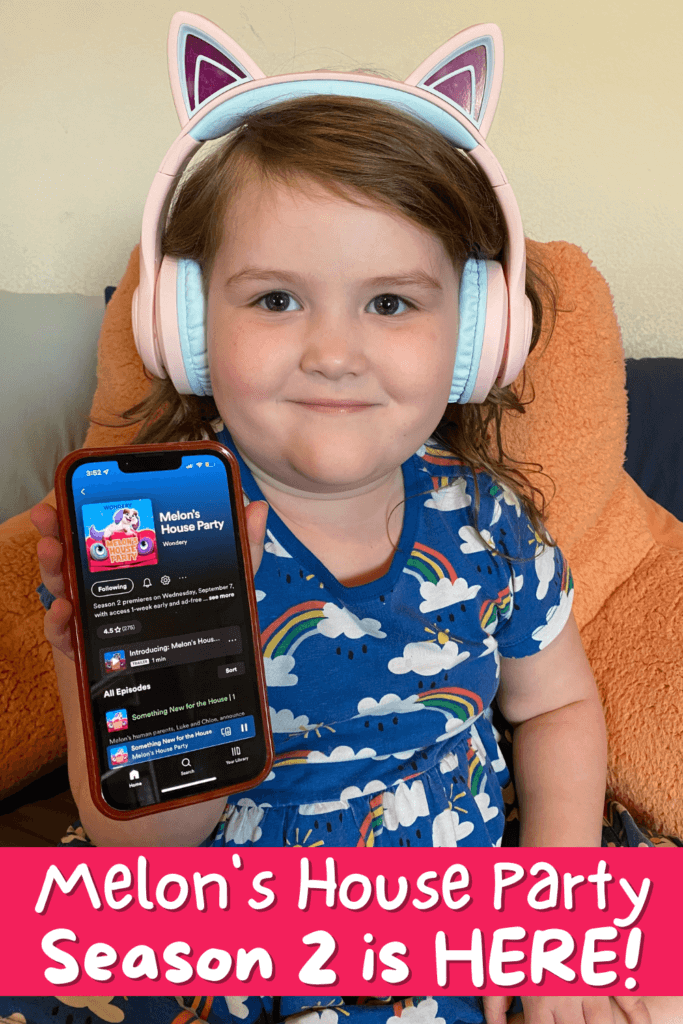 My 5 year old could not be more excited. She literally counted down the days for the new season, marking it on a calendar for an entire month until the day the first episode of season 2 came out.
What's Melon's House Party?
It's a podcast for kids about a tiny dog named Melon. She has all kinds of crazy musical adventures.
Did you know things all around your house can talk and sing? But, only dogs can hear it!
Melon lives in a world full of talking objects in her house like Couch, who's her best friend, Soulless Computer, Singing Record Player, Wall Calendar, and even Bookshelf who's like her therapist and more!
What's happening in Season 2?
So far, we're a few episodes in, and Melon is off to some crazy adventures.
In the first episode, she has to save Couch's first friend, Lava Lamp, from his old home. The Bad Girls finally break up, which gets Melon invited into way too many clubs, where she doesn't have time for anything. Then, Melon decides to write a play that will change the world.
Plus, it seems that Luke and Chloe, Melon's owners are going to have a baby, which Melon definitely wasn't sure about at the end of Season 1.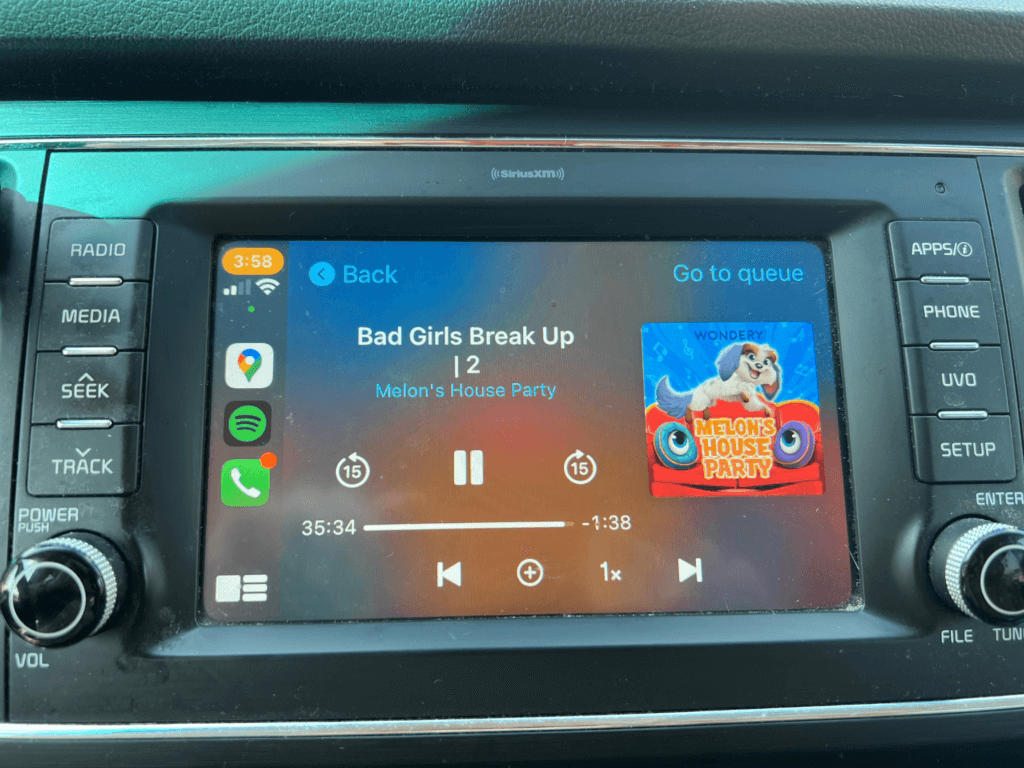 Why do we love Melon's House Party?
My kids LOVE this podcast. It's so funny and a wonderful family friendly show we all enjoy listening together in the car. It's something both my 5 year old and my 12 year old agree on and enjoy listening together.
I love this podcast because each episode teaches about the importance of friends and family and what matters most.
If you have a little music lover, they will love all the original music on the show. The songs are very catchy, and you'll find yourself bopping along and singing them all the time.
Not only is it perfect for driving in the car, it's also perfect for some screen free time while making dinner or doing chores or just listening before going to bed.
And, if you aren't going to have internet access, it's easy to download episodes for the phone or tablet for your kids to listen when you're waiting for appointments or after school activities.
How can your family listen to the show?
Season 2 just started on September 7th, and it's from Wondery. New episodes come out each Wednesday.
Each episode is about 30 minutes long, family friendly, and full of great songs, and perfect for listening while in the car.
You can find it on the Wondery app or where you listen to your favorite podcasts. We listen on Spotify, or you can find it on other places like Apple Podcasts, Amazon Music, Overcast, and more.
Tune in and listen to Melon's House Party and more of Wondery's Kids over on Instagram, Twitter, and Facebook!
Come Join Us!
Liked this article and want more? Follow along on Instagram, Facebook, Twitter, Pinterest, TikTok, and YouTube!
Come over and join us on Facebook in the group Recipes, Crafts, and more with TipToe Fairy or Sewing and Crafting with The TipToe Fairy!
Visit Our Other Blogs!