Frequently, I make Asian stir fry dishes for meals. They are super quick and easy, and I can add all kinds of veggies to them. Nate and the kids happily chow down, and I don't have a huge meal to prepare not to mention the quick clean up.
Most of the time I use steak or chicken breasts which does take a little time to defrost and then cutting up into small pieces. Then, the other day I saw this Korean Beef from Mommy on Demand that looked absolutely delicious!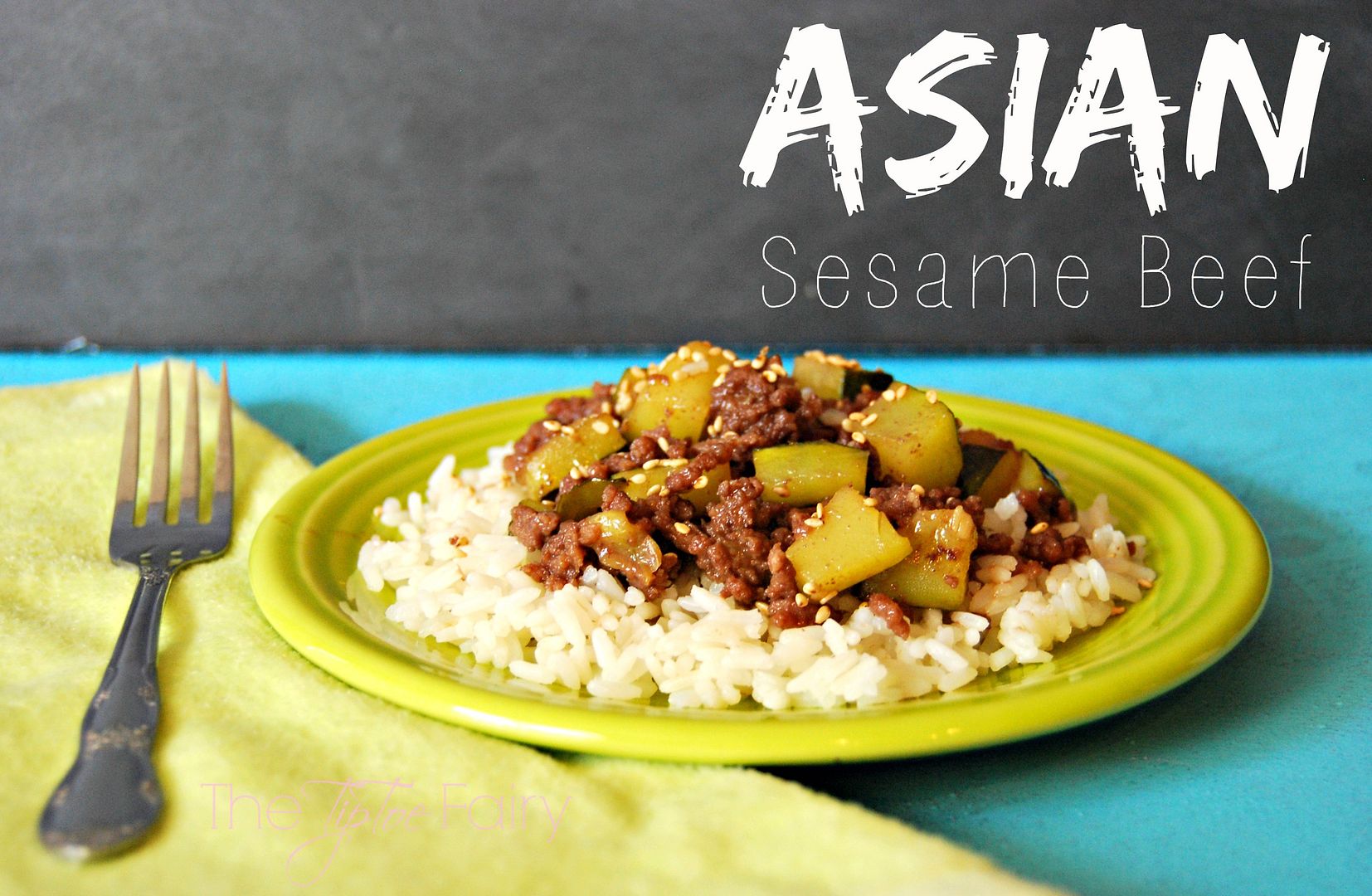 I had never thought about just using ground beef in a stir fry dish as opposed to the usual steak. Not only would it save money by just using ground beef instead of steak, it would also be a time saver!
With three kids and a husband, I tend to make our meals to feed 6-8. This way I ensure we have leftovers for the next day. Nate prefers taking leftovers for his lunches.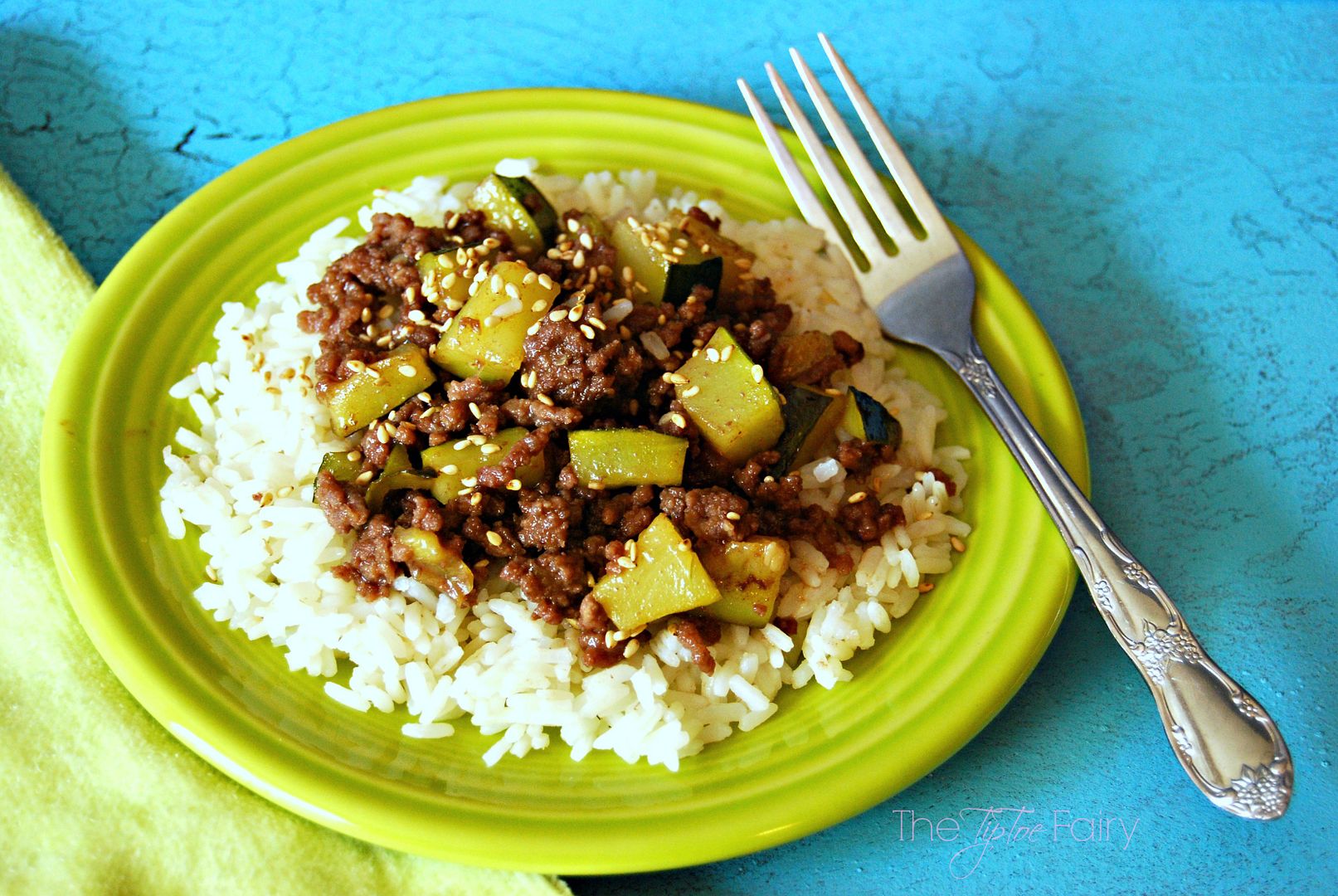 Because of all this, I needed to increase the size of the recipe, but at the same time I didn't want to increase the sugar in it. Using the same 1/2 cup of brown sugar for double the ground beef seemed fine to me, and the dish still had a sweet flavor.
I did end up adapting most of the ingredients. I like to add lemon juice or rice vinegar to asian dishes to balance the sweet flavors. I also added extra roasted garlic because we all love it. Then, I threw in some zucchini because, what the heck, it's my absolute favorite veggie, and I try to sneak it into everything!
Print
Asian Sesame Beef
---
2

pounds ground beef

2 tbsp

seasame oil

1/4 cup

of homemade roasted garlic and olive oil (probably about

6

–

7

cloves)

1/2 cup

brown sugar

1/2 cup

soy sauce

2 tbsp

lemon juice (or rice vinegar)

2

zucchinis, cubed

1 tbsp

sesame seeds

5

–

6

servings of white rice
---
Begin cooking rice as needed.
Wash and cube the zucchini.
Preheat large skillet for 1-2 minutes on medium high. Add sesame oil and garlic. Smush the garlic cloves while cooking. Wait for garlic aroma to develop for a minute before adding ground beef.
Brown ground beef.
Add zucchini when beef is fully cooked.
Immediately add the brown sugar, lemon juice, and soy sauce, Then stir.
Add the sesame seeds. Stir again.
Once everything has been coated in the sauce, turn the fire up to high to thicken the sauce.
Cook for an additional few minutes. When you can scrap the thickened sauce off the bottom of the pan, remove from heat.
Spoon over white rice and add a little shake of sesame seeds. Add chopped green onions for garnish as needed.
Recipe Card powered by
I hope you enjoy this as much my family did. It's a super quick dish you can whip up in less than 30 minutes, especially on busy school nights or when you can't figure out what to cook for dinner. Enjoy!!