This is a sponsored post written by me on behalf of SmileDirectClub. All opinions are 100% mine.
When SmileDirectClub wanted to partner with me, my teenager and I were both thrilled. It's been five years since her braces came off, and Emma couldn't wait to see if SmileDirectClub could improve her smile.
SmileDirectClub makes it easy. They use proprietary, cutting-edge technology to help avoid office visits to your dentist/orthodontist, which can help cut costs up to 70%. They partner with licensed dentists and orthodontists who assess smiles remotely and prescribe treatment, which usually lasts 3 to 10 months.
Emma had already gone through the braces phase with many trips to the orthodontist in middle school, but about a year after they came off, her wisdom teeth came in fast and needed to be removed. As soon as they were gone, it wreaked havoc on her beautiful smile. Her lower front teeth began crowding immediately, even when she was wearing her retainers constantly.
Stay tuned for another post as we go through the process. Here is her before and what she's wants fixed:
SmileDirectClub has a very straightforward and easy process. To start, you take a series of photos and send them in and wait to see if you are a candidate. These are examples of some of the photos we had to send.
They will look at these photos and determine if you are a good fit. If you are approved, then they send you a kit to make the impressions for your aligners. I was so nervous about this part. You receive four sets of trays and putty. It's enough to do 2 sets of the top and lower teeth each. We read through the instructions a dozen times, and then held our breath as we rolled the putty and put it into her mouth.
It was fairly easy, though we did mess up on one lower tray and didn't get her far back teeth seated all the way in the putty. However, even if you mess up, they want you to send all four back. About a week later, we heard back that they were ready to make her aligners.
Then, about 2 weeks after that, we received them in the mail. You receive a month's worth of aligners, tools, a case, and whitening solution. Emma has a different set of aligners for week 1, week 2, and a combined set for weeks 3-4.
She nervously put them in the first time expecting there to be spots of discomfort around her gums, which was her experience with the retainers after braces. When she popped the aligners in, she immediately noticed how thin they were and really liked it. She said you can barely feel them. I think that has a lot to do with their 3D printing technology for a great fit. When she smiles no one even knows she's wearing the aligners.
SmileDirectClub harnesses technology to make custom-made invisible aligners that are 3D printed with high-quality, BPA-free plastics that can straighten and brighten your smile 30 percent faster than competitors.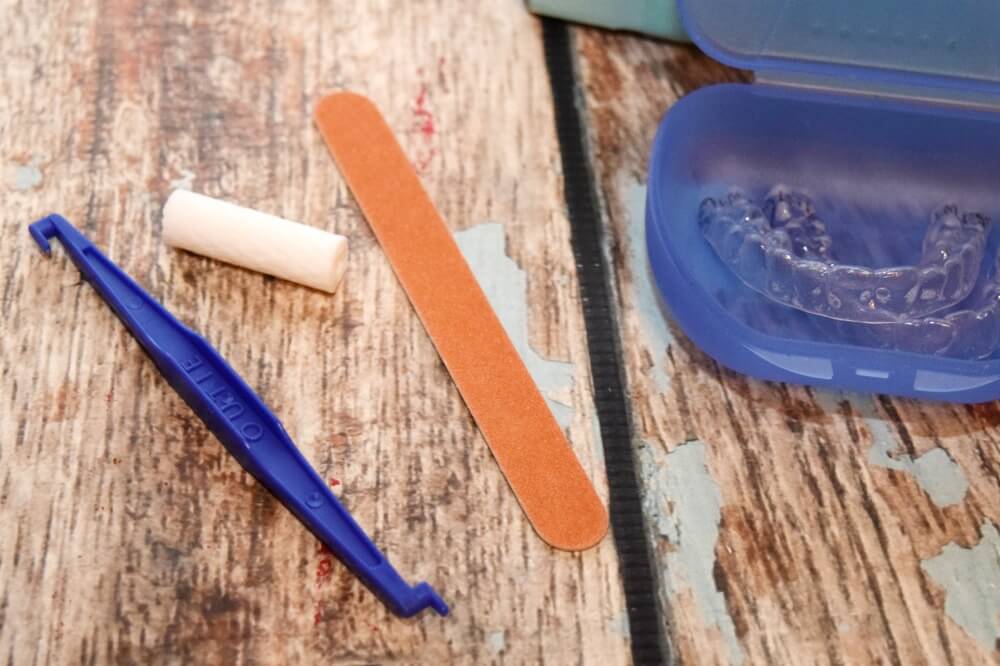 When your box arrives, the aligners come with some great easy-to-use tools. First, there is this awesome little thing called a "Chewie." You bite on it when you put the aligners in your mouth to help them settle onto your teeth. My daughter loved this. Second, there's a little hook called an "Outie" that lets you easily take the lower aligner out of your mouth. Third, there is an emery board if you need to file any spots down that are poking you.
You also get GLO™ Whitening with your aligners, and you can use it while wearing them. We just got her aligners, so we haven't had a chance to try it out just yet. She plans to start the whitener this weekend.
Stay tuned because this is just part 1 of our journey!
Are you ready to get started? If you're interested in getting a smile you'll love, check out how it works. You can even start your free smile assessment right now! Keep reading for an exclusive discount code just for The TipToe Fairy's readers!
Other invisible aligners can cost as much as $5,000 on average. Something like this is often decided by the cost, and SmileDirectClub doesn't think it should cost a fortune to get a better smile. They offer two payment options, including an easy payment plan:
a single payment of $1,500 (lab costs waived) or
$250 down + $99/month for 15 months (total $1,735)
Once you're ready, there is a $95 risk-free evaluation to see if you qualify for SmileDirectClub. If you don't qualify, you get your money back!
However, I've got a deal just for my readers – use the code TIPTOESMILES to get 50% off the cost of the SmileDirectClub evaluation!
Are you wanting a better smile?