This post may contain affiliate links.
It's the first day of Ice Cream Week! There's a giveaway, and I will be bringing you some deliciously fun ice cream flavors all week long as and so will a few other bloggers, too! Today's flavor is my kids absolute favorite — Unicorn Ice Cream!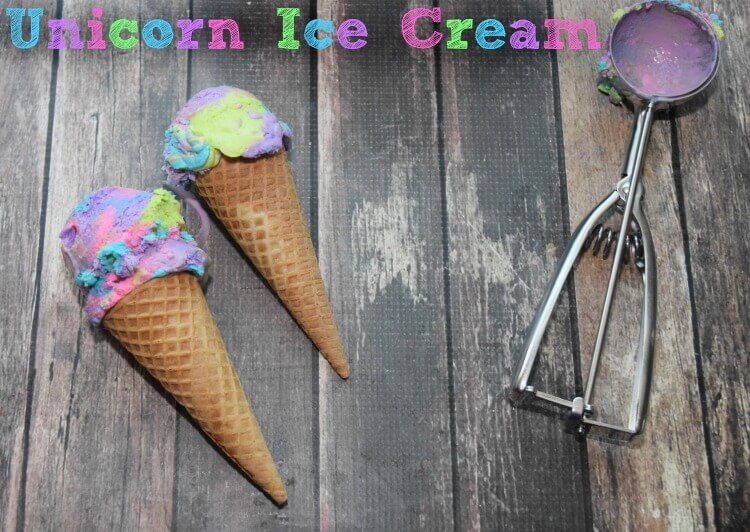 First off, I do not own an ice cream maker, so this is definitely a no churn ice cream.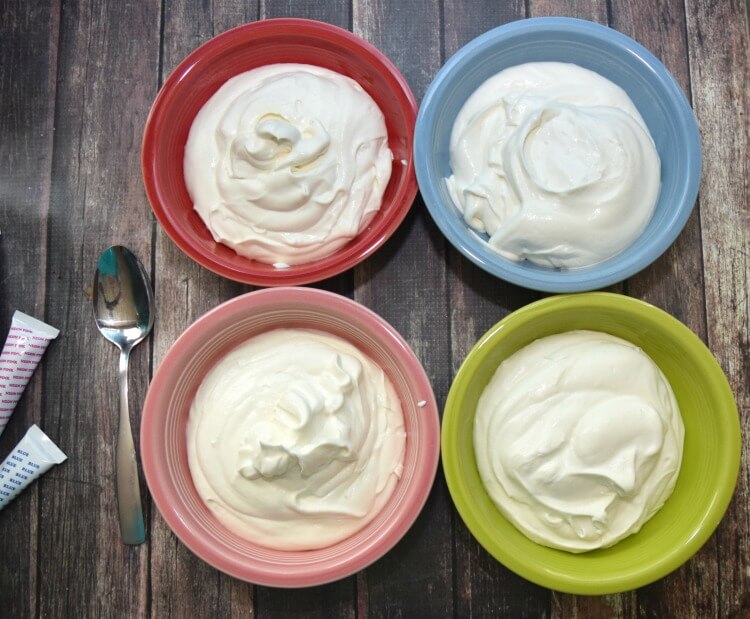 This recipe is incredibly easy. It's a can of sweetened condensed milk, whipping cream, and vanilla extract. That's it!
Start out whipping the whipping cream in the electric mixer on high. As it begins to whip, slowly pour the can of sweetened condensed milk into the whipping cream. Then, when it's forming soft peaks, add the vanilla. Whip for another minute.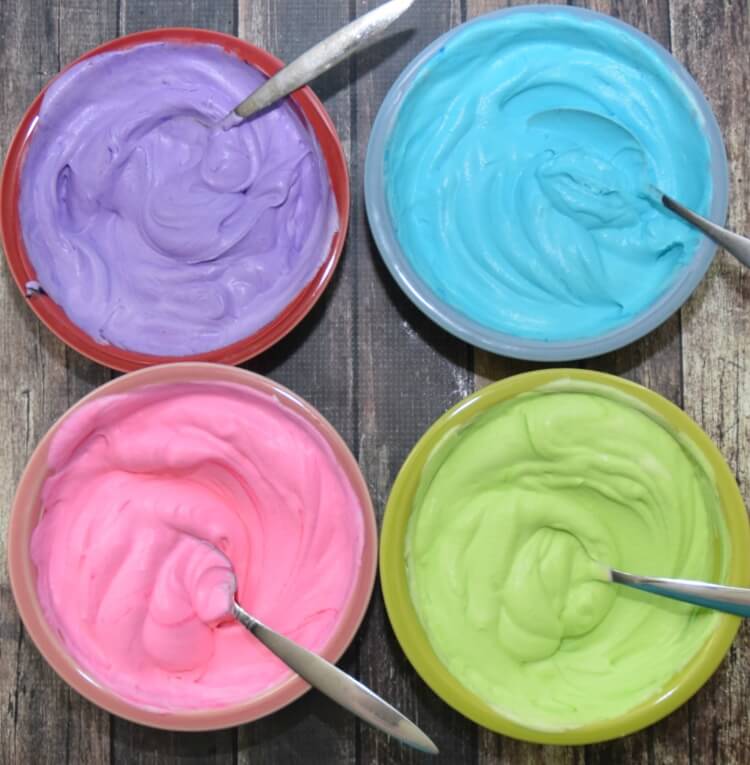 Unicorn Ice Cream is a rainbow of pink, purple, green, and turquoise. So, I evenly divided the whipping cream mixture into four bowls.
Next, I used food coloring gels because they are much more vibrant than the drops. This is more of an eyeballing thing. I just kept adding a little bit at a time to get the color I wanted.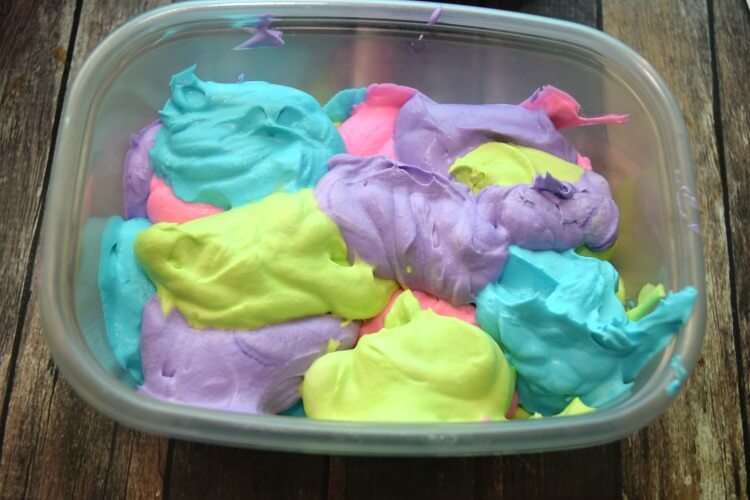 Next, I add a heaping spoonful of each color at a time overlapping the colors over and over and vary it as I go.
I use these freezerware containers for all my ice cream recipes. They have lids and don't let in the freezer burn.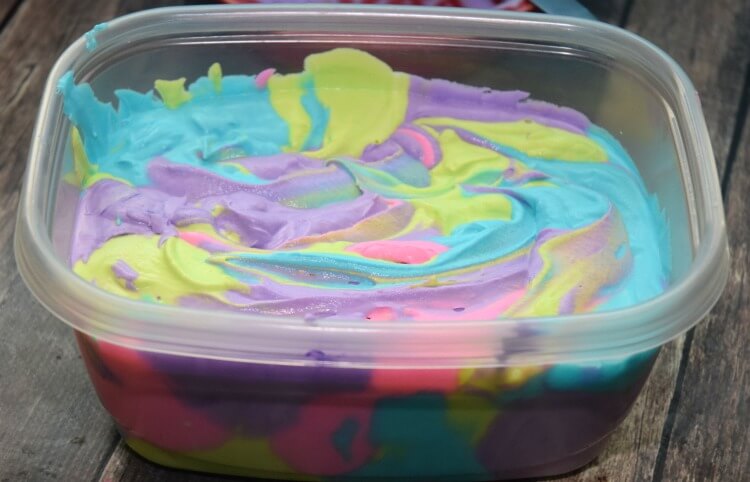 When I've added all the colors, I tap the container on the counter a few times to flatten out the mixture, and in the process, it swirls it a little.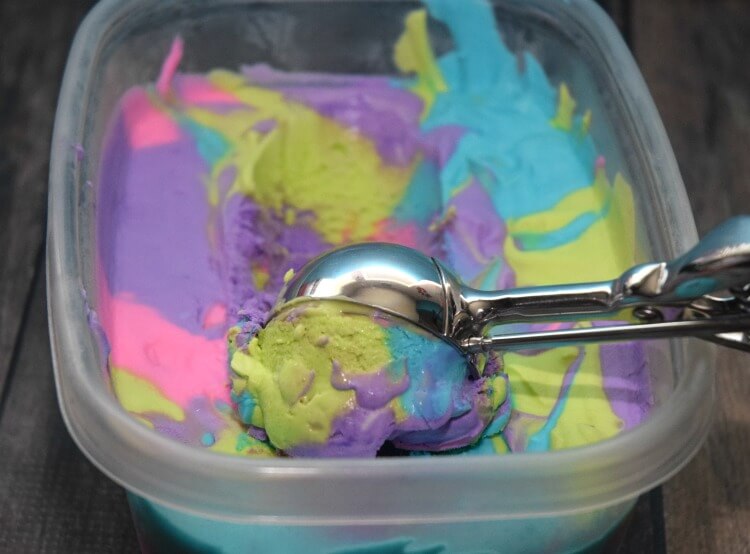 Cover the ice cream and freeze it for at least 8 hours. I keep it in the freezer overnight so it hardens up nicely.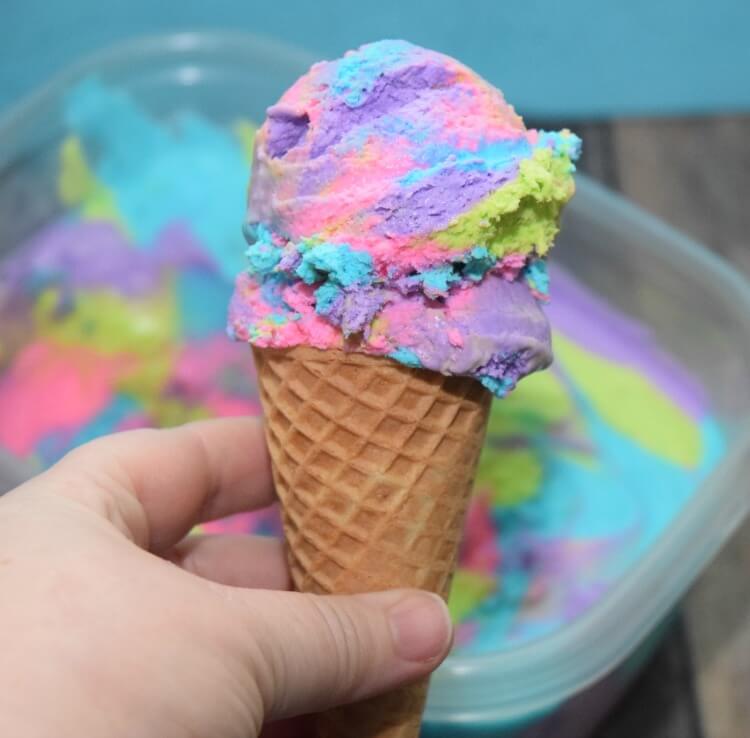 This is a perfect ice cream for a treat, birthdays, and more. It's a sweet delicious cream flavor with a hint of vanilla. Your kids are gonna love it!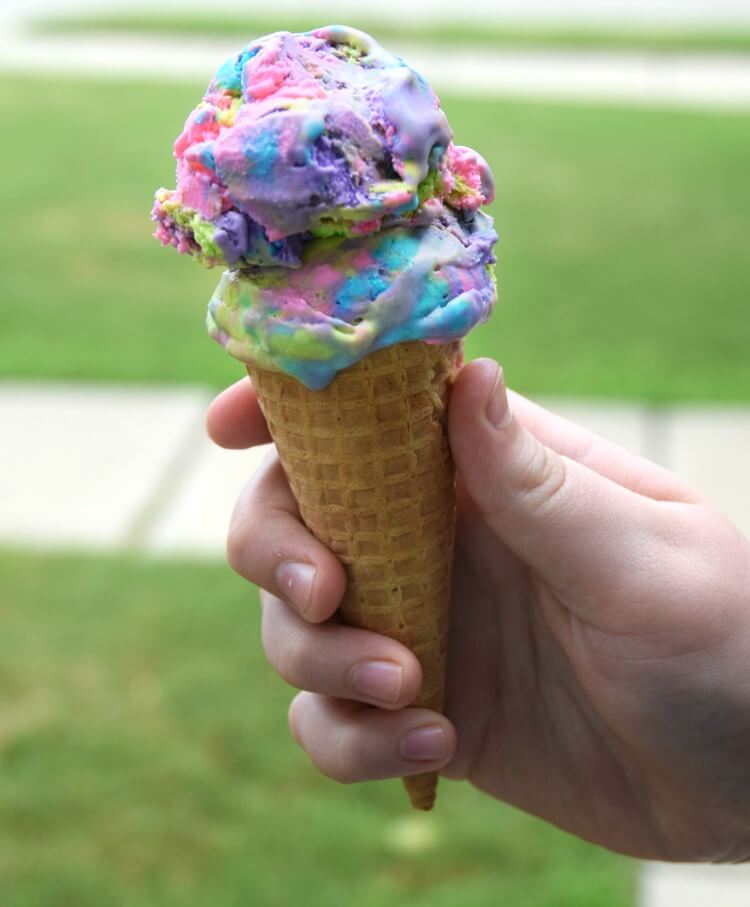 More No Churn Ice Cream Recipes
Ingredients
2 cups whipping cream
14 oz can sweetened condensed milk
1 teaspoon vanilla extract
blue, pink, purple, and green food coloring gels
Instructions
In an electric mixer, whip the whipping cream on high.
Slowly pour in the sweetened condensed milk.
When soft peaks form, add the vanilla.
Continue whipping for another 1-2 minutes.
Separate into 4 bowls.
Add one gel food coloring to each bowl - pink, blue, green, and purple.
Mix each with a spoon and add more food coloring as necessary until the color you want is achieved.
Drop heaping spoonfuls of each color, overlapping one another, in the freezer container for the ice cream.
When you've added all the colors, tap the container on the counter until the cream mixture is smooth on top. This will mix the colors a bit.
Cover and freeze for at least 8 hours, and best overnight.
Serve after completely frozen.
Nutrition Information:
Yield:

8 cups
Serving Size:

1/2 cup
Amount Per Serving:
Calories:

418
Total Fat:

27g
Saturated Fat:

17g
Trans Fat:

1g
Unsaturated Fat:

8g
Cholesterol:

90mg
Sodium:

101mg
Carbohydrates:

38g
Fiber:

0g
Sugar:

38g
Protein:

7g
Any nutritional information on thetiptoefairy.com should only be used as a general guideline. This information is provided as a courtesy and there is no guarantee that the information will be completely accurate.