[disclaim]This post may contain affiliate links.[/disclaim]
It's the last day of Ice Cream Week! I saved the best for last. Can you guess who inspired this ice cream? That's right! It's Finding Dory Inspired Ice Cream!
Have you found some recipes you just have to make? I know I have! Did you try Unicorn Ice Cream or Strawberry Peach Ice Cream? They're both no churn!
Finding Dory Ice Cream is so easy to make. I start out with an ice cream base of whipping cream and sweetened condensed milk. After whipping them, remove 1 cup of the mixture and set aside.
First, we'll flavor the big batch of mixture with cotton candy flavoring. I used one dram of flavoring oil. Then, I color it blue with food coloring gels.
Next, I got some Finding Dory cereal, and I picked out all the marshmallows to add to the ice cream. I thought they added the perfect addition to my Finding Dory ice cream.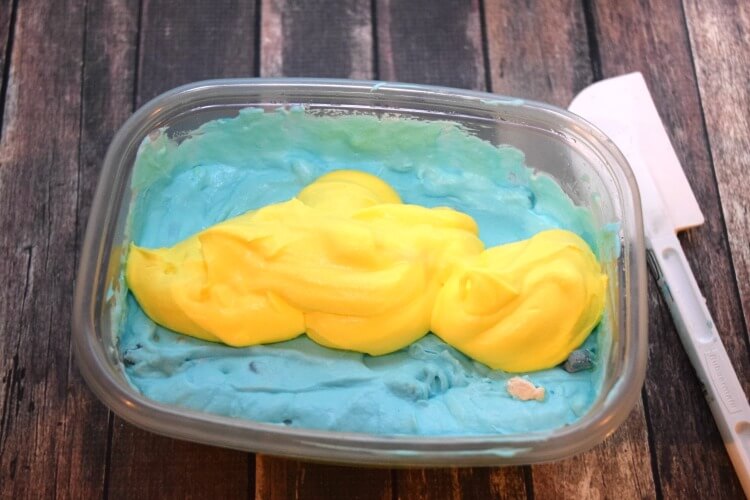 Next, take the cup of ice cream mixture you set aside and color it with yellow gel dye. Then, add it right in the top middle of blue mixture. Take a knife and gently swirl it in. Don't mix it up too well, or you'll get green ice cream!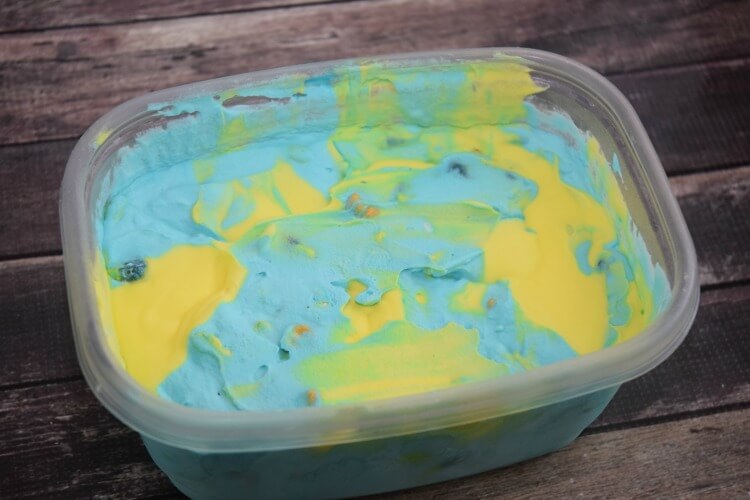 Put it in the freezer overnight or for at least 8 hours.
When it's no longer soft, scoop it up for some Finding Dory deliciousness! Will it be once scoop or two?
Finding Dory Inspired Ice Cream is one of her favorites. She can't decide if her favorite is Unicorn Ice Cream or Finding Dory Ice Cream!
Print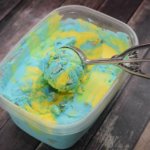 Finding Dory Inspired Ice Cream
---
2 cups

whipping cream

14 oz

can sweetened condensed milk

1

dram cotton candy flavoring oil

1 cup

of Finding Dory marshmallows (from Finding Dory cereal)
blue and yellow gel food coloring
---
With an electric mixer begin beating the whipping cream on high.
Slowly add a can of sweetened condensed milk.
Whip until just when hard peaks form.
Remove 1 cup of cream mixture and set aside.
Take the remainder of the mixture and add the flavoring oil and mix well.
Add blue gel food coloring and mix thoroughly.
Pour it into a freezer safe container.
Gently mix in the marshmallows.
Take the 1 cup of mixture and color it with yellow gel food coloring.
Pour it on top of the middle of the blue mixture.
Gently swirl with a knife.
Freeze for at least 8 hours or overnight.
Serve in cones.
Recipe Card powered by
A big Thank You to our sponsors for the goodies and the awesome giveaway. You can win your own Cuisinart Ice Cream Maker: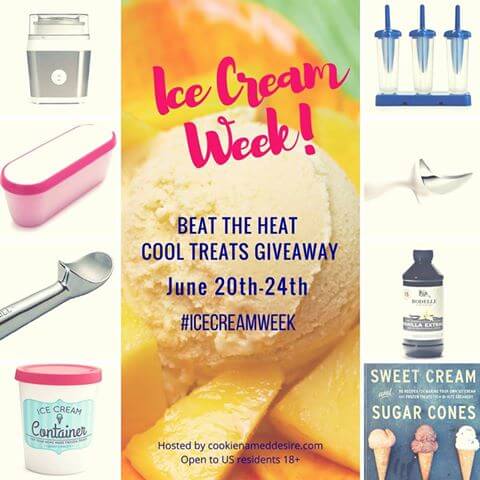 If you haven't entered earlier this week, here's the giveaway for the Cuisinart Ice Cream Maker plus other goodies!!
a Rafflecopter giveaway

Looking for more ice cream recipes? Here's a few more from my fellow bloggers!
Friday
Maple Ice Cream via A Cookie Named Desire
Finding Dory Ice Cream via The Tip Toe Fairy
Passionfruit Ice Cream via Olivia's Cuisine
No-Churn Coffee Chocolate Chunk Ice Cream via Honey and Birch