One of my favorite memories from childhood is having Root Beer Float Ice Cream when were camping in Colorado. This shop has been compensated by Collective Bias, Inc. and its advertiser. All opinions are mine alone. #AWMemories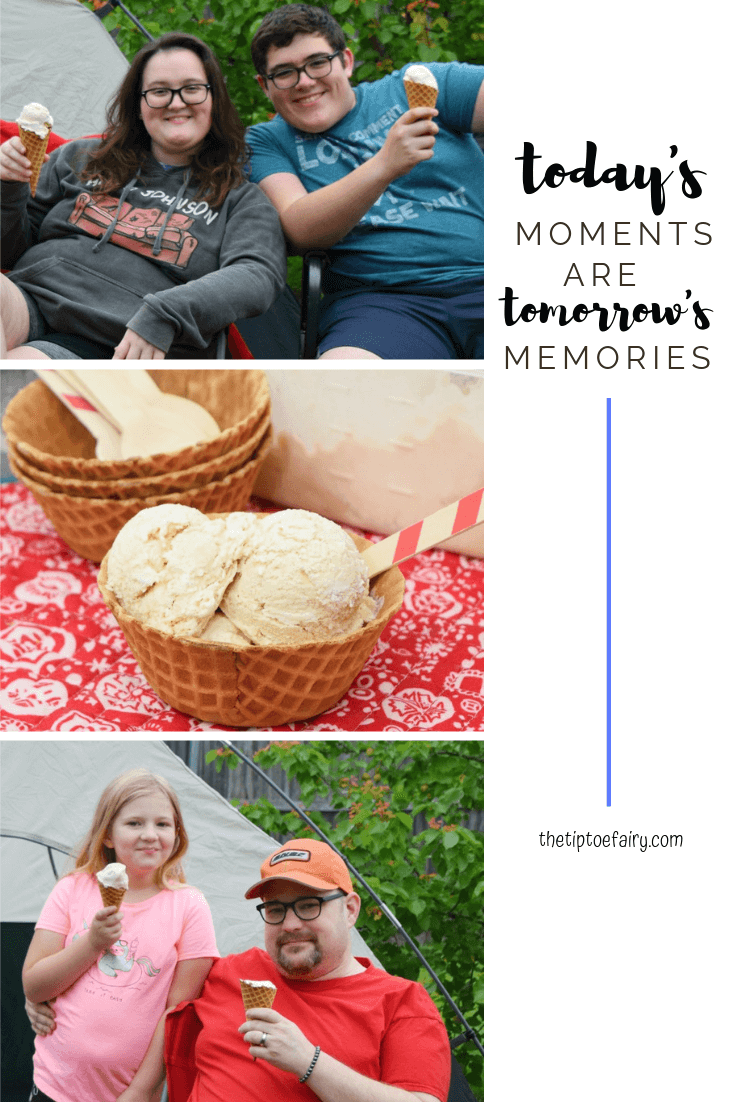 Have you ever tried to recreate a favorite memory from your childhood with your family? I've done it a few times with my kids with special memories I had growing up.

A&W® Root Beer celebrates 100 years!
Did you know A&W Root Beer is celebrating its 100th anniversary this year? This past weekend I was inspired by A&W Root Beer when I was grocery shopping at Walmart to recreate one of my most favorite memories from my childhood with my kids.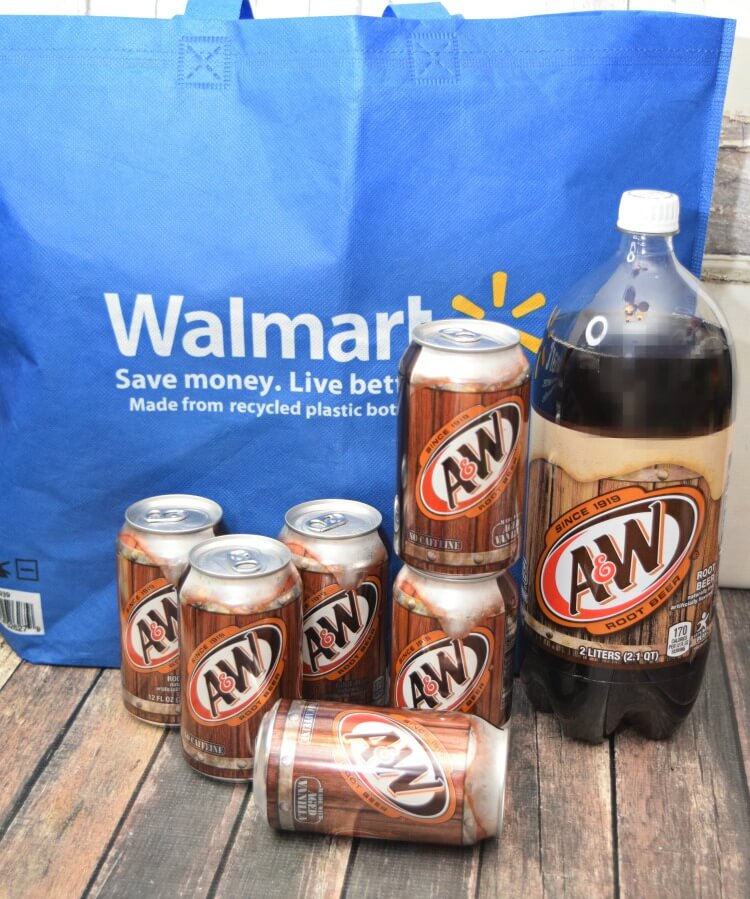 My Favorite Childhood Memory
When I was a little girl our summer vacations often were camping trips. We took one such camping trip from Texas all the way up to the Grand Canyon. We stopped at various campgrounds along the way in New Mexico and Colorado. It was a memorable trip for so many of the things we did. At one campground, our campsite literally backed up to a river, and we could fish right there.
My favorite memory from that trip was a campground that had family ice cream night. They set up a projector with cartoons and served root beer ice cream. I still remember how good that ice cream tasted. I decided to recreate this with my kids over the weekend in our own backyard!
No Churn Root Beer Float Ice Cream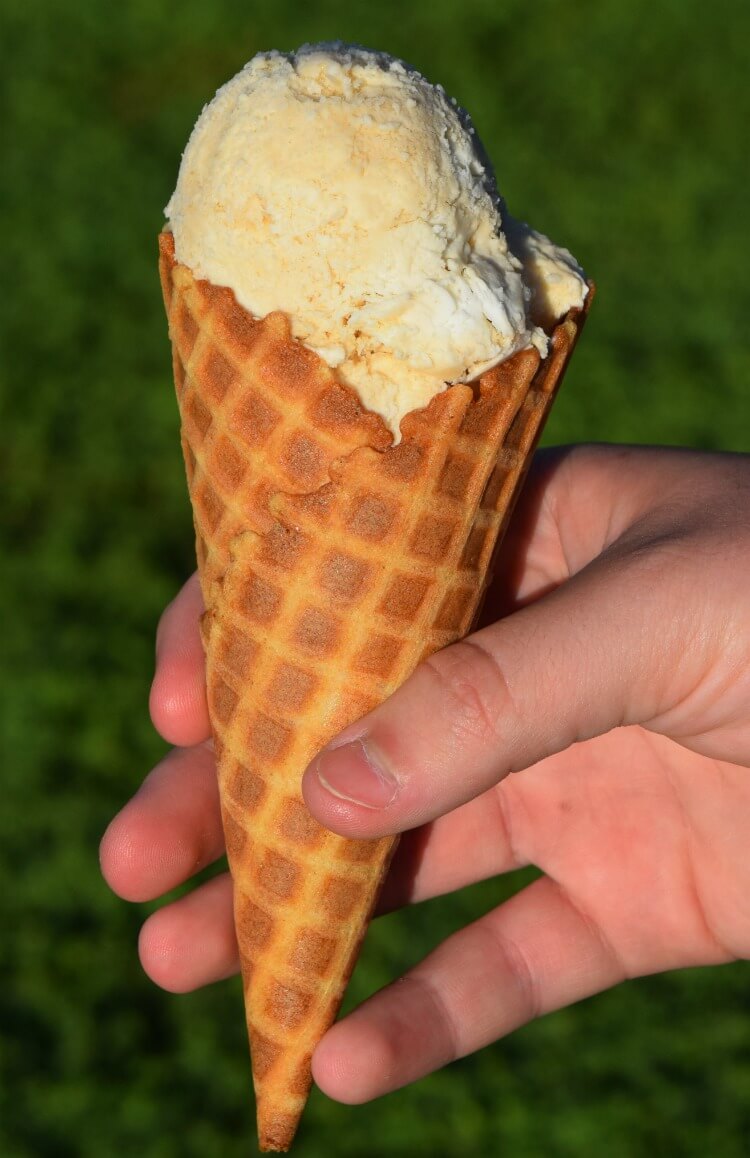 The day before our little backyard camp out, I headed to Walmart to pick up some A&W Root Beer so I could make No Churn Root Beer Float Ice Cream. It's always my go to root beer for floats, cupcakes and more! Anything that's been around this long, must be good!
This ice cream is simple to make. Just make sure to make it at least 8 hours before you're ready to serve, so it has enough time to freeze.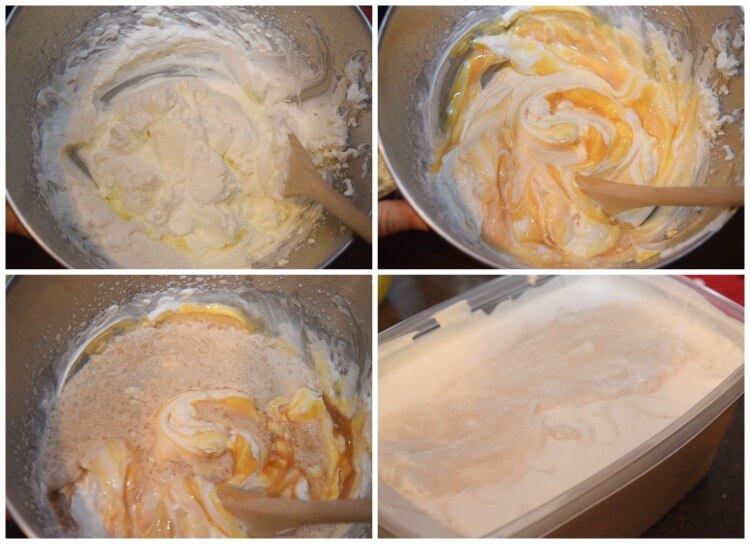 Some people like to use root beer extract to make this ice cream, but I prefer using A&W Root Beer. As it freezes, the cream rises and the root beer falls to the bottom of the container and crystallizes.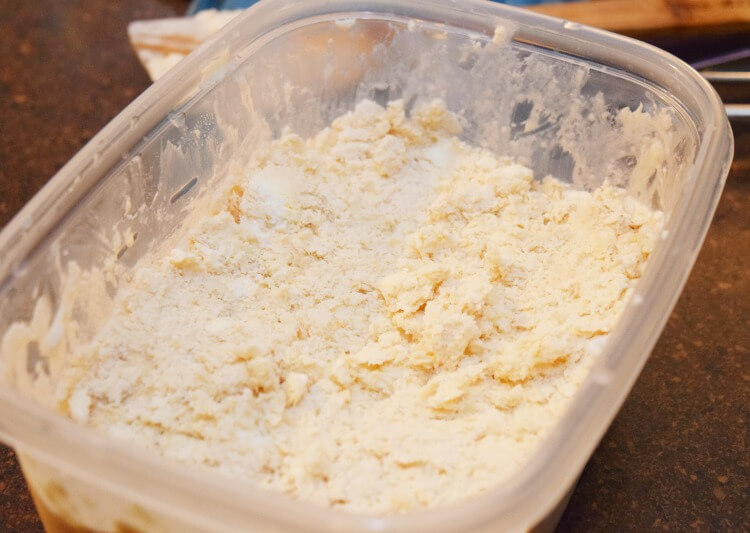 When you're ready to serve, take a big wooden spoon and mix up the separate layers and your ice cream will have those delicious root beer crystals throughout it. It's similar to when you have a root beer float made in a frozen mug.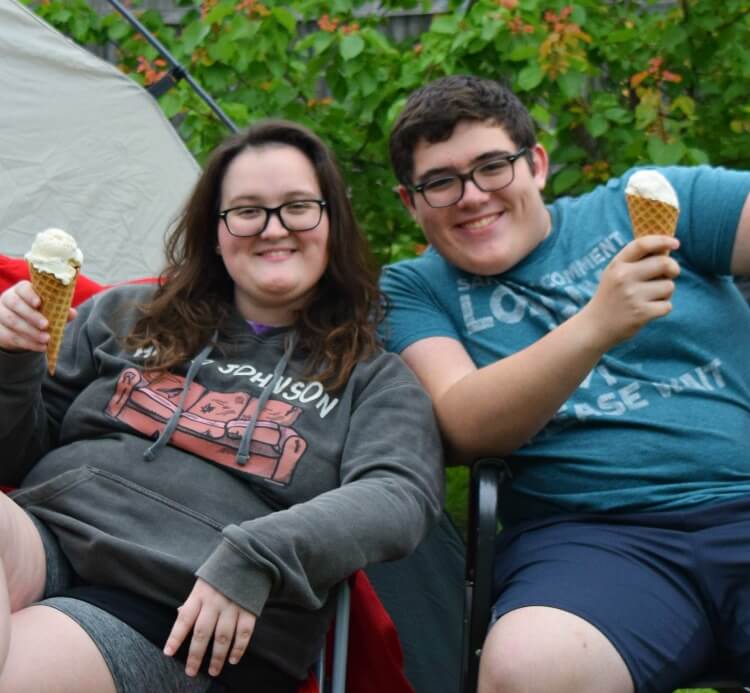 Movie Time
>We set up the tent in the backyard and got bedding from the house. My kids were so excited! We got out the camping chairs and put up a white sheet on the side of the house. Then, we made a projector for my smartphone. Get the directions HERE for the DIY projector!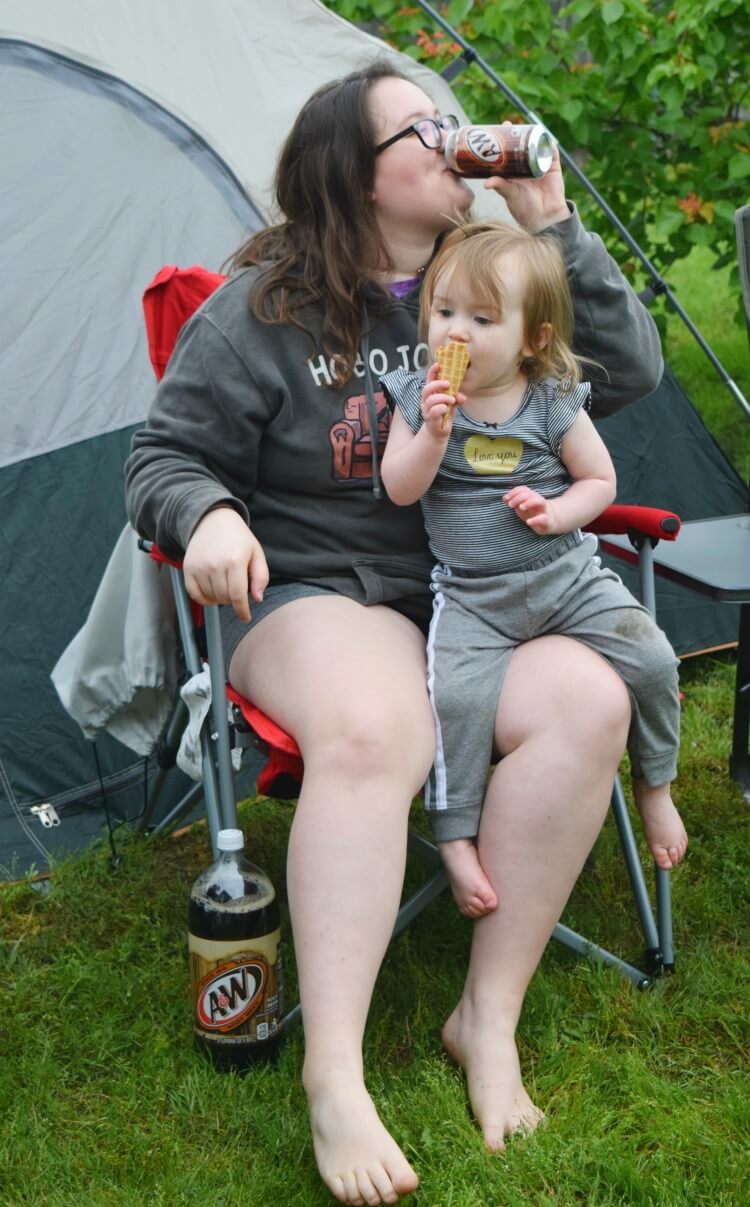 I brought cans of A&W Root Beer outside for everyone to enjoy. Then, I dished up the ice cream and brought everyone a waffle cone. It tastes just like you're eating a root beer float. It's deliciously icy and creamy all at the same time.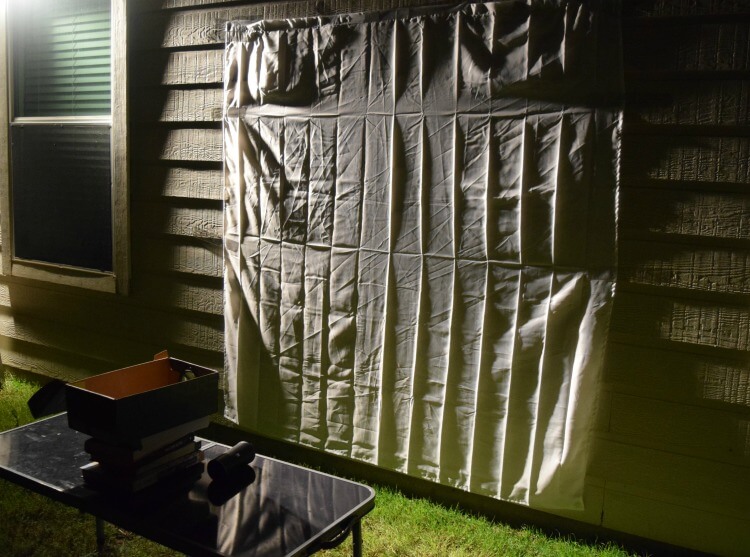 Our DIY movie projector image wasn't huge. It displayed about the size of a 19 inch television. We used a Bluetooth speaker for the sound. Then, we put a white shower curtain on the backside of the house and turned out all the lights. You need it really dark to get a good picture.
It wasn't perfect, but it was a lot of fun to hang outside with my older kids and eat ice cream while the little kids played in the tent. We'll definitely be doing it again. This time it was going to rain, so we didn't get to sleep in the tent. The kids cannot wait to sleep outside in the tent later this season when the rain is over.
More Fun Ice Cream Recipes
Yield:

1 quart
No Churn Root Beer Float Ice Cream
Your family is going to love this easy to make No Churn Root Beer Float Ice Cream made with A&W Root Beer. It's creamy and icy and delicious!
Ingredients
2 cups + 1 tablespoon heavy whipping cream
16 oz A&W Root Beer
14 oz sweetened condensed milk
Instructions
Pour 12 oz of A&W Root Beer into a cup to get flat while the cream is whipping.
Whip 2 cups of heavy whipping cream until it forms stiff peaks.
Fold in the sweetened condensed milk and the 12 oz of root beer into the whipping cream.
Transfer into a freezer container and gentle tap it on the counter to smooth it out.
Take the 1 tablespoon of whipping cream and the last 4 oz of root beer and mix together. Then, drizzle over the top of the ice cream mixture.
Seal the lid and put the ice cream in the freezer for at least 8 hours, preferably overnight.
When you pull it out of the freezer, it should be airy but stiff, and the root beer will have fallen to the bottom.
Take a big wooden spoon and mix the root beer up into the ice cream.
Then scoop it up and put it in cones or bowls and eat immediately.
Store the rest of the ice cream in a sealed container in the freezer for up to a week.
Looking for more inspiration with A&W Root Beer? Check out more HERE!