I was so happy to see in the comments y'all thought this was a great series! My plan is to keep it going as long as I can. I have quite a few crazy flavors up my sleeve for the time being. If you have a cupcake flavor you'd like to suggest, feel free to post it in the comments, and I'll see what I can do.
Last week's flavor was Cotton Candy.
This week's flavor is Root Beer Float, and it's delicious! Reminiscent of a creamy root beer float topped with vanilla ice cream. These cupcakes are a root beer infused white cake mix with a root beer glaze filling and topped with vanilla buttercream frosting and then finished with more of the root beer glaze.
Root Beer Float Cupcakes
Yields: 24 cupcakes
Ingredients
Cupcakes
1 box white cake mix
1 1/4 cups root beer soda
1/3 cup vegetable oil
3 egg whites
2 tbs root beer concentrate
1. Preheat oven to 350. Place 24 cupcake liners into cupcake tins.
2. Add all ingredients to mixer and mix on low to combine for 1 minute. Then, mix on medium for 2 minutes until well blended.
3. Divide the batter among the cupcake lines, filling each about 2/3 full.
4. Bake for approximately 15 minutes, until a toothpick comes out clean.
5. Allow to cool completely before frosting.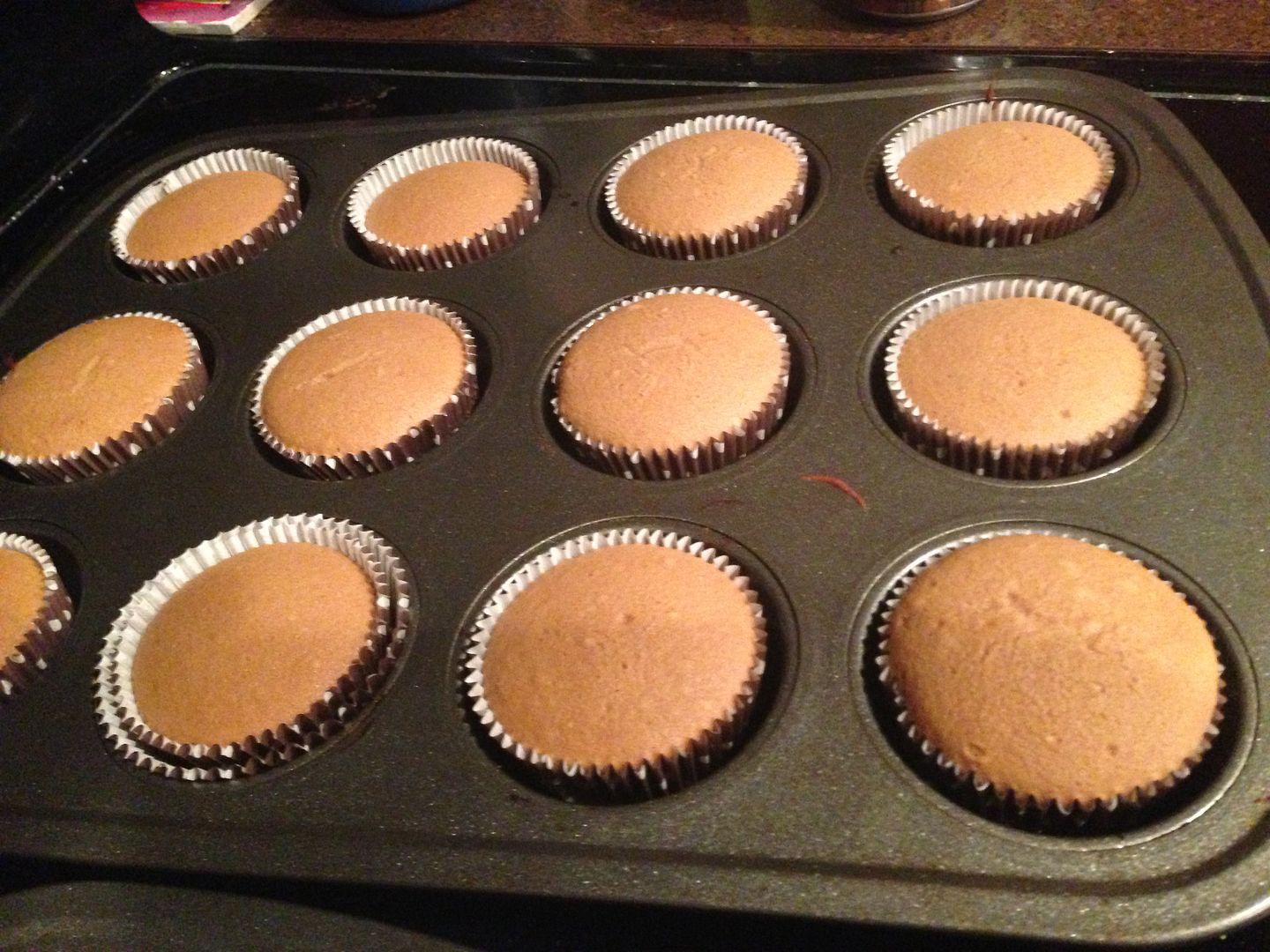 Root Beer Glaze
2 cups powdered sugar
1 tbs root beer concentrate
1/4 cup root beer soda
1 tbs cream or milk
1. Mix powdered sugar and root beer. Add the root beer concentrate and cream. Mix until smooth.
2. Using a round tip, fill a pastry bag with the glaze. Insert the tip into the top middle of the cupcake about 1/2 to 1 inch and gently fill with glaze. Continue gently filling for just a quick second as you pull the tip out, so that some of the filling is on top of the cupcake like the picture.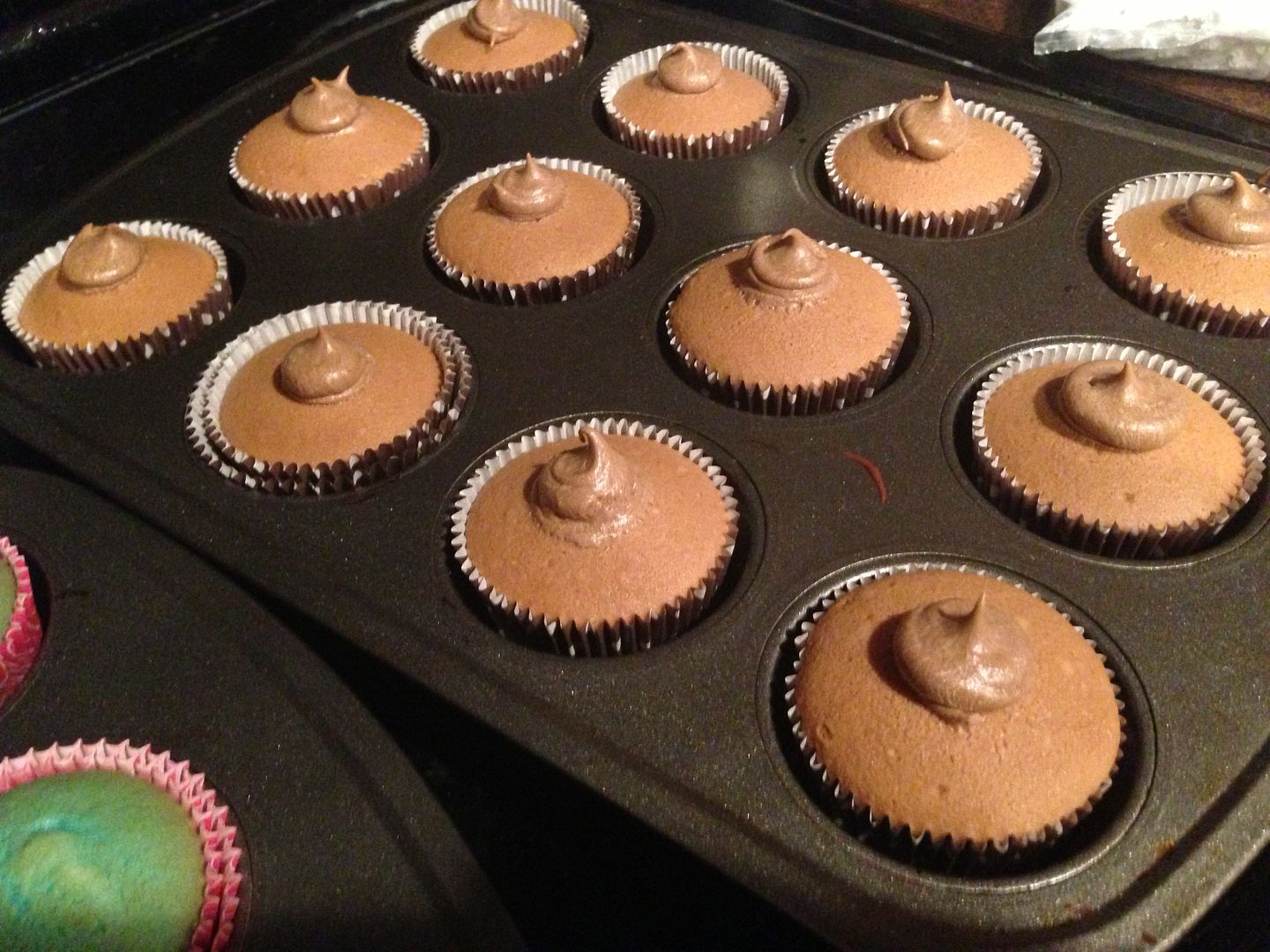 Vanilla Buttercream Frosting
1 cup salted butter, at room temperature
3-5 cups powdered sugar
3-5 tbs milk
1-2 tsp vanilla extract
1. With your electric mixer using the whisk attachment whip the butter on high speed until it's very pale and very fluffy. This takes about 5-7 minutes. Make sure you frequently scrape down the sides of the bowl.
2. Add in powdered sugar, milk, and vanilla extract. Mix on low speed until blended. Check the consistency to see if you need to add more milk or powdered sugar.
3. Once it's not too heavy or runny, then increase your mixer speed to medium and beat until very light and fluffy. I usually leave the mixer on about 5 minutes. Scrape down the sides of the bowl frequently.
4. Using a large ice cream scoop, top each cupcake so that it looks like a scoop of ice cream.
5. Next, top off the vanilla frosting with a drizzling of root beer glaze.
6. Finish off with Swedish pearl sugar and half of a straw.