My husband invited a childhood friend over for dinner as I was making a giant pan of these butter baked pork chops. I decided we needed a dessert. It was Sunday dinner after all.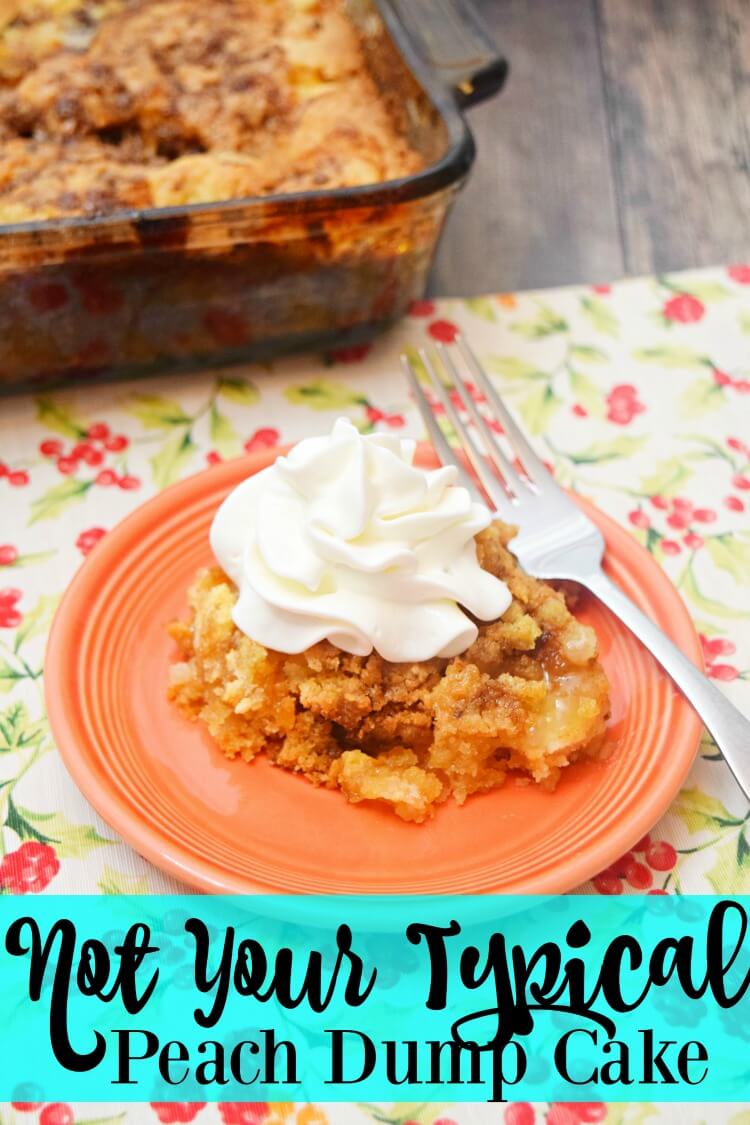 I found a variation of a peach dump cake on a can of peach pie filling I had way back in the pantry. It called for yellow cake mix, pecans, and toffee. I didn't have either toffee or pecans, but I did have yellow cake mix. Fun fact — I hate pecans. So if it calls for pecans, I usually leave them out.
What I did have was a bag of Heath milk chocolate toffee bits, so I thought what the heck. Let's see what this does. I was really wondering how chocolate Heath bar would taste with peaches as it did not sound like it really went together. Boy, was I wrong.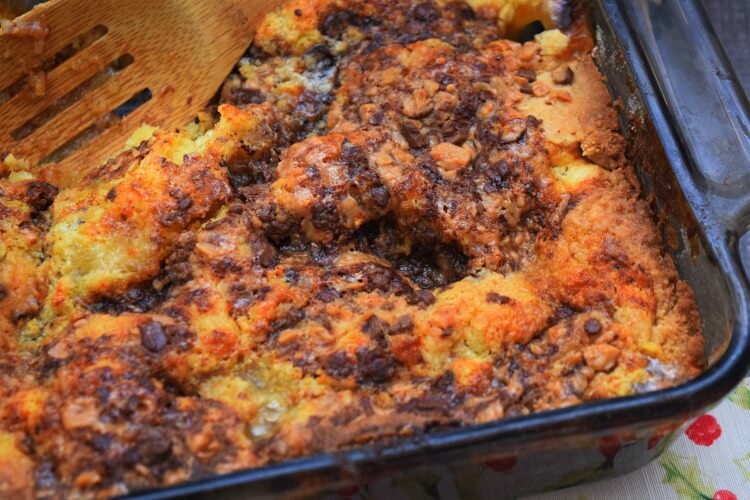 The smell of this cake while it was baking was AH-MAZING! It does take forever to cook, like 45 minutes (so I will be creating an instant pot recipe of this one soon for a quicker version). Luckily, I was able to cook it on the bottom shelf while the pork chops were also cooking. Then, I let it sit for 45 minutes while we were eating dinner, before I served it to everyone.
A dump cake is not really one that lets you slice it up nice. So, I just scooped it out and added a dollop of whipped cream to the top, and then passed it out and hoped for the best. These people raved about. My husband, who never really cares for sweets, ate 2 helpings.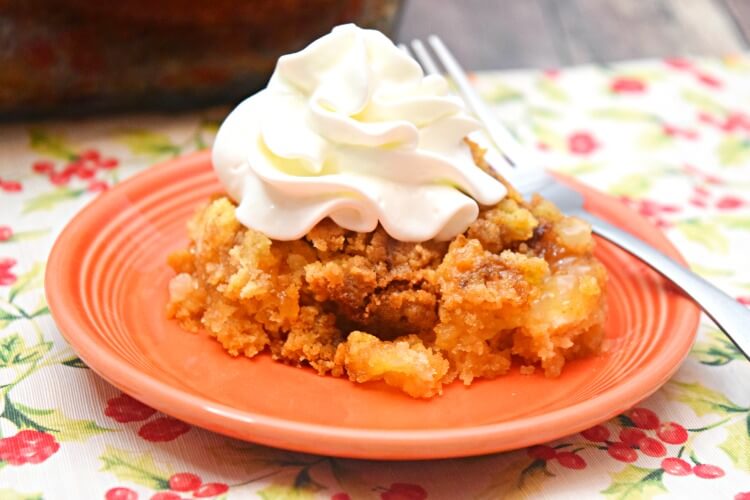 Let me tell you…that cake was delicious, absolutely delicious! I couldn't believe how good it tasted. The chocolate, cake mix, toffee, and peaches were made for each other. I cannot wait to make this again, and it's so dang easy.
I forgot to mention — my 8 yr old made this entire cake while I was getting the pork chops ready to bake. She did the whole recipe all by herself!
So here's the recipe — enjoy — because it's so good!
More Easy Recipes
Perfect for Having Friends and Family Over:
If you're having friends over, make this dessert and here's a few more suggestions for a good time:
Not Your Usual Peach Dump Cake
This is not your typical peach dump cake. It's got milk chocolate toffee bits, and surprisingly, it tastes just divine!
Ingredients
1 yellow cake mix
1 can of peach pie filling
1/2 cup Heath Milk Chocolate Toffee Bar Bits
1 stick of butter
Instructions
Preheat oven to 375 F degrees.
Pour the entire peach pie filling into an 8 x 8 pan and spread it out across the whole pan.
Pour the yellow cake mix over the stop and swirl it a little.
Sprinkle the chocolate toffee over the entire top.
Cut a whole stick of butter into little squares and dot them all over the top of the cake.
Bake for 45 minutes.
Let it cool for at least 45 minutes.
Serve with whipped cream or ice cream on top.