I am not a coffee drinker, but I love tea. Down here in Texas, we drink a lot of iced tea. In fact, that is usually what I serve with dinner every single night. But, I also love a good cup of hot herbal tea or fruit tea sweetened with just a little bit of sugar.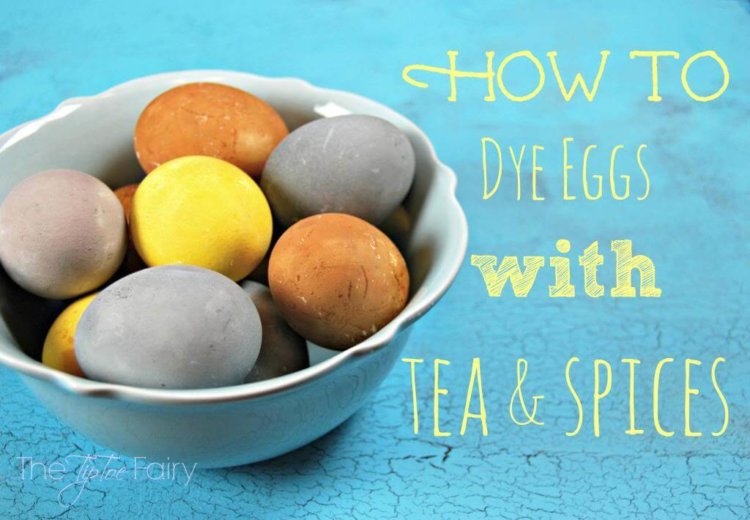 My favorites are always from Bigelow — Orange and Spice, Constant Comment, and Wild Blueberry. Love that blueberry tea! Not only do I love to drink a good cup of tea, I also like to craft with it. You can dye all sorts of things with tea.
When Easter comes around, I love to dye eggs. Every year, I try to get the kids to help me do something different with egg dyeing. One year it was wax resistance, another was glitter eggs, another Kool Aid, etc. Well, this year, I decided I was going to try using natural foods such as teas and spices to dye eggs.
Boilings the Eggs:
To get the perfect boiled eggs, here is my method: I place as many eggs as I can fit in the bottom of a dutch oven, cover the eggs with water, and cover the pot with a lid. I let it reach a boil, crack the lid just a tad, and then set the timer for 10 minutes.
At that point, I remove the pot from the fire, pour off as much water as possible, and then add cool water and 4 cups of ice, and let them sit. When the eggs are cool, I wash them in soap and water to get off any oily residue, which will prevent the dye from taking. Then, I let the eggs completely dry.
Dyeing the Eggs
Next up is the dyeing! For my egg dyeing adventure, I decided on four different ingredients to get four different colors:
Brown using Constant Comment black tea
Yellow using Turmeric spice
Blue/purple using Wild Blueberry herbal tea
Reddish pink using Pomegranate Pizzazz tea
Natural Egg Dyeing Supplies
Vinegar
Various tea flavors and spices
Boiled eggs
Directions
1. For each dye, I used the microwave. For the tea, I add 6 tea bags in a microwave-safe container, 1 cup of vinegar and 4 cups of water. Microwave for 5-6 minutes. Then, let it steep for an additional 5 minutes.
2. Then, place the eggs into the container and let sit for an hour or two. Check the eggs for color and stir gently every 30 minutes or so. Also, the eggs in the dye can be placed in the fridge overnight.
3. For spices, I mix an entire 1 oz container with 1 cup vinegar and 4 cups water. Heat for 5 minutes in the microwave, and stir until well mixed. Then, add the eggs for 30 minutes to 1 hour. Check the eggs for color every 30 minutes and stir gently. Remove when they have achieved the color you want. *Besides turmeric, you can use chili powder, paprika, and more spices.
4. Once the eggs are to the color of your liking, remove from the dye, and let it dry. With the eggs made in the turmeric spice, I washed them to remove any solid pieces of spice from the eggs.
Both the eggs dyed in Constant Comment tea (orange brown) and in turmeric spice (yellow) colored very quickly, in less than hour. The purple blue eggs that soaked in the blueberry tea took an entire day to get to the dark color, and the dark pinkish eggs took about 2-3 hours to get to a good color.
This was a lot of fun! My 3 year old loved checking on the eggs to see what colors they were turning. I think my favorite was the eggs dyed in Constant Comment tea. The color was amazingly vibrant in what I would say ended up being more of an orange color than brown.
I am definitely curious to try other tea flavors and spices to see what other colors I can dye eggs. I'm still on a hunt for a good green color. Have you ever dyed Easter eggs in natural dyes? What colors did you get?