This is a sponsored post on behalf of FatBoy Ice Cream Sandwiches and Blog Meets Brands. All opinions are my own.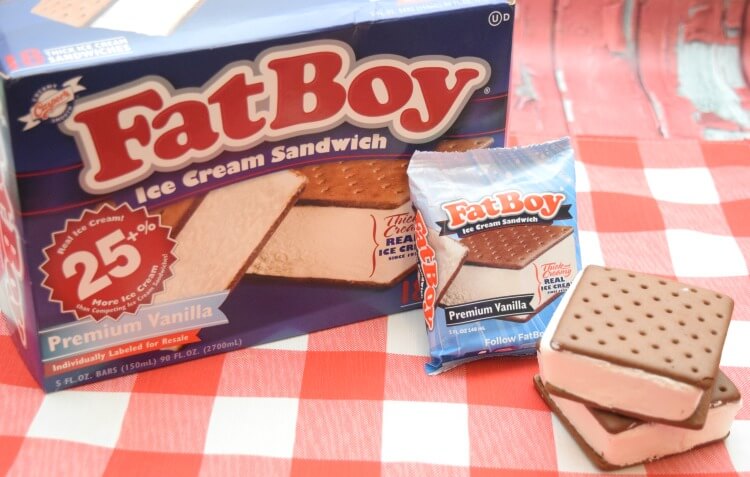 My family loves to have an after dinner treat like ice cream, especially ice cream sandwiches. One of our favorites is FatBoy Ice Cream Sandwiches. I feel a bit of nostalgia for my childhood every time I bite into one of those creamy delicious ice cream sandwiches. Can you believe they've been around for over 90 years, since 1925?
FatBoy is all about delivering more "bang for your buck" with a load of flavor in a fat package! They're known as FatBoy for a reason- their delicious, real ice cream refuses to be contained in a skinny sandwich!
You can find FatBoy at Sam's Club and other locations, and they have a few delicious flavors like S'mores, cookies and cream, and mint chocolate chip. We usually just buy vanilla because it's just so sweet and creamy.
FatBoy ice cream sandwiches are also very versatile because you make all kinds of delicious "FatterBoys" with them. We like to turn them into ice cream sandwiches on a stick and dip them in chocolate shell with favorite toppings. Here's how we do it:
Dipped "FatterBoy" Ice Cream Sandwiches
You'll need:
2-3 bottles of chocolate shell
Sprinkles, crushed cookies, candy, etc.
Popsicle sticks
First, put a popsicle stick in the center of each FatBoy ice cream sandwich. I have found doing this and then popping them back in the freezer while I get the other supplies makes them sturdier.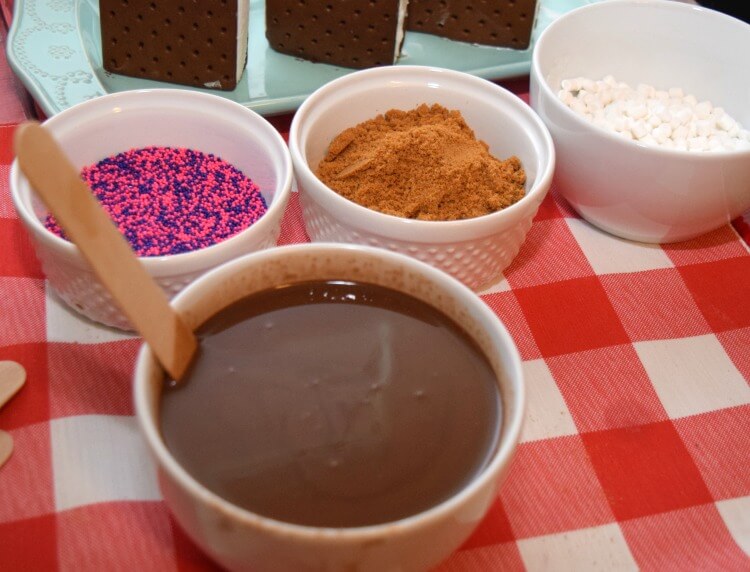 Next, pour the bottles of chocolate shell into a bowl that is narrow but deep. This makes it easier to dip the FatBoys fairly deep. Make sure to shake the bottles before pouring into the bowl. Then, take an extra popsicle stick and gently mix it together for a few seconds.
Next, pour your toppings into bowls or plates. We choose sprinkles, mini hot chocolate marshmallows, and crushed cookie butter cookies. But, the possibilities are endless!
Now it's time to start dipping. I found dipping an ice cream sandwich about three times in the chocolate shell gives a nice texture. Let the extra run off for just a few seconds.
Give it a few seconds to just start to harden, and then dip your FatBoy into your favorite topping. Make sure you wait to let it harden just a bit before dipping.
This will take some experimentation because if you wait too long the chocolate shell will be too hard to hold any sprinkles, etc. But, if you don't wait enough, the chocolate will get all over your toppings.
Then, pop them back in the freezer for about 5 minutes to let it all harden before enjoying your delicious summer snack! We sat out in the yard one summer evening and enjoyed ours this past weekend.
We've made other versions of the "FatterBoy" ice cream sandwiches as well. A few times we've cut the ice cream sandwiches right down the middle of the ice cream and added toppings like cookie butter and cheesecake before slapping the sides back together for some more delicious treats, too! Let your imagination go wild when you create your own version of a FatterBoy with FatBoy ice cream sandwiches!
FatBoy has a saying — "We Like Our Ice Cream a Little Husky: Because the bigger it is, the more smiles it gives." And, that's definitely true. Give FatBoy a try and enjoy a delicious nostalgic treat this summer. Make sure to get a coupon for your next box of FatBoy Ice Cream Sandwiches!