Here is the final part of the Rainbow Tutorial. The Circle Skort! This was such fun to make! I plan to create another version as a little dress very soon. The tutorial will be shown in an example size of 2T/3T. I'll give the exact measurements for it, but it is really really easy to convert it to your sizes 12 months to 5T.
This little tutorial has driven me a bit mad. I had the entire thing completely written out, hit a wrong button, and it completely disappeared. Since my blog autosaves just about every millisecond, it had auto-saved over it before I could revert back. I was ready to pull my hair out. I keep telling myself the rewrite is much better 😉
This might look intimidating because it involves circumference of a circle and using π, but it's really not. Plus, you can always excitedly tell a math teacher you now know that you will indeed use C = 2πr in real life. I promise, you just need to use that equation one time, and then you're set.
Rainbow Circle Skort Tutorial
Recommended fabrics: knits – jersey, interlock, ribknit
Materials
1 yd of 1 inch or 3/4 inch non roll elastic
1/2 yd of 6 fabrics – pink, orange, yellow, green, blue, violet
1/4 yd red fabric
1. Fold fabric in half then in half again. You should have a triangle shaped fabric with FOUR layers.
2. The original circumference of your circle skort is simply the waist measurement of your child PLUS 2 inches (for ease). From that measurement, we will quickly determine the radius of each circle layer. Do you remember circumference and radius from way back when?
Here are the formulas:
(C = Circumfernece, r = radius)
C = 2πr OR r = C÷2r which works out to be C÷6.28
3. To create a slight flair in each circle layer, I added 3 additional inches to each circumference. The waistband measurement was 22 inches, so to add 3 inches to every layer would be 25, 28, 31, 34, 37. After calculating the measurements, I determined that simply adding 1/2 inch to each radius will give the desired flair effect. Here is my chart for cutting the 2T/3T layers.
Measurement
Radius
Rounded off
orange
25
3.98
4
yellow
28
4.46
4.5
green
31
4.93
5
blue
34
5.41
5.5
purple
37
5.89
6
All you need to do to begin is determine the waist measurement of your child. Then add 2 inches to that for the waistband measurement. Next, add 3 inches to that waistband measurement – we will call this C. That number (C) is the circumference of layer #1.
Using C, plug that into the this formula r = C÷6.28 and you will arrive at your first radius. Round that radius up or down depending on the number (such as 4.1 would be 4 inches, or 5.6 would be 5 1/2 inches. Once you have layer #1's radius measurement, simply go down the layers 2-5 and add 1/2 inch to the radius each time, just like the chart above. Easy peasy!
4. From the corner fold of your fabric, you will measure to the radius and make a rounded cut.
5. For the 2T/3T size, I chose 3 inches as the length for each layer. It was roughly an arbitrary number that would leave about 2.5 inches per finished layer, using a 1/4 inch seam allowance. Here is a chart I created for the lengths of sizes (you will use the strip length layer further down in the instructions):
12/18
2.5
1.25
2/3
3
1.75
4/5
3.5
2.25
Once you have determined the circle layer lengths, cut them out on a rounded edge like shown.
6. For each layer, except layer #1, you will cut a strip layer of fabric to go under the above layer. For the 2T/3T, I used a 1.75 inch strip layer. The width of each strip layer will be the same as the circumference of the colored layer ABOVE it.For the 2T/3T size, here are the strip layers I cut:
yellow: 25 x 1.75
green: 28 x 1.75
blue: 31 x 1.75
purple: 34 x 1.75
7. Sew each strip layer together into a circle. Then, with the strip layer RIGHT SIDE to the circle layer above its WRONG SIDE, sew the tops together. Do this four times as the bottom circle layer is not sewn to a strip layer. This sounds very complicated, but once you get started, it's really not and you'll whiz right through it.
Once you have sewn them, they will look like this:
8. Now sew all layers together. With RIGHT SIDES together match the bottom of the same colored strip layer to the top of the same color circle layer and sew together. So that will be yellow and yellow, green and green, etc. Do this for all layers except the very top layer (orange in my case.)
9. Next, to create the shorts, I took a pair of my daughter's bike shorts and measured them to the skirt to determine how much I needed to cut off the rise of the shorts to hide under the skort. I think I ended up cutting the rise down by about 3 inches from the top. Then, I traced and cut them out and sewed the leg seams and front and back seams together.
10. At this point, I attached the shorts to the skirt with RIGHT SIDES of shorts to WRONG SIDE of skirt at the top circle layer of skirt.
1l. Sewing the waistband. To remind you from up above, the waistband measurement is waist measurement PLUS 2 inches for ease. Sew the ends together into a circle like pictured.
12. Next, measure the non-roll elastic at the waist measurement MINUS 1 inch. Overlap the ends and sew down and tack.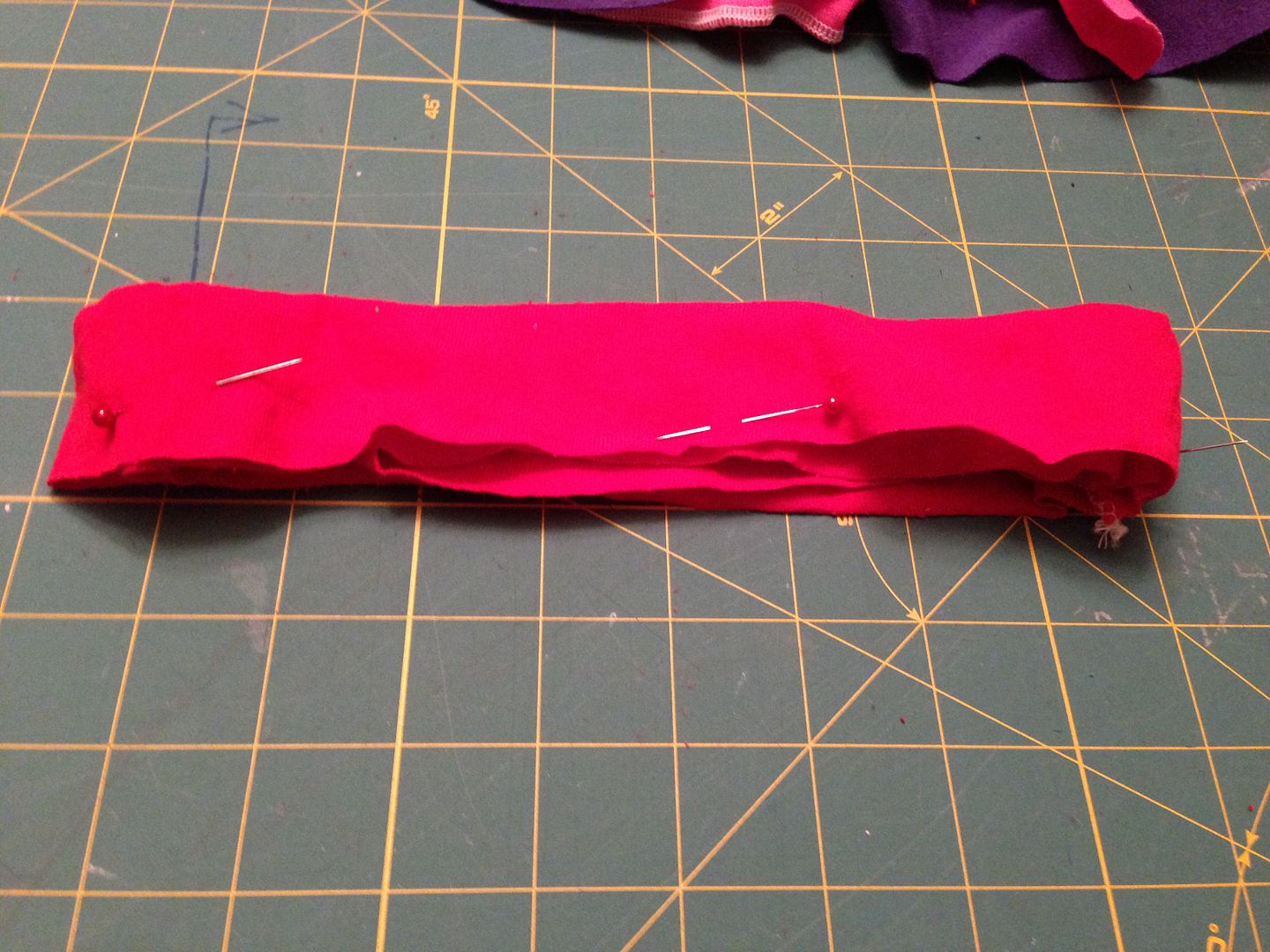 14. Fold over the waistband and pin closed. Then, attach waistband with RIGHT SIDES to RIGHT SIDES of skirt top layer. Once it is sewn, flip the waistband up and flatten the seam down.
15. Top stitch around the RIGHT SIDE of the skirt at the waistband's flattened seam so it does not end up looking wonky. This can be done just on the very top of the first layer just below the ditch of the seam or you can stitch in the ditch of the seam between layer #1 and the waistband. Make sure to stretch just slightly as you top stitch so the stitch line will not pop when stretched to put on the child.
16. Hem or serge around each leg of the shorts under neath.
And you're done!!
Click the picture below to check out all 3 parts of this series!