I am a member of the Collective Bias® Social Fabric® Community. This content has been compensated as part of a social shopper amplification for Collective Bias and its client. All health related suggestions and opinions expressed in this post are all my own.
Doesn't it just drive you crazy when you arrive at your vacation destination and realize you need the one thing that's missing? Usually someone has allergy issues or needs help with relieving pain, and I forgot the meds.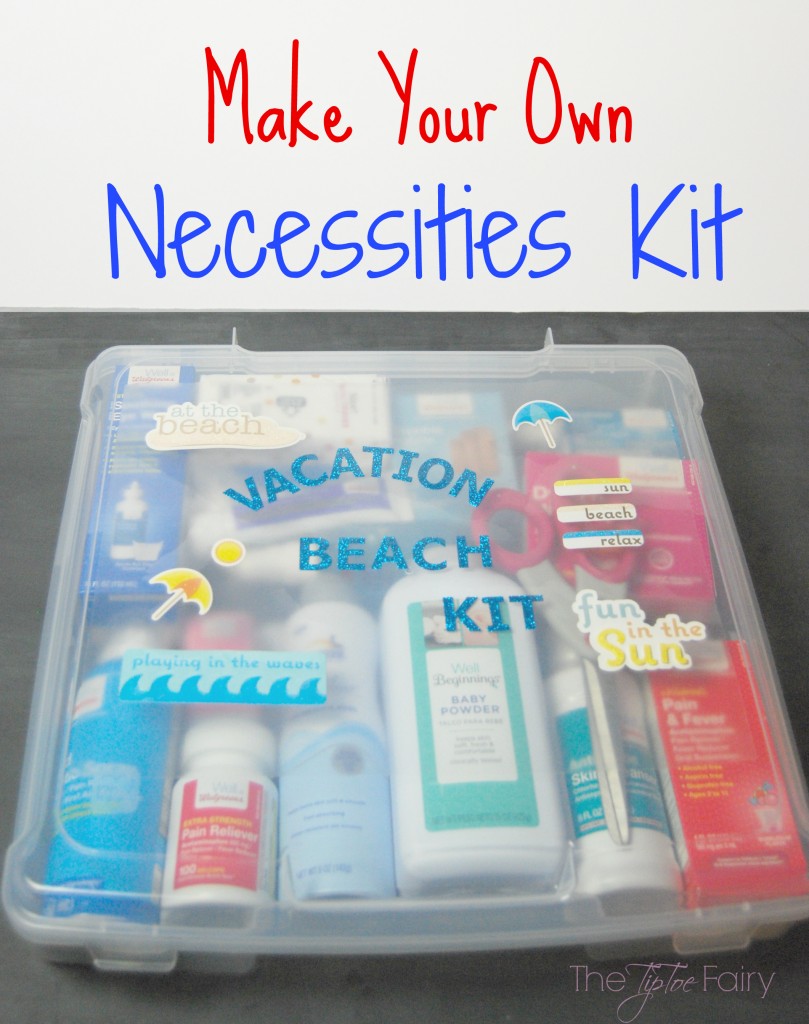 This year for our beach vacation as well as for my kids' swim meets, I've made necessity kits, so I don't forget a thing. The best place I've found to fill my kits is Walgreens with so many of their #WellAtWalgreens products like pain relievers, first aid supplies, sunscreen, and much more at such a savings! Plus, you often get bonus savings with their Balance Rewards.
Did you know that since February 2011, and now through December 31, 2014, 1¢ from every purchase of Walgreens Brand Health & Wellness products, up to $3 million annually, supports bringing preventative wellness services to local communities through the Walgreens Way to Well Commitment®? Every time you purchase a Well at Walgreens product, you're helping, too!
Making your own Necessities Kit is super easy. I went to my local craft store and purchased plastic scrapbook boxes along with some fun themed stickers to decorate both kits.
You never know what can happen at the beach. From sunburns to jellyfish stings, I want to be prepared. For my Vacation Beach Kit, I've included the following items:
Bandages
Antibiotic ointment
Antiseptic Spray
Hydrocortizone ointment
Tweezers
Scissors
Sunscreen
Lip balm
Pain Relievers for adults and children
Allergy Meds for adults and children
Wipes & Tissues
Sterile saline
Baby Powder
Hand Sanitizer
Baking Soda (make a paste with seawater for jellyfish stings)
To make your own Vacation Beach Kit, just check out the pictures here:
While I was at the store, I also picked up items to make a Swim Meet Survival Kit. My older kids are on the local swim team. We attend a fair amount of swim meets, and it's always a mad dash to get there.

I tend to forget the essential permanent marker. At a swim meet you write your kid's races on their arm in permanent marker. It's essential that they need to know what heat of the race, what lane, and what stroke.
Not only does my kit include the easy-to-forget marker, I also like to include pain relievers and bandages, too — just in case. I was so glad I had it at the last swim meet when my teenager scraped her ankle on the side of the pool.
Here's what I've included in the Swim Meet Survival Kit:
Permanent marker
Healthy snacks
Electrolyte water enhancer
Pain relievers
Bandaids
Antibiotic ointment
To make your own Swim Meet Survival Kit, just follow along the pictures below:
I hope these ideas have given you inspiration to make a kit for your family, too. Do you have a first aid kit? What are your must haves for a first aid beach kit?