This is a sponsored post on behalf of Review Wire Media for Walt Disney. I received information to facilitate my review as well as a promotional item to thank me for my participation.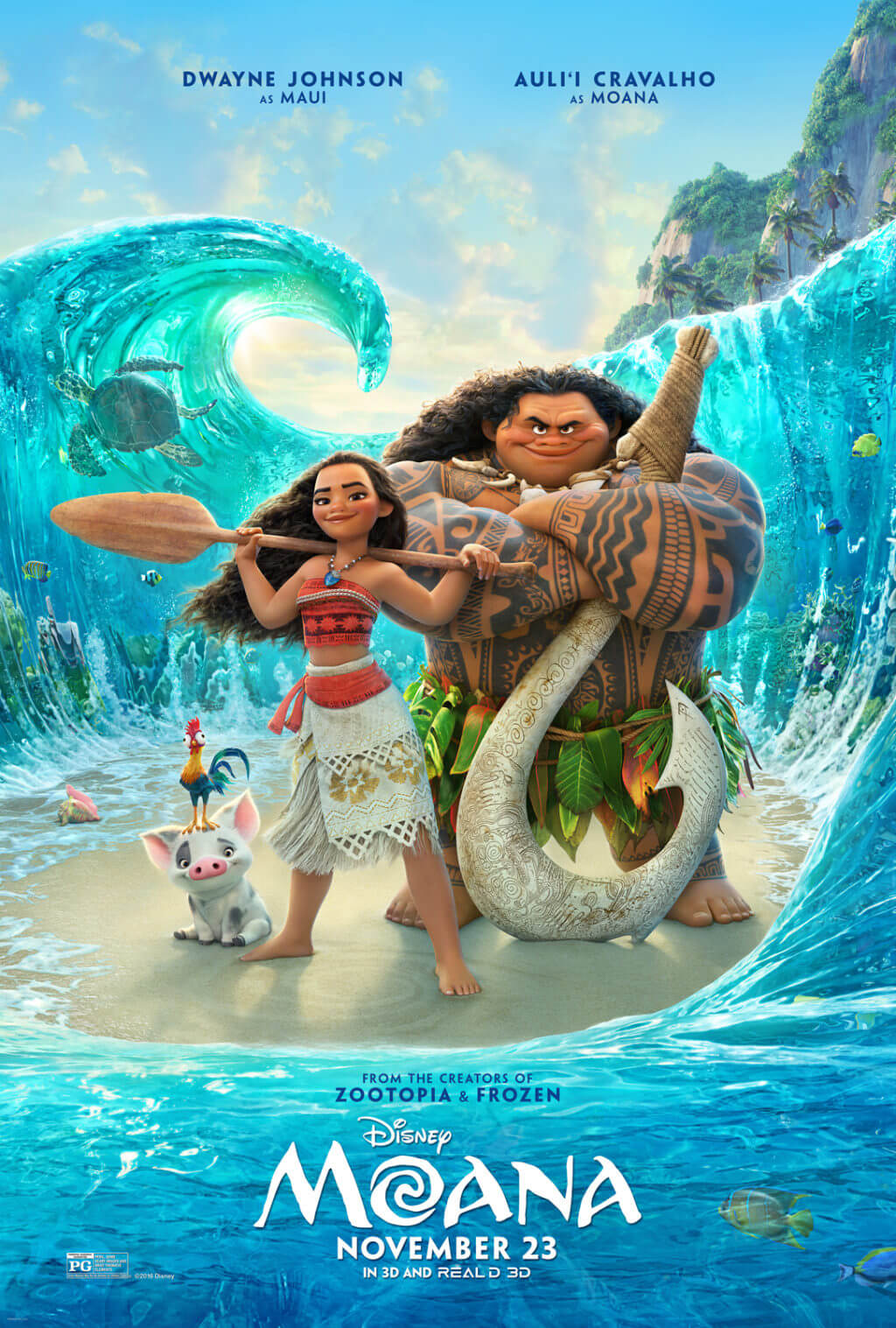 "Three thousand years ago, the greatest sailors in the world voyaged across the vast Pacific, discovering the many islands of Oceania. But then, for a millennium, their voyages stopped – and no one knows why.
From Walt Disney Animation Studios comes "Moana," a sweeping, CG-animated feature film about an adventurous teenager who sails out on a daring mission to save her people. During her journey, Moana (voice of Auli'i Cravalho) meets the once-mighty demigod Maui (voice of Dwayne Johnson), who guides her in her quest to become a master wayfinder. Together, they sail across the open ocean on an action-packed voyage, encountering enormous monsters and impossible odds, and along the way, Moana fulfills the ancient quest of her ancestors and discovers the one thing she's always sought: her own identity."
We got to see Moana at an early screening. We were so excited, and it did not disappoint. It was funny and full of adventure. It is rated PG for some intense scenes when Moana and Maui battle some creatures. It was a bit scary for my daughter during those scenes. She grabbed onto me and hid her face for a short while. She did laugh through a lot of the movie. She really enjoyed it, and it kept her attention the entire time.
Moana lives in a Polynesian village with her parents. Her father is the chief and forbids anyone from sailing beyond the reef. But, Moana feels the pull of the ocean. Every time she gets near the water, it beckons her, literally. The crazy lady of the village, her Gramma Tala, takes her to a secret cave where she learns that her people did not always stop before the reef, and they were explorers and did voyage across the seas. This sets her off on her journey.
I loved that this was not a typical Disney "princess" movie with a damsel in distress. There was no love interest. She is a true heroine who is on a mission to save her people. In fact, not only was there no love interest, but Moana is being groomed to be the next chief of her village after her father.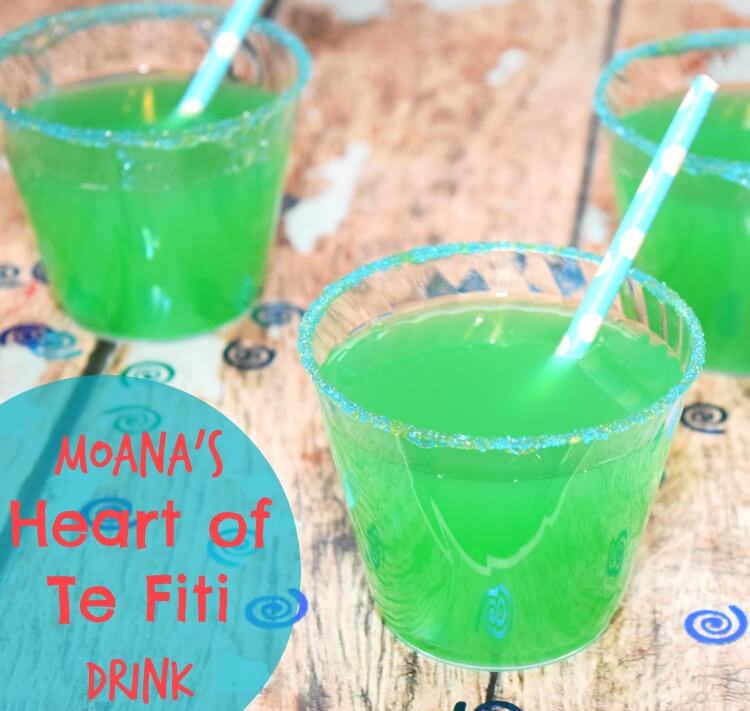 In honor of the movie, we made up a yummy tropical style drink called the Heart of Te Fiti. It tastes a bit sweet and tart with a tropical hint of pineapple. We loved it!
More Disney Inspired Recipes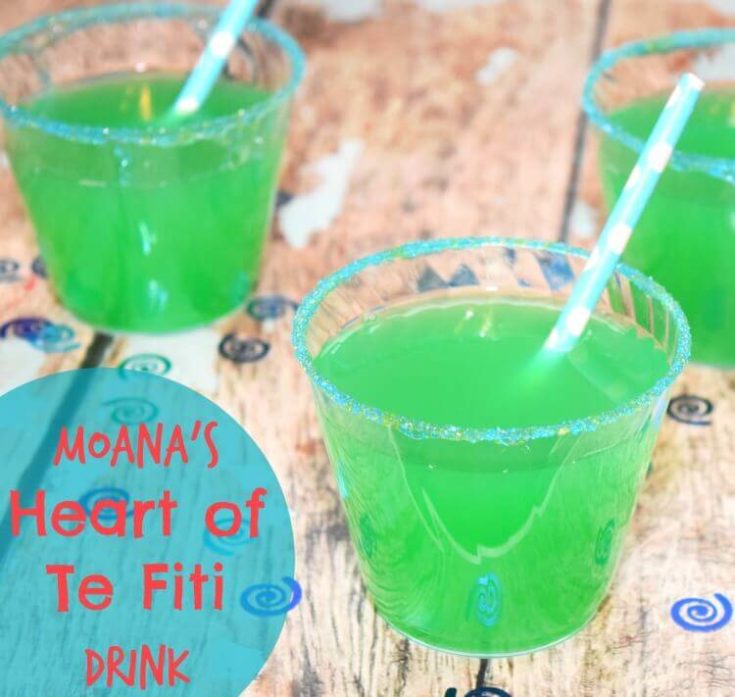 Moana Heart of Te Fiti Drink
Ingredients
1 jug Berry Blue Typhoon
1 jug Green Berry Rush
1 large can of pineapple juice
blue and green sanding sugar
corn syrup
Instructions
Pour corn syrup onto a saucer.
Shake blue and green colored sugars onto a second saucer.
Dip plastic cups into corn syrup and then into sugars to sugar the rim of each glass.
In a punch bowl or beverage dispenser, combine half the blue berry drink, half the green berry drink, and half the pineapple juice.
Stir to combine.
Pour into cups and serve immediately.
Moana's mission is to return the heart of Te Fiti to save the world. It is believed that the heart Te Fiti allowed the creation of life and the islands of the South Pacific. But, Maui, the demigod, stole the heart, and he battled against the lava demon Te Ka. Then, he lost the heart. Moana's Gramma Tala gives the heart to her to return it and save the world.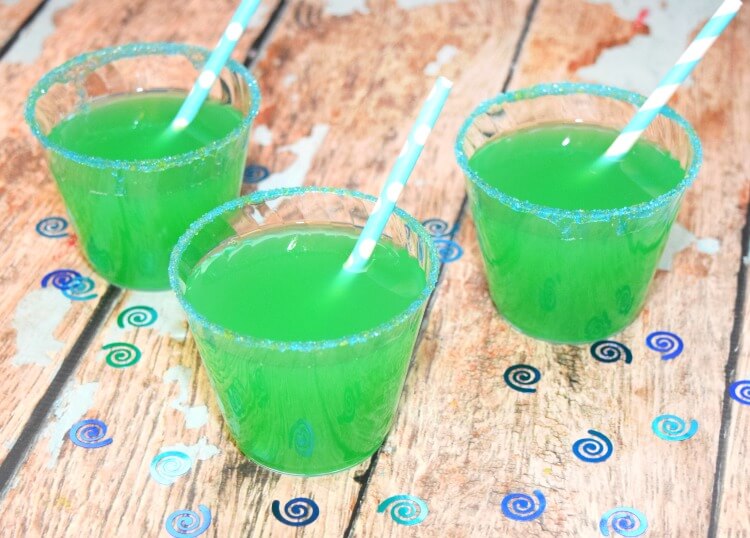 Keep the kids busy during Thanksgiving before you head out to see Moana with these fun coloring pages. Just click them to download your own copy!