Aladdin was one of my favorite movies growing up. I can't wait for the movie coming out on May 24th this year. We've got some easy Aladdin's Blue Genie Cupcakes to celebrate. These would be perfect for an Aladdin-themed party!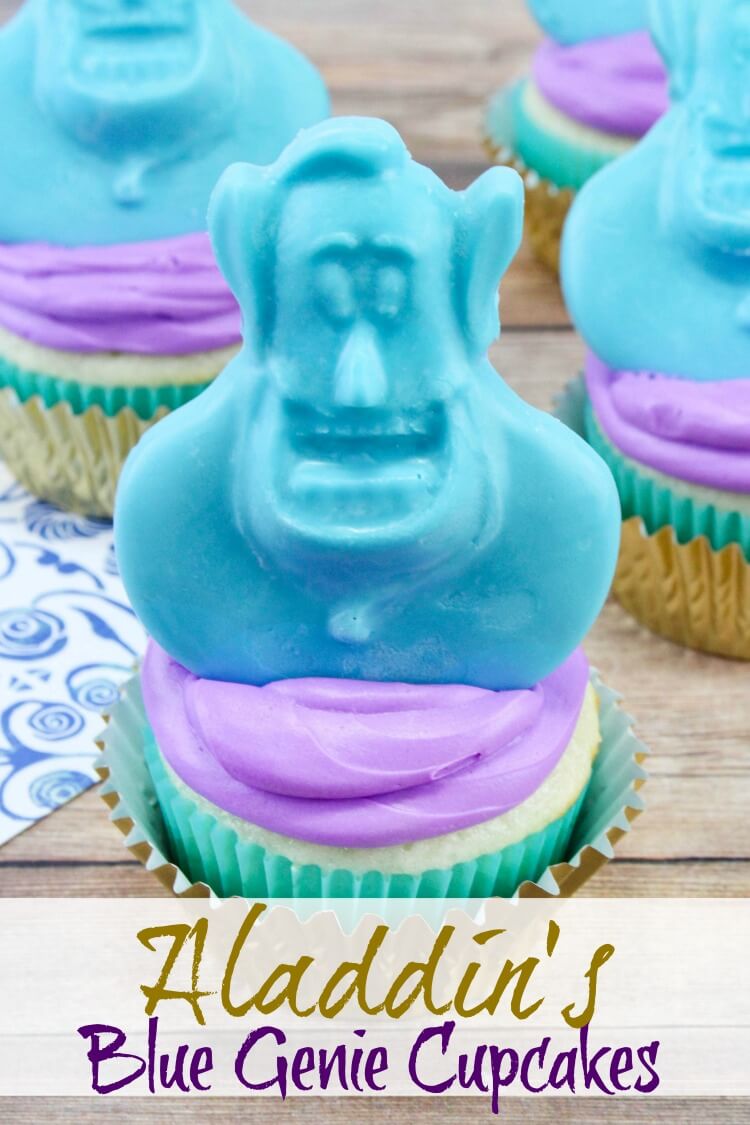 The new live-action Aladdin movie
I was so intrigued to hear Disney was making a live-action version of the movie. I can't wait to see how it turns out. I've loved all their other live-action movies like Cinderella and Beauty and the Beast.
A thrilling and vibrant live-action adaptation of Disney's animated classic, "Aladdin" is the exciting tale of the charming street rat Aladdin, the courageous and self-determined Princess Jasmine and the Genie who may be the key to their future. Directed by Guy Ritchie, who brings his singular flair for fast-paced, visceral action to the fictitious port city of Agrabah, "Aladdin" is written by John August and Ritchie based on Disney's "Aladdin." The film stars Will Smith as the Genie; Mena Massoud as Aladdin; Naomi Scott as Jasmine; Marwan Kenzari as Jafar; Navid Negahban as the Sultan; Nasim Pedrad as Dalia and Billy Magnussen as Prince Anders.
How to make Aladdin's Blue Genie Cupcakes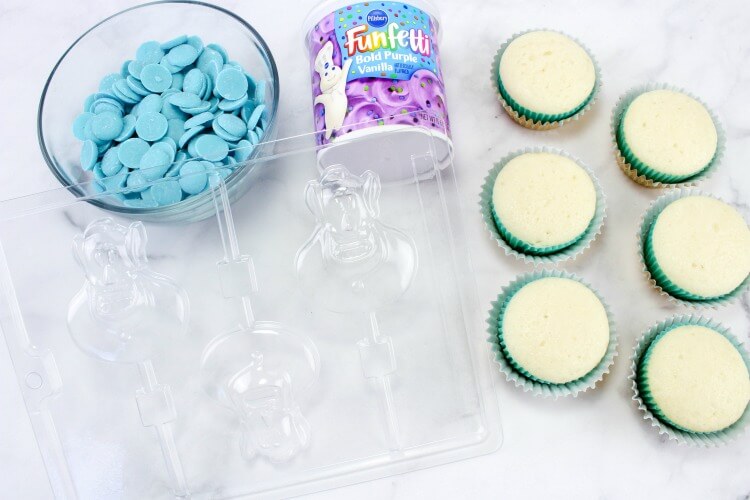 You can bake your own cupcakes or you can just buy store bought ones. If you buy store bought ones, just refrigerate them for a few hours and then you can easily take off the frosting.
Follow the directions on the package to melt the candy melts. The best way I do this is to put the candy melts into a microwave-safe bowl and heat in the microwave for 30 seconds at a time, stirring after each 30 seconds, until the candy melts are completely melted and smooth. Then spoon it into each mold until it's filled almost to the top. Then, gently tap the mold to smooth out the back of the mold.
You can let the mold sit on the counter for about an hour or so to harden. Or you can carefully place the mold in the freezer for about 15 minutes.
Once the candies are hard, gently pop them out of the molds.
Pipe the frosting in a pastry bag over the cupcakes. Or you can keep the frosting, which would work great if you could find purple frosted cupcakes, and then just add the genie chocolates. I have totally done this before when I decorated cupcakes.
Then, just gently slide the blue genie chocolates into the frosting so that they stand up.
You'll probably need to add a swirl of frosting behind the genie so it will not fall over. This might take a little practice, but you'll get it.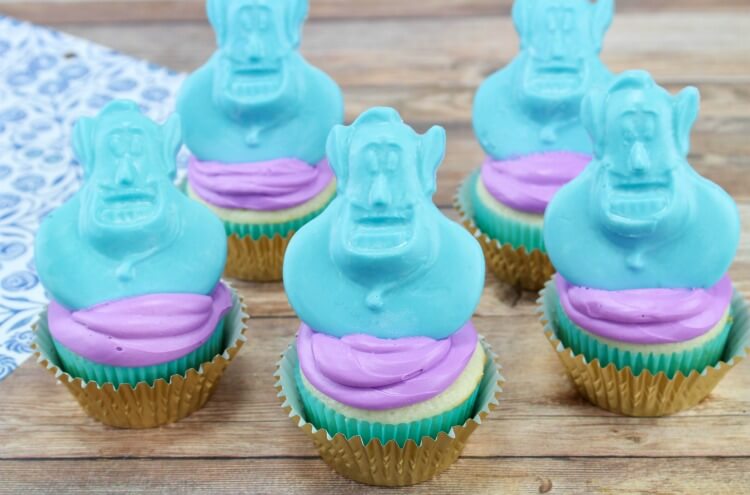 Then, it's time to serve your delicious treats!
More Fun Kids Movie Treats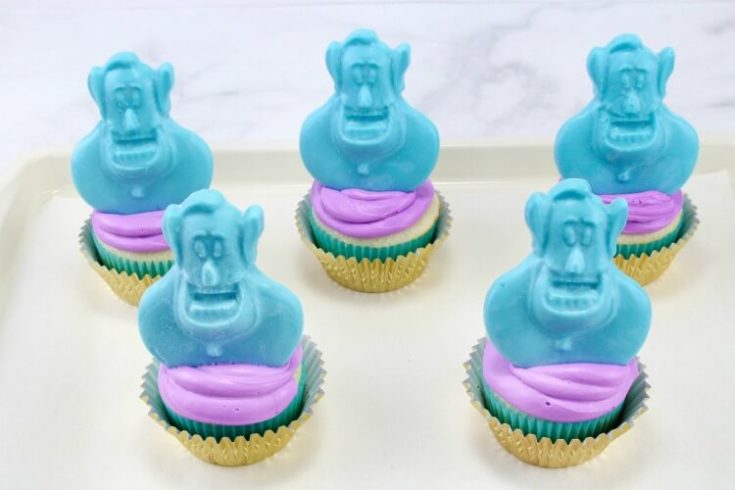 Yield:

6 cupcakes
Aladdin's Blue Genie Cupcakes
Total Time:
1 hour
10 minutes
Excited to see the new Aladdin live-action movie? Celebrate with these fun Blue Genie Cupcakes.
Instructions
In a microwavable bowl, add about half of the chocolate discs and melt according to package directions.
Spoon melted chocolate into the molds and tap the mold on the counter a few times to release any air bubbles. Let dry for about an hour or freeze for about 15 minutes, until hard.
Pop genies out of the mold and repeat step 1 and 2.
Add frosting to a piping bag or baggie. Snip off the corner and pipe frosting on the cupcakes.
Place one genie on each cupcake. Add a little extra frosting behind the genie to help hold it up.
Serve and Enjoy!!
Come Join Us!
Liked this article and want more? Follow along on Instagram, Facebook, Twitter, Pinterest, TikTok, and YouTube!
Come over and join us on Facebook in the group Recipes, Crafts, and more with TipToe Fairy or Sewing and Crafting with The TipToe Fairy!
Visit Our Other Blogs!