This is a sponsored post in partnership with Aceable. All opinions are my own.
My son turned 15 earlier this year. I can't believe how fast he's growing up. Now he's on his way to learning to drive. When his older sister was ready to learn to drive, she told us all her friends were doing Aceable — on their phones.
Honestly, I was a little skeptical. I remembered my own driver's ed as hours and hours of sitting in a classroom watching those horrible vintage auto accident videos from decades before I was even born. I had just assumed I would be paying for an expensive driver's ed experience like that for my kids.
Then I researched Aceable and found it was totally legit. It's significantly cheaper than going to a class every night for weeks. My daughter went on to easily get her learner's permit using Aceable in her spare time and then her provisional driver's license. She's been a safe driver for two years now.
What is Aceable Teen Driver's Ed?
Aceable is the driving school for the 21st century. It's an app right on your phone where your teen can go to driving school during their free time whenever and wherever they are.
My son is a typical high school kid with a very busy schedule. He participates in band and tennis, and he's in all advanced courses, so squeezing in something else like a driver's ed course was going to be hard.
By doing it on the app, he was able to finish the first 6 hours of the course easily to get his learner's permit. He did it mostly while I was driving him to and from activities and appointments and when he was settling down into bed for the night.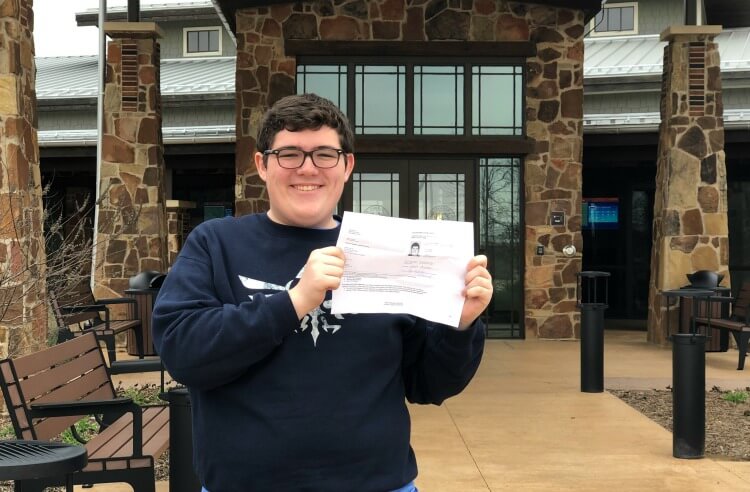 We just recently returned from a trip to the DPS office where he got his official learner's license. One thing I love about Aceable is that here in Texas he can take the written test right in the app. He did not have to take the written test in the DPS office, which can take some time and feel very nerve wracking.
Parent Taught Driver's Education
Aceable makes it easy to do the Parent Taught Driver's Ed course. They give you everything you need to successfully teach your teen yourself.
They provide you with checklists and show you where to go on the DPS website to download the parent taught packet required by the state that includes the necessary applications and logs to keep track of hours driving.
In Texas, the course requires a certain number of hours, but your teen can go at their own pace. There's no need to hurry through to finish.
The best part is that this course allows you to spend time with your teen while you're teaching them to drive, so you know exactly what they're learning. You are able to see their proficiency. As they grow in confidence behind the wheel, you are also gaining confidence in their abilities to be a safe driver.
Who can use Aceable?
Aceable's Teen Driver's Ed is usually for ages 14 to 17, though the ages do vary by state. It is currently available in these states:
Texas
California
Georgia
Illinois
Nevada
Ohio
Oklahoma
Pennsylvania
You can also visit the Aceable website and check on your state. Even if you're state is not available yet, you can still head over to the app and check out the free practice tests for many other states as well.
Plus, if you head over to Aceable right now, they're having a 25% off sale for all courses.
Aceable Defense Driving
Did you know Aceable does more than teen driver's ed? They also offer adult driver's education and defensive driving. We've had such success with Aceable with our teens, I used their app to take a defensive driving course for an insurance discount. Using the phone app made it so easy to complete when I had a new baby last year.
Giveaway Time!!
Here's your chance to enter to win a FREE CODE for an Aceable driver's ed course for your teen! Please read the eligibility requirements and then scroll down to enter.
Eligibility Requirements:
To be eligible, you and your child must reside in one of these states:
Texas
California
Georgia
Illinois
Nevada
Ohio
Oklahoma
Pennsylvania
The ages allowed for teen driver's ed are dependent on the state you are in. Most are ages 14-17, but before entering the giveaway please make sure your child is the right age according to your state HERE.