I love Italian food – the pasta, the tomato sauce, the cheese, and best of all? The garlic! I can't get enough roasted garlic. Have you ever made your own tomato sauce from fresh tomatoes? This Bucatini with Roasted Garlic Tomato Sauce is one of my absolute favorites.
Recently, I've started roasting my own tomatoes and making Roasted Garlic Tomato Sauce, and I was so surprised with how simple and easy it is to do. The taste is just amazing.
I used campari tomatoes that were still on the vine. I chose them for their high level of sugar and juiciness, but you can use any kind of tomato you want. I've roasted grape and cherry tomatoes as well. The campari tomatoes are actually a bit bigger than cherry tomatoes.
I sliced them in half and put them cut side down. Then, I added lots of cloves of roasted garlic and drizzle everything in olive oil. Mix them up just a bit. Bake them for about 15 minutes on 425 degrees.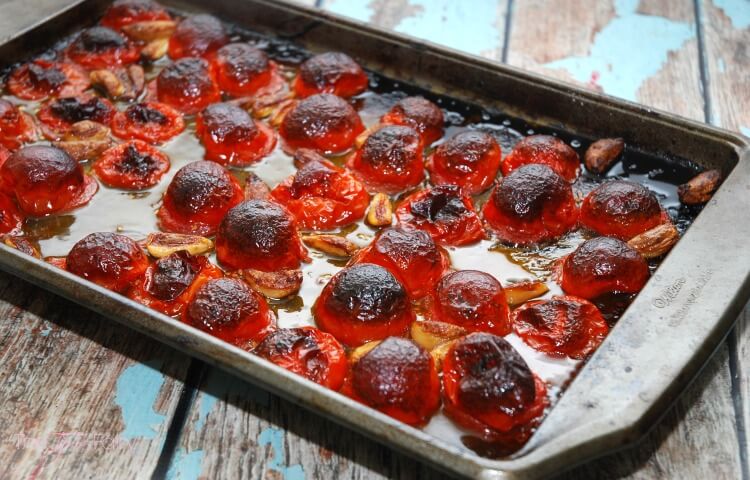 When they come out the skins should be a little crispy and burned.
Let them sit for a few minutes after you take them out of the oven. This makes it easy to just pull the skins off.
Once you pull the skins off, throw them away, and then put everything in the blender. Pulse until it's turned into a sauce. If it seems a little thick, add about 1/2 cup of the hot pasta water to the blender.
I chose to make this with bucatini pasta, which is like spaghetti, but it's long tubes. My kids always love it. After making the pasta, toss the pasta in the sauce and serve immediately. Top with a little dash of Italian seasonings and parmesan cheese.
Perfect Pairing Recipes with Bucatini with Roasted Garlic Tomato Sauce
More Delicious Italian Recipes
Yield:

8-10 servings
Bucatini with Roasted Garlic Tomato Sauce
Ingredients
16 oz. bucatini pasta, made according to directions
18-24 compari tomatoes, halved
18-24 roasted garlic cloves
olive oil
parmesan cheese
italian seasoning
Instructions
Preheat oven to 425 degrees.
Wash tomatoes and slice in half.
Place tomatoes half side down on a cookie sheet.
Add garlic all over the tomatoes.
Drizzle everything in olive oil and gently mix up.
Bake for about 15 minutes, until skins start to burn just a bit.
Remove from oven and let sit for 5 minutes or so.
Pinch skins off each tomato.
Transfer tomatoes, garlic, and olive oil to blender.
Blend on pulse until everything is nicely pureed.
If sauce is too thick, add about 1/2 cup of hot pasta water to the sauce and pulse until well combined.
Finish up cooking pasta, according to directions, and toss with the sauce.
Serve immediately and top with parmesan cheese and Italian seasoning.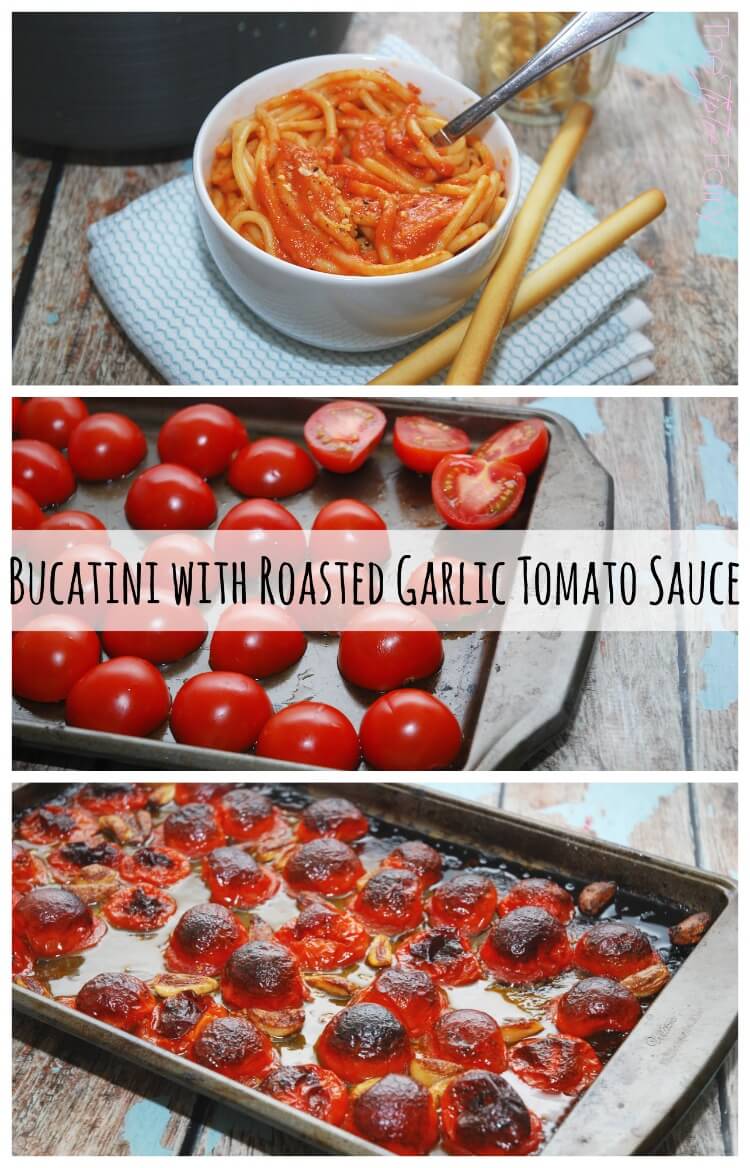 Come Join Us!
Liked this article and want more? Follow along on Instagram, Facebook, Twitter, Pinterest, TikTok, and YouTube!
Come over and join us on Facebook in the group Recipes, Crafts, and more with TipToe Fairy or Sewing and Crafting with The TipToe Fairy!
Visit Our Other Blogs!