I have a bit of an obsession with roasting tomatoes. It could not be easier to make Roasted Grape Tomatoes, and you can put them on so many things. This post contains affiliate links.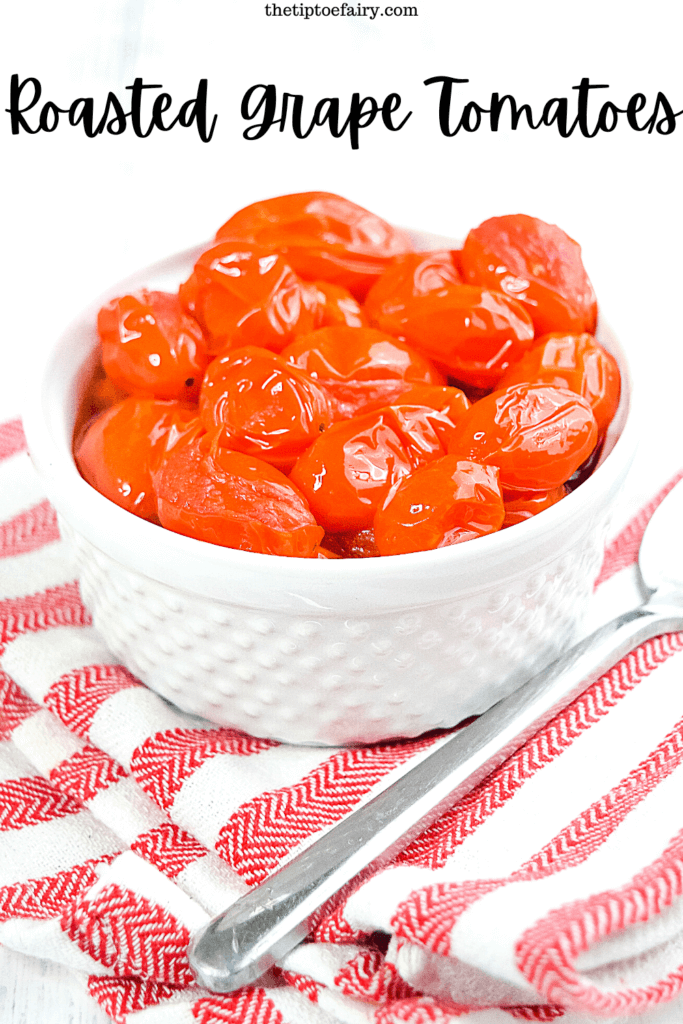 I've gotten really good at roasting big tomatoes for spaghetti sauce. But, now I love roasting the tiny tomatoes. I'm hooked on putting them in my salads and over meats.
A few years ago I started getting a steak salad at Modern Market with roasted grape tomatoes. It's one of my favorite things to eat. Then, Zoe's Kitchen started putting grape tomatoes in the mix of veggies they put over their steak kabobs, and I just love them.
I have never liked eating raw tomatoes. But, I've discovered that I love eating roasted tomatoes. They are so simple but so delicious. I will eat those things like they are going out of style.
What do you do with roasted tomatoes?
I love roasting the smaller tomatoes and eating them warm in a salad or topped over steak or chicken breast. They're perfect in a steak salad or over the top of a slice of meatloaf. They're a great addition to pasta salad and so much more.
If you love tangy flavors, you'll love the flavor of roasted grape tomatoes. They pop in your mouth and are just delicious.
My favorite way to eat them is on a steak salad drizzled in balsamic glaze. The flavor of the balsamic glaze makes the tomatoes taste even more amazing.
The best part about roasted grape tomatoes is that they are so simple to make!
What kind of tomatoes do you use to make roasted tomatoes?
I like to do this with grape tomatoes or cherub tomatoes. You can also use cherry tomatoes. I find that it works best with the small tomatoes like these.
I buy a big container of them at Sam's Club and roast the whole thing, and just keep them in a sealed container in the fridge for up to a week. Then, I pull out what I need for a meal and heat them up quickly in the microwave. It's a great way to add veggies to a meal.
How do you make roasted grape tomatoes?
I just roast them in the oven while I'm cooking dinner. It takes about 20 minutes, so they are usually ready right as I'm finishing up dinner.
Wash the grape tomatoes and lay them out on a cookie sheet lined in foil (for easy clean up).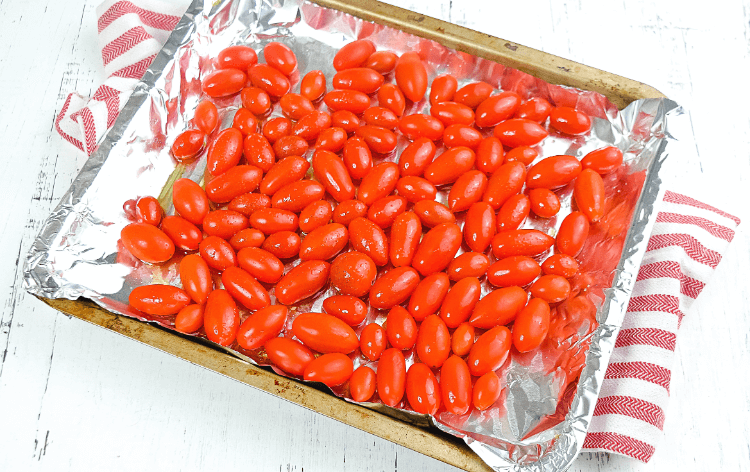 Drizzle olive oil over the tops of the tomatoes and add a few shakes of salt. Then, I just mix them up really quickly with my hands before popping them in the oven.
Bake for about 20-22 minutes, until the tomatoes get a little wrinkly.
If I'm just roasting half a pint, it takes about 15 minutes or so. But, if you're roasting a pint or two, it will take 20-25 minutes.
Recipes to go with Roasted Grape Tomatoes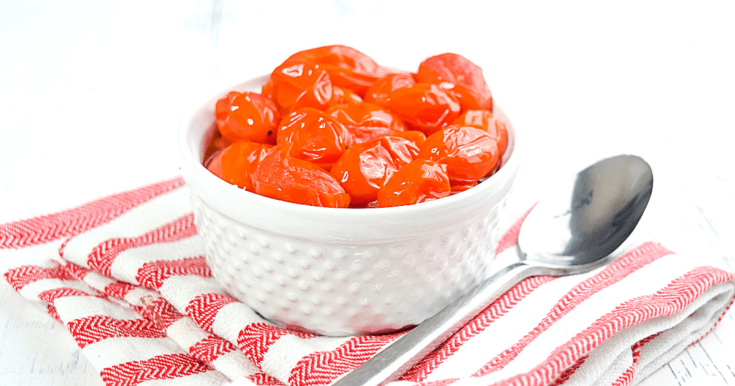 Yield:

1 pint of roasted tomatoes
Roasted Grape Tomatoes
Ingredients
1 pint of grape tomatoes
1 tablespoon olive oil
1/4 teaspoon salt
Instructions
Preheat oven to 400 F degrees.
Cover a cookie sheet in foil.
Wash the grape tomatoes.
Lay the tomatoes over the cookie sheet.
Drizzle the olive oil and sprinkle salt over the tomatoes.
Toss with your hands and then place the cookie sheet in the oven.
Bake for 20-22 minutes, until the tomatoes start to get wrinkly.
Serve immediately with salad, steak, chicken, and more.
Store in a sealed container in the fridge for up to a week.
Nutrition Information:
Yield:

5
Serving Size:

1
Amount Per Serving:
Calories:

35
Total Fat:

3g
Saturated Fat:

0g
Trans Fat:

0g
Unsaturated Fat:

2g
Cholesterol:

0mg
Sodium:

109mg
Carbohydrates:

2g
Fiber:

1g
Sugar:

2g
Protein:

1g
Any nutritional information on thetiptoefairy.com should only be used as a general guideline. This information is provided as a courtesy and there is no guarantee that the information will be completely accurate.