We love our pasta casseroles around here. They're quick to make and a favorite kid food. I decided to take a page from my world famous lasagna and make a "sorta" alfredo version with this Cheesy Chicken Alfredo Bake. After the first try, my family loved it so much, it went into the monthly mix of recipes.
I did a few things different in this chicken alfredo casserole over my lasagna. Instead of ground beef I used shredded chicken. Instead of lasagna noodles, I went with penne pasta because it's easier for my toddler to feed herself. And, of course, alfredo sauce instead of marinara.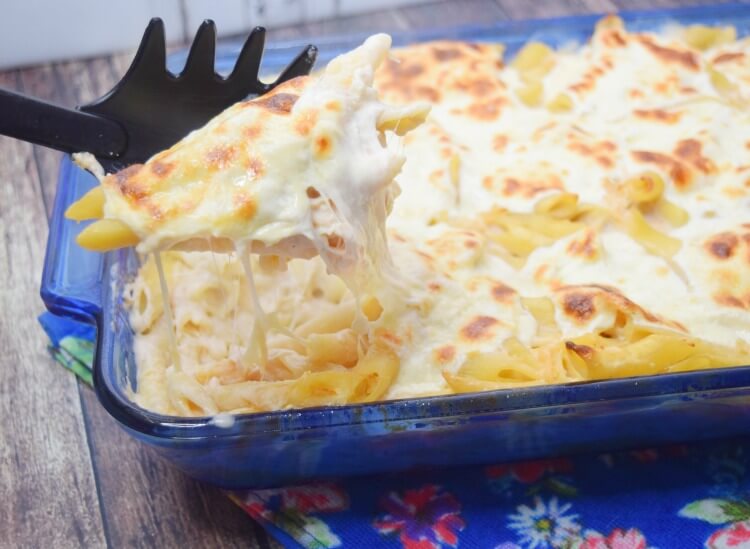 When my babies are first learning to eat, I love making one of my pasta casseroles because I blend it up in the blender for the baby, and they always devour it. If you're looking for a recipe your whole family can enjoy and you can puree for the baby — this cheesy lasagna is the one. I usually puree enough to make 3-4 additional baby food meals.
My baby is about to turn 2 yrs old, so she's no longer on total pureed food, but I think this Cheesy Chicken Alfredo Bake will puree up beautifully, too. My only recommendation is to avoid putting the fresh mozzarella that's on top of the casserole into the blender. It is very stringy and does not puree well.
How do you make Cheesy Chicken Alfredo Bake?
The thing my family loves most about this chicken alfredo casserole is the fresh mozzarella I top it with. You can usually find it in the deli section at the grocery store The taste is just amazing. The brand I prefer is Bel Gioiosiso, and I like to buy the one that is presliced. You can actually find a 2 pack of it at Sam's Club for the same price you pay for just one package at Walmart or any other grocery store.
The other secret to this recipe is that I like to use canned chicken. I actually like to use canned chicken in most casseroles like this one. I find it's much more tender than chicken breasts I shred, so it mixes really well into the casserole and is not stringy or dried out.
I know I often hear people complain of the smell of canned chicken, but if you drain it and the rinse it really well in water, that smell goes completely away.
If you just can't stand the thought of canned chicken, leftover shredded rotisserie chicken is a nice alternative. It's my second favorite to use for casseroles.
One thing to watch out for — I like to bubble and brown the cheese on top just a bit, so I will set the broiler on high and cook it for an additional 2-3 minutes. You really have to set a timer and stand there so you can keep watch because you can go from a little bubbly and brown to burned casserole in no time if you don't take it out at the right time.
Red Italian Salad Dressing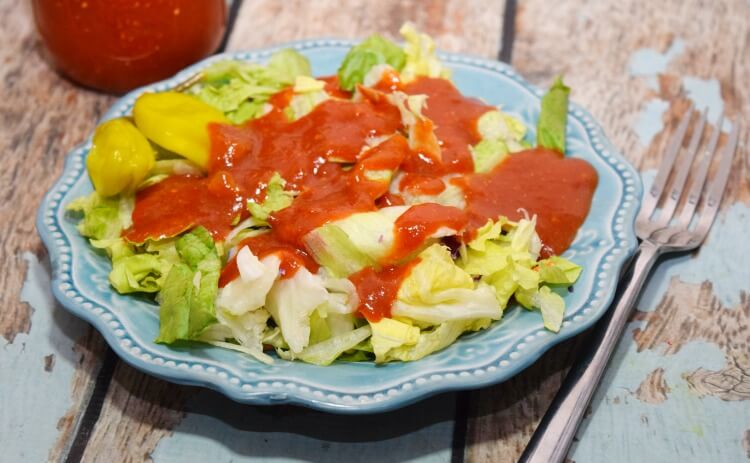 Need a delicious side dish to go with your Cheesy Chicken Alfredo Bake? This Red Italian House Salad Dressing takes just like your local mom and pop Italian restaurant's house dressing. I love that dressing and finally figured out the secret to what makes it so delicious.
More Quick and Easy Casserole Recipes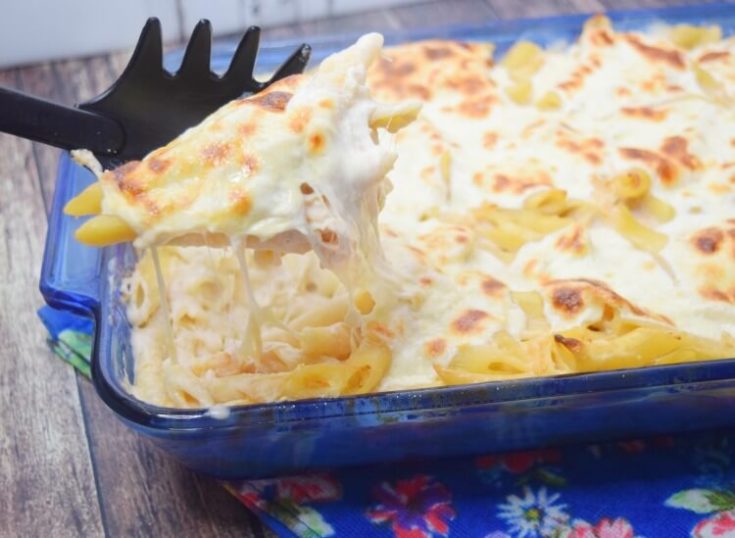 Yield:

13 x 9 pan
Cheesy Chicken Alfredo Bake
This Cheesy Chicken Alfredo Bake is so easy to make and so delicious, even the kids love it!
Ingredients
1 16 oz package penne pasta
2 12.5 oz cans chunk chicken, drained and rinsed and shredded
1 22 oz jar Alfredo sauce
1/2 cup ricotta cheese
1 tablespoon garlic
1 16 oz package of fresh sliced mozzarella cheese
water
Instructions
Preheat the oven to 350 F degrees.
Spray a 13 x 9 casserole dish with olive oil spray. Set aside.
Make the penne according to the package.
While the penne is cooking, drain and rinse the chicken and then shred it.
When the penne is ready, add the ricotta and garlic.
Add the chicken and Alfredo sauce and mix thoroughly.
Transfer the pasta to the casserole dish and spread evenly.
Place the slices of mozzarella cheese over the entire top of the casserole.
Bake for 35 minutes, until bubbly.
Turn the broiler on high and cook for an additional 2 1/2 to 3 minutes to brown the cheese just a tiny bit - watch carefully!
Let it sit for a few minutes before serving.
Notes
If you prefer not to use canned chicken, cook 2 chicken breasts how you like and shred them. I prefer canned chicken because it is extremely tender and mixes well in with the pasta.