This shop has been compensated by Collective Bias, Inc. and its advertiser. All opinions are mine alone.
We are living the high school football life right now. This means on Friday nights we either eat fast food, tailgate or "homegate." When it's 100 degrees in the shade (like right now) we usually homegate it, and I have to make a super quick dinner before the game. Grabbing some delicious hot wings at the Walmart deli makes it even easier for us to eat at home.
My daughter performs at all the Friday night high school games. They dance in the stands, and perform at halftime. We don't want to miss a single one, so it's easier to eat at home right before we go rather than try to eat out.
This past Friday I was at Walmart while they were giving out free samples of hot wings, and I thought, "why don't I grab that for dinner?" One of the best ideas I had! I was able to get the pick 3 bucket. You can choose 2 kinds of wings and a side. I ended up getting Boneless General Tso's wings plus potato wedges and mustard potato salad – all from the deli! Then, I grabbed Kraft's Creamy Italian and Ranch dressings for great dipping sauces.
The Walmart Deli provides Tyson wings in Bone-in Hot Wings and Boneless General Tso's flavors. Not only can you get them in a Pick 3 Bucket, but they are also available in a plated meal or by the pound.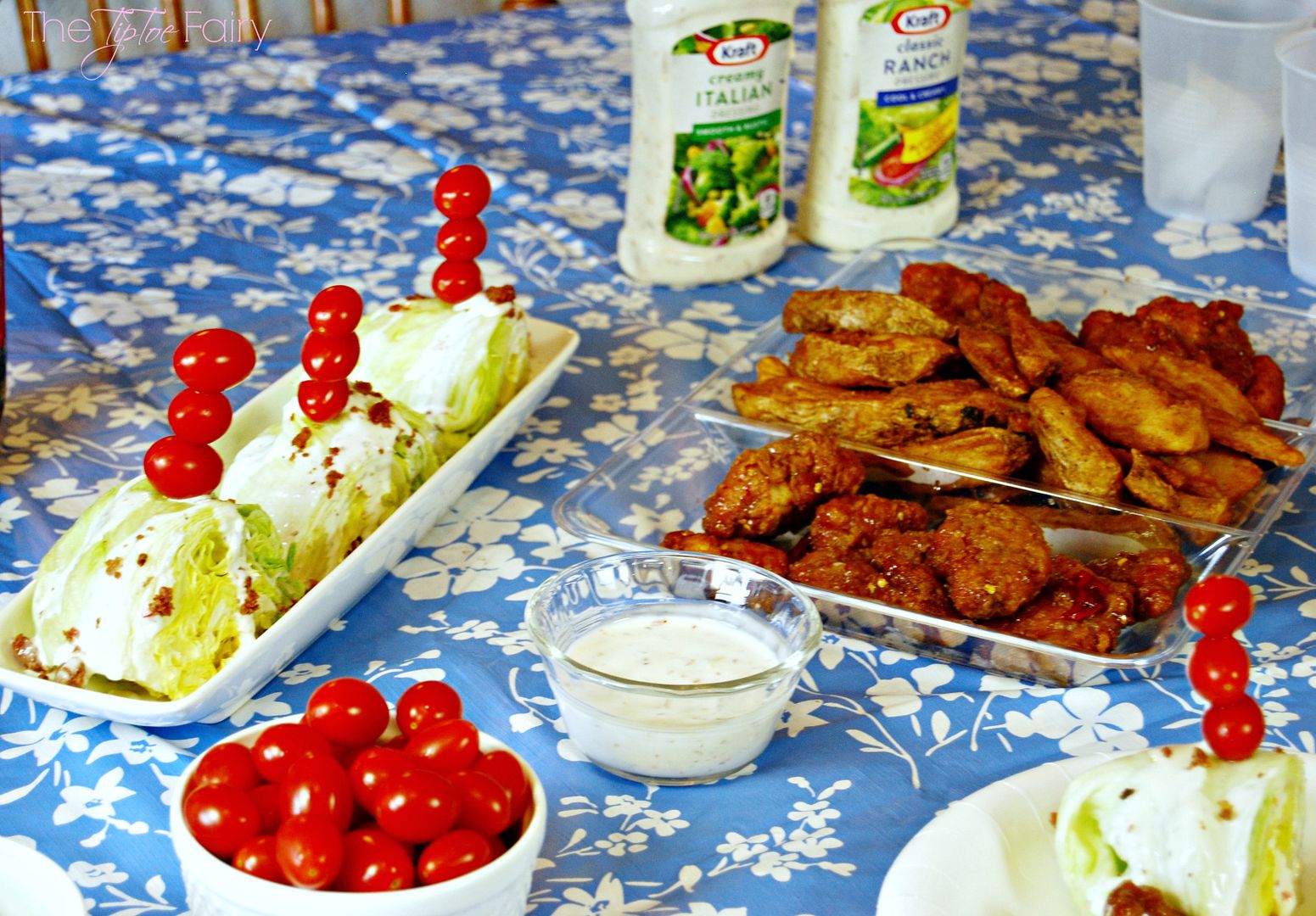 Nate and Mr. E were stoked when I brought it all home for dinner! They could not wait and started stealing wings before I could get everything on the table!
Since we were in a little bit of a rush (I want the good seats by the marching band!), I decided to make it buffet style so we could all grab some food and eat quickly. Dinner on the table in less than 10 minutes is my kind of dinner!
One of my favorite salads is a wedge salad. Whenever we go out to eat and there's a wedge salad on the menu, I always order it. Since I wanted to make a quick salad to go with our wings, I decided to make a mini version of a wedge salad.
It came out perfectly! I never really thought about how easy and quick they are to make. I'm definitely adding this to my salad recipes. Check out how easy it is to whip up:
Doesn't that look delicious? This would be perfect for a football party or get together. I can't wait to whip these up again for our next get together. I'm thinking I need to go make myself one right now! Here's the easy recipe:
Print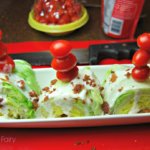 Homemade Wedge Salad
---
1

head of iceberg lettuce, freshly washed, core removed
grape tomatoes
Bacon bits
creamy italian
blue cheese crumbles (optional)
toothpicks
---
Wash the lettuce and remove any wilted outer pieces. Then, remove the core.
Cut the lettuce in half, then cut each half into thirds. (If your head of lettuce is small, just cut into half and half again – so fourths).
Wash the tomatoes and spear three on a toothpick. Then, insert the toothpick into the top of the salad wedge.
Next drizzle Kraft Creamy Italian dressing over each wedge.
Finally, top off with bacon bits and blue cheese crumbles (which I forgot 🙂 )
Serve and enjoy!
Recipe Card powered by
What's your favorite football party recipes? I need some ideas!!
#GameTimeHero #CollectiveBias