I just love the soft pillowy feel of freshly made marshmallows. There's nothing like it! These Homemade Peppermint Marshmallows will made a wonderful gift with some homemade hot cocoa mix.
Have you ever made marshmallows? Surprisingly, it's very easy to do as long as you have an electric mixer. You don't even need a stand mixer, a handheld mixer will work just fine.
It's kinda fun, and there is nothing like the satisfaction of cutting through soft fluffy marshmallows.
They come out looking so gourmet. It doesn't matter how many times I make them, I always think to myself, "I can't believe I made these!"
Seriously, you'll scoff at the gourmet marshmallows in the fancy organic grocery stores, thinking to yourself, "I can totally make that!" Then, once you make a batch, you'll want to package them up in little cellophane bags and give them as gifts to everyone you know.
This recipe is for homemade peppermint marshmallows, but you can add any extract and food coloring to make your own flavor.
Can you make marshmallows without eggs?
Yes you can! Before I ever made homemade marshmallows, I was a little skeptical because I thought egg whites were necessary. But, with a child with a severe egg allergy, we can't do eggs.
What do you need to make Peppermint Marshmallows?
You'll need a few things:
plain gelatin packets
water
white sugar
light corn syrup
red gel food coloring
peppermint extract
powdered sugar
How do you make Peppermint Marshmallows?
This recipe will make perfectly thick marshmallows in an 8 x 8 pan.
First, get the mixer ready to go.
It's important to spray the baking pan with oil spray. I like to use olive oil spray, and my marshmallows never get stuck in the pan.
First, dump the gelatin packets into a large bowl (or the mixer bowl on a stand mixer) and sprinkle them with water. Give them a quick stir just to make sure it's all evenly distributed. Let it sit while making the sugar mixture.
Next, add the sugar, corn syrup and water to a saucepan on medium heat. Keep stirring until the sugar is completely dissolved. Then, quit stirring completely.
Turn the fire up to medium high and let it reach a boil.
Once it's in a rolling boil, let it boil for 1 minute. Then turn off the heat and remove it.
Mix the peppermint extract into the sugar mixture. Watch out, it will bubble when you mix the extract in.
Run the electric mixer over the gelatin a couple times.
Then, slowly pour the sugar mixture into the gelatin mixture as the mixer is running on medium. Be careful as the sugar mixture is very hot.
When the sugar mixture is completely mixed into the gelatin, then turn the mixer on HIGH and mix for 10-12 minutes continuously, until the marshmallow mixture has doubled in size. It will also turn from clear to white.
Now you have to work fast! Quickly, pour the mixture into the 8 x 8 pan.
Add gel food coloring drops all over the marshmallows.
I found a toothpick was to small to mix quickly enough. So, I used a large wooden skewer to mix the food coloring into the marshmallow mixture. A knife will work well, too.
Then, leave the marshmallows alone. Let them sit out at room temperature for at least 3-4 hours, preferably overnight to firm up.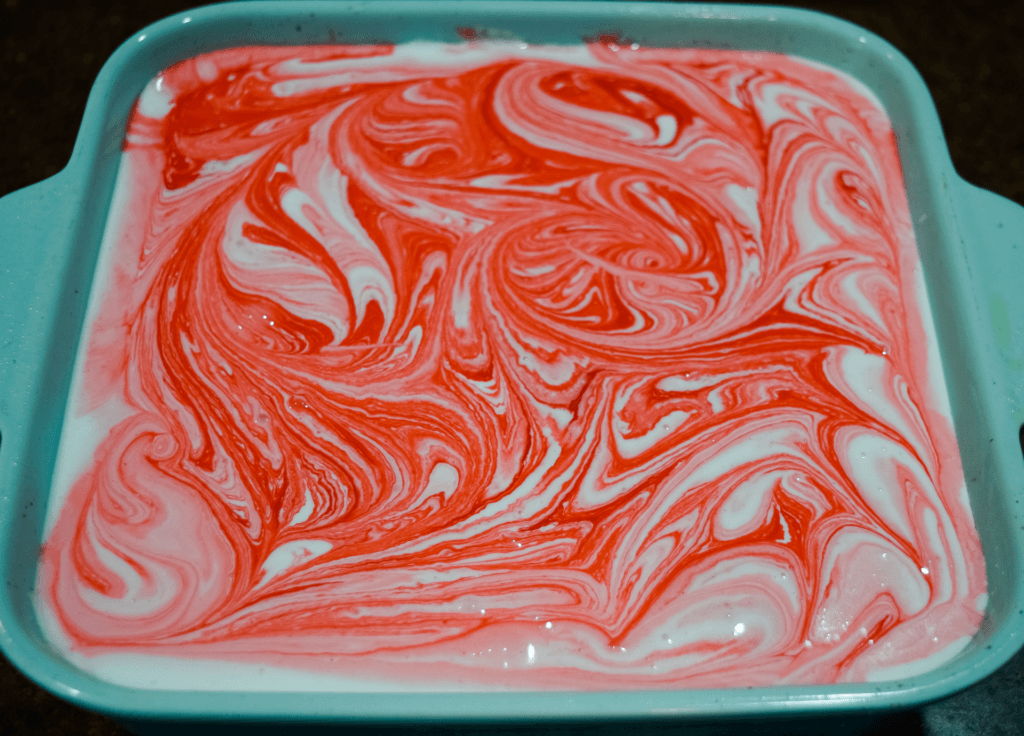 Lay out a piece of parchment paper or wax paper and dump about a cup or so of powdered sugar.
Flip out the marshmallows and dust with powdered sugar. Make sure to flip it over to get the powdered sugar all over the giant marshmallow.
I've found cutting the marshmallows with scissors is the best way to make the squares. But, make sure each time you cut, that you dip the freshly cut side into the powdered sugar to prevent sticking.
How do you store homemade marshmallows?
I keep mine in sealed ziplock bags. But, any sealed container will be fine.
You can also package them up in cellophane bags for gift giving.
Recipes for Marshmallows
Chocolate Peppermint S'mores
Homemade Peppermint Marshmallows
Inactive Time:
12 minutes
Ingredients
1 cup water
3 envelopes unflavored gelatin
2 cups white sugar
1⁄2 cup light corn syrup
1⁄2 teaspoon salt
1/2 teaspoon peppermint extract
1-2 cups powdered sugar (to coat marshmallows)
Instructions
Spray an 8 x 8 in square pan with olive oil spray.
Pour 1/2 cup water over gelatin in a large bowl. Give it a little stir.
Add sugar, corn syrup, and 1/2 cup water to a saucepan and cook it over medium high heat. Stir constantly until sugar is dissolved.
Stop stirring and let it come to a boil.
When it comes to a rolling boil, let it boil for 1 minute.
Remove the sugar mixture from the heat and stir in the extract. Set it aside for just a second.
Mix the gelatin for just a couple seconds with the electric mixer.
Slowly pour the sugar mixture into the gelatin mixture as you beat with the electric mixer on medium.
Once the entire sugar mixture is combined with the gelatin, turn the electric mixer up to high and beat for 10-12 minutes, until the mixture has doubled in size.
Now pour the mixture into the oil-sprayed pan very quickly.
Quickly, add the food coloring as drops and using a long skewer or knife or toothpick, swirl the color.
Let the marshmallow stand uncovered at room temperature until it is completely firm. At least 3 hours, but preferably overnight.
Then, flip it out onto a cutting board dusted with powdered sugar (or corn starch). Flip it over to get the powdered sugar all over the giant marshmallow.
Using scissors, cut the marshmallow into smaller squares.
Recommended Products
As an Amazon Associate and member of other affiliate programs, I earn from qualifying purchases.
Nutrition Information:
Yield:

16
Serving Size:

1
Amount Per Serving:
Calories:

185
Total Fat:

0g
Saturated Fat:

0g
Trans Fat:

0g
Unsaturated Fat:

0g
Cholesterol:

0mg
Sodium:

76mg
Carbohydrates:

47g
Fiber:

0g
Sugar:

47g
Protein:

1g
Any nutritional information on thetiptoefairy.com should only be used as a general guideline. This information is provided as a courtesy and there is no guarantee that the information will be completely accurate.