I was at the grocery store the other day and found these awesome little gems — Peppermint Swirl marshmallows. They were so cute and peppermint — my favorite flavor for anything, so I had to buy them.
I had grand plans to make some strange new rice crispy treats with them. But now that I'm writing this, I just got this amazing idea to add them to a mug of dark hot chocolate topped with whipped cream. Wouldn't a few peppermint marshmallows just make that divine? I think I'll be going back to the store to buy another package soon.
Over the weekend, we were all wanting something sweet, so I pulled out the peppermint marshmallows and the box of Cocoa Rice Crispies and went to town making some minty chocolate rice crispy treats. I decided to go a bit fancy with them by melting milk chocolate chips and adding peppermint extract, and then, topping them with crushed candy canes.
I could not find starlight peppermints to save my life this weekend for the crushed peppermints. After three stores, I gave up. Who the heck is buying up all the starlight peppermints? Thank goodness it's nearly Xmas, or I wouldn't have been able to find candy canes so easily.
As for the taste? They were divine! Do you like Girl Scout Thin Mint cookies? If you do, you will probably really like these. One bite and that's exactly what they reminded me of….those lovely thin mint cookies. Very yummy! I made these old school on the stove instead of the microwave. Here's how to make 'em:
Chocolate Peppermint Rice Crispy Treats
Ingredients
6 cups of Cocoa Crispy Rice Cereal
4 cups of mini Peppermint marshmallows
4 tbs butter
1 cup milk chocolate chips
1/2 tsp peppermint extract
10-12 candy canes, crushed
Directions
Grease a 13 x 9 pan. Measure 6 cups of cocoa rice crispies in a large bowl.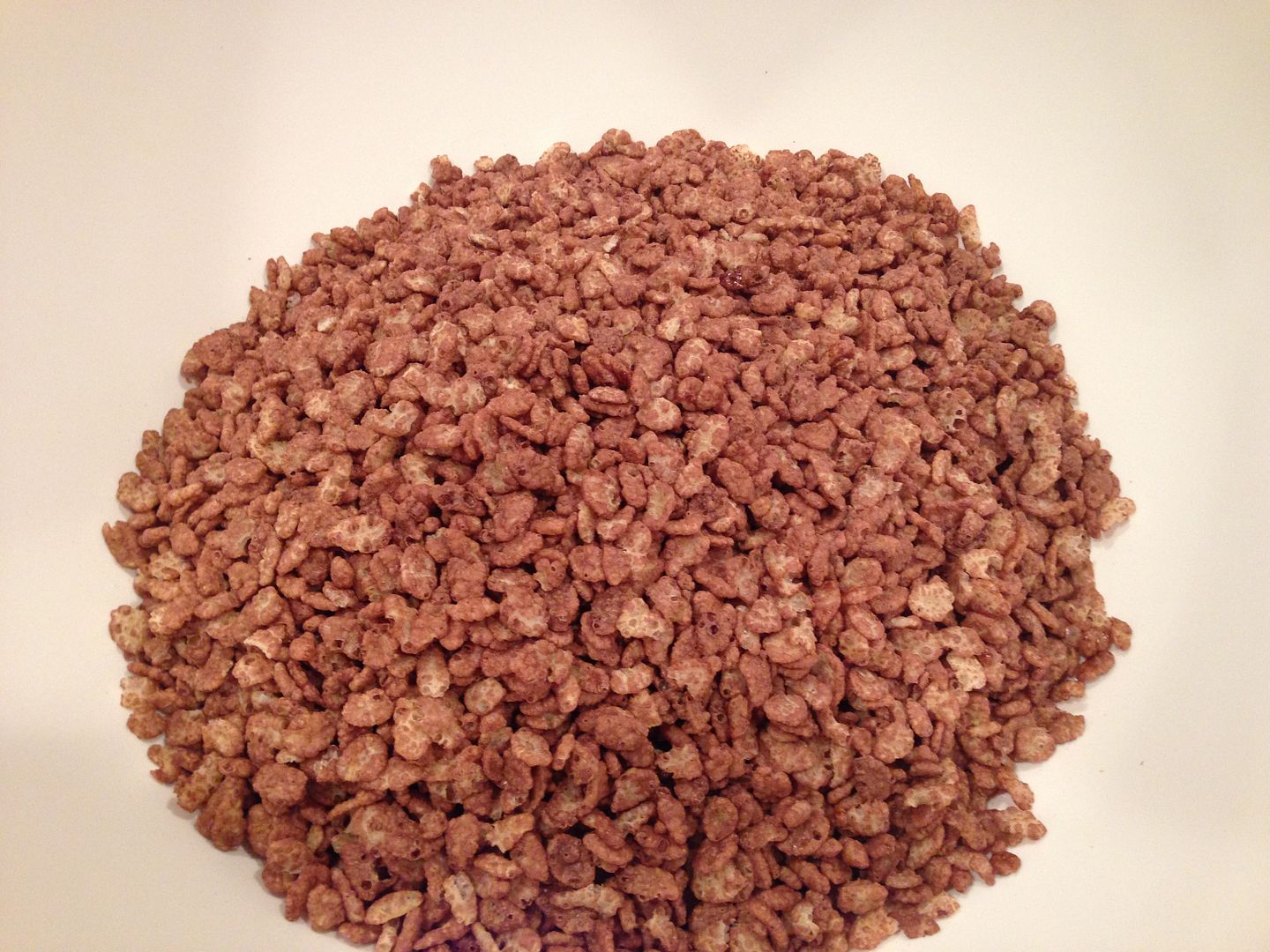 In a saucepan with medium heat, melt butter.
Add marshmallows and stir until completely melted.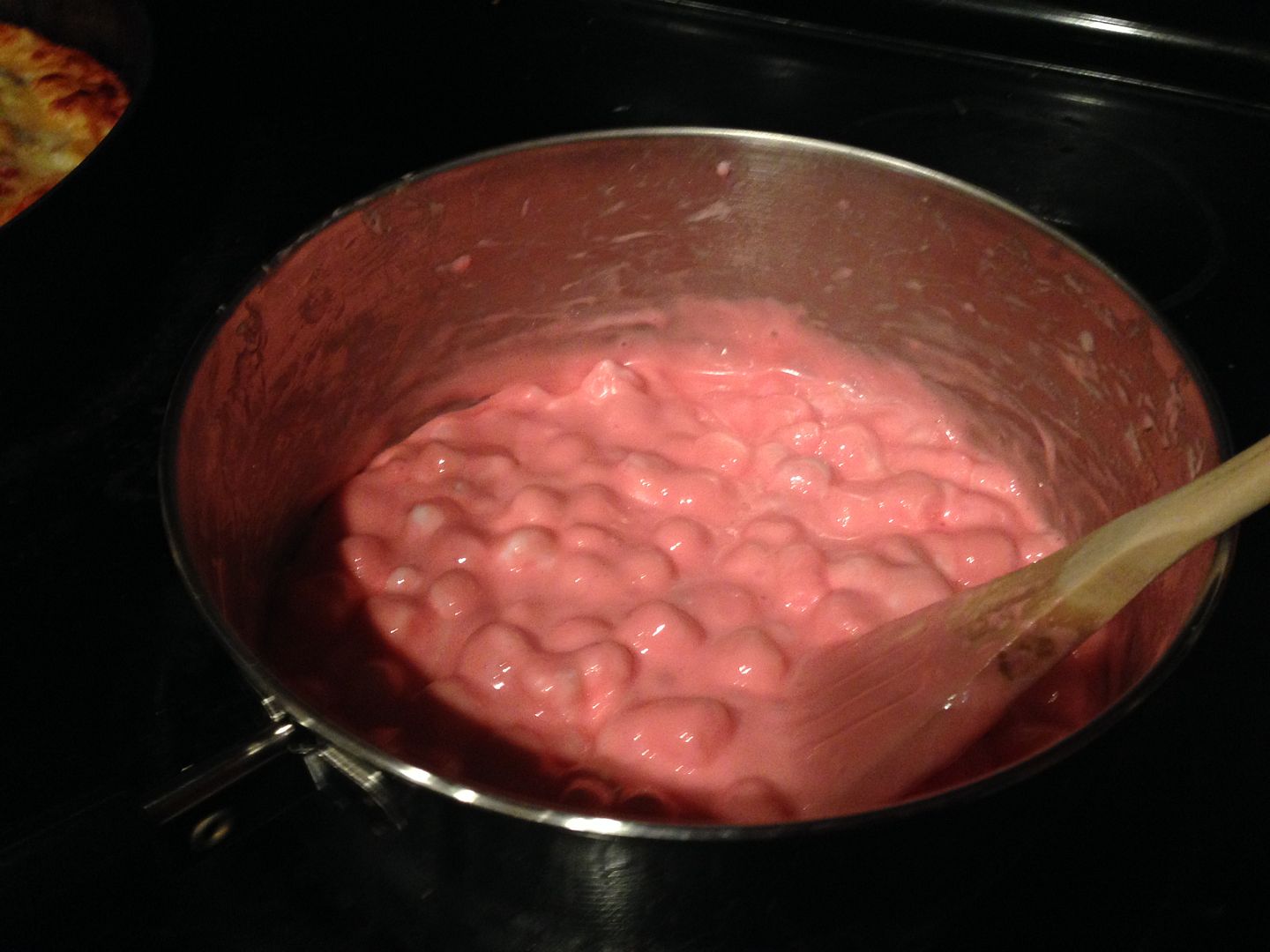 Pour the melted marshmallows into the cocoa crispies and stir until well coated.
Then, pour the coated rice crispies into the 13 x 9 pan. Take a piece of wax paper and lay it over the entire pan and press down firmly to easily spread the rice crispies throughout the pan. (No sticky hands or spoons!!) Let them cool for a couple hours.
While they are cooling, crush the candy canes. I used a ziplock bag and a hammer.
Melt 1 cup of chocolate chips on medium heat in a microwave safe bowl in the microwave. Make sure to stir every 30 seconds. (Mine were completely melted in 1 minute). Stir in peppermint extract.
Cut the rice crispy treats into 2 x 3 inch squares.
Dip the top of each treat into the melted chocolate, then into the crushed candy canes.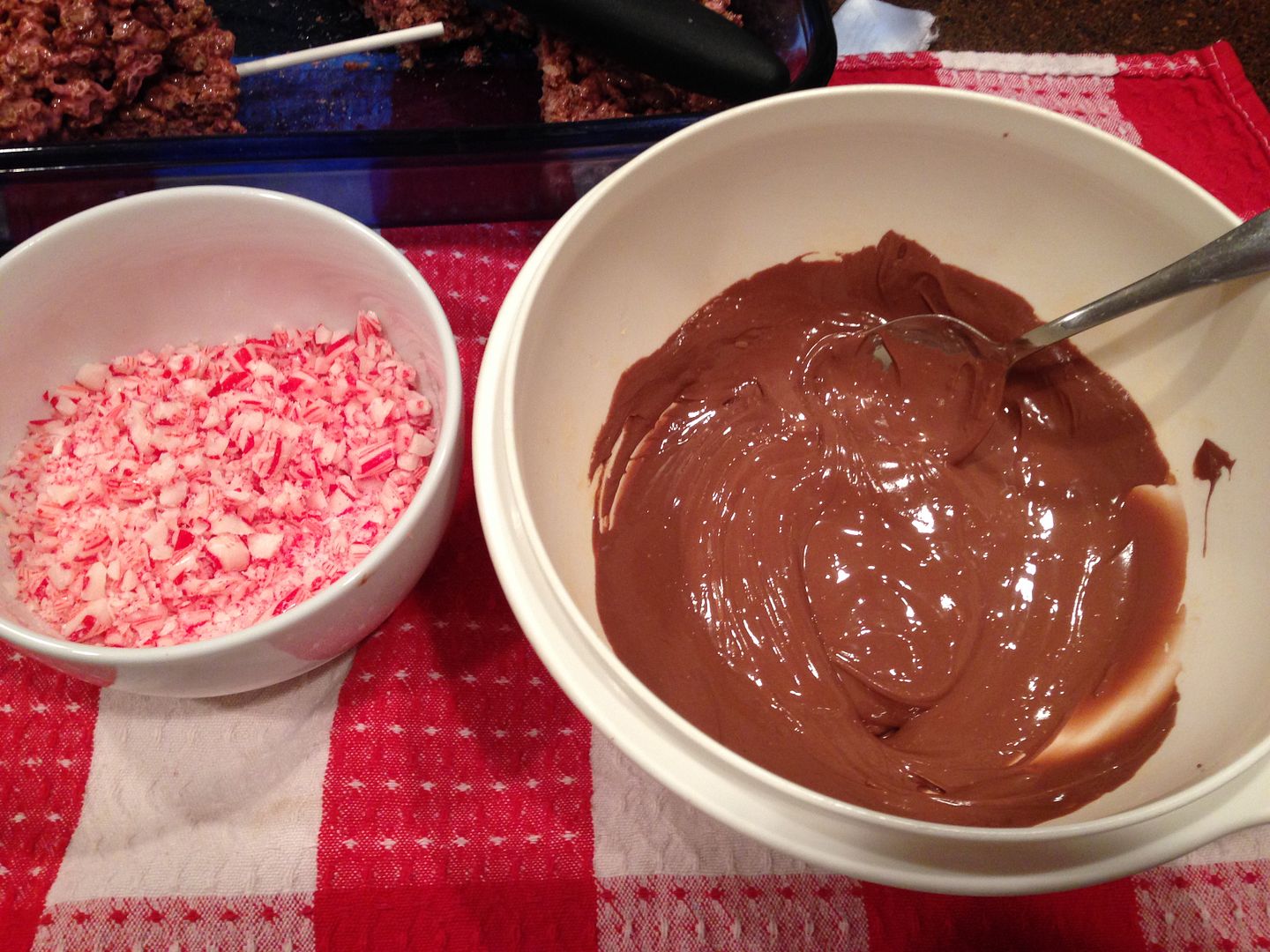 Allow to dry for a couple hours.
I hope you enjoy these as much as my family did. Did you know they have these Peppermint marshmallows in jumbo size? I going to hunt those down next. I'm on a mission. Coming soon — chocolate peppermint smores!!