Making a good chicken fried steak is an important hallmark if you're born and raised in Texas. There's nothing better than the perfect chicken fried steak. But, truth be told, I prefer to make steak fingers over chicken fried steak because they cook faster and on the table in just minutes.
There's a few different types of meats you can use. My favorite is either flank steak or cubed steak, which I tenderize. You can also use thin round steaks, and there's even a spicy Mexican version using milanesa. For the breading, there is milk, buttermilk, half and half, or even cream for dipping before dredging in flour. I find that sourness of buttermilk is my preferred method. But, when I don't have some on hand, I make it with regular milk and lemon juice.
I used to like to whisk in an egg or two with the buttermilk. But, my baby is allergic to eggs. Not only does she have a reaction to eating eggs herself, but she has a reaction when I nurse her and I've eaten any eggs. It's terrible. You never have craved an egg so much until you can't eat one. The last few times I've made steak fingers, I've done it without eggs in the milk, and it tasted just fine to me.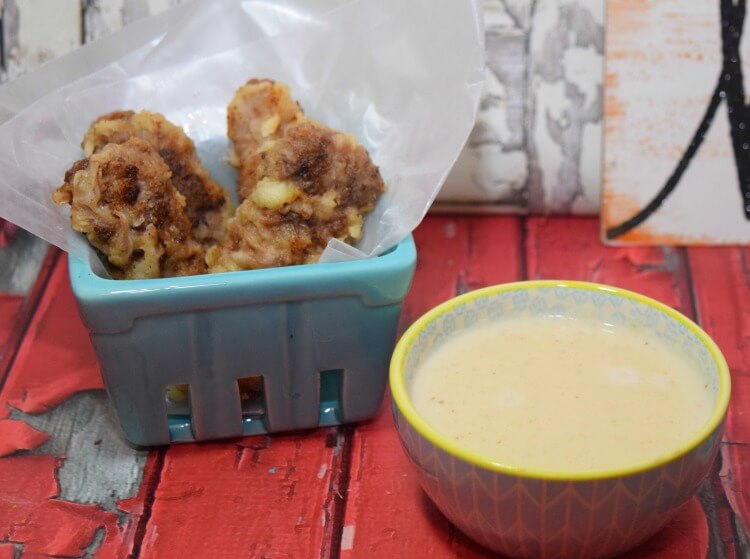 Some people double dip their steak fingers in the milk and flour for extra breading, but I find that unnecessary. I do like to give them a little soak in the milk before dredging in the flour. It seems to let the flour stick better for me.
I'm also a stickler for meat temperature, so I pull out my digital meat thermometer and do a quick check to make sure the internal temperature is above 165 F. Based on my experience, 2 minutes on each side is perfect to get to that temperature.
How do you make Cream Gravy for your Steak Fingers?
When you serve chicken fried steak or steak fingers, cream gravy is a must.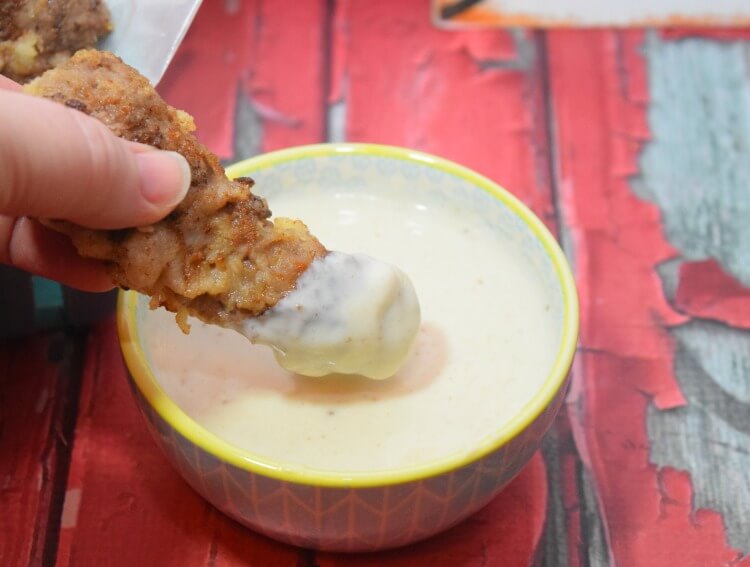 This cream gravy recipe is one Memaw taught me to make many years ago when she was still with us.
Every time I make it, I think about that time. She made it look so simple, and surprisingly, when I tried myself, it was. You just have to know the right steps.
I often hear women are afraid to make a homemade gravy because they're afraid of lumps. If you just consistently stir and don't stop until the gravy is ready, you won't have lumps.
Recipes to go with Steak Fingers
Ingredients
4-6 steaks such as cube steak, round steaks, or flank steak
1 1/2 cups flour
1 teaspoon of seasoning salt
1 1/2 cups buttermilk
Optional: 1 egg
Instructions
Take each cube steak and wrap it in plastic wrap and beat it with a tenderizing hammer until it's pretty flat.
Take a pair of scissors and cut the steaks into strips that are about 1 1/2 inches in width and however long the steaks are.
Take a skillet and fill it about an inch deep with vegetable oil and set the fire on medium high.
Next, pour the buttermilk into one bowl. If you don't have buttermilk, add two tablespoons of lemon juice and fill the measuring cup the rest of the way with milk up to 1 1/2 cups.
If you want to add an egg, beat it into the buttermilk until it's totally combined.
Add 3-4 steak fingers to the buttermilk and let them sit.
In another bowl, combine flour and seasoning salt.
Once the oil is hot, dredge the steak fingers in the flour mixture and drop into the oil carefully.
Add 3-4 more steak fingers into the buttermilk to sit for a minute or so before dredging in the flour.
Cook about 5-6 steak fingers at a time for about 1 1/2 to 2 minutes, until golden brown, and then flip them over for another 2 minutes or so.
Transfer the cooked steak fingers to a paper towel covered plate.
Then, start the process over again until you've cooked all the steak fingers.
Come Join Us!
Liked this article and want more? Follow along on Instagram, Facebook, Twitter, Pinterest, TikTok, and YouTube!
Come over and join us on Facebook in the group Recipes, Crafts, and more with TipToe Fairy or Sewing and Crafting with The TipToe Fairy!
Visit Our Other Blogs!