This is a sponsored post written by me on behalf of Tyson Foods and SheSpeaks. All opinions are entirely my own. WONDER WOMAN and all related characters and elements © & ™ DC Comics and Warner Bros. Entertainment Inc.

Have you seen the new Wonder Woman Movie? It opened on June 2nd, and my family cannot wait to see it, especially my girls. We got some temporary tattoos of Wonder Woman's cuffs, and both girls put them. They felt so powerful!

Do you know what helps me feel like a Wonder Woman? Making a great lunch for my kids! Both Tyson® Chicken Nuggets and Tyson® Crispy Chicken Strips from Sam's Club the perfect summer lunch for my kids, and I can find family size bags at Sam's Club for a great price. They're so easy to prepare and always a hit with my family.
As we get close to the end of school, I tend to forget that I'll be preparing lunch everyday in the summer time for my kids. Tyson Foods makes it so easy for me because my kids love their chicken. And, I love that I can stock up at Sam's Club.

When I serve any kind of chicken, I serve it with cream gravy because that is my family's favorite dipping sauce. When I was growing up, my mom would just make it from a mix . Many years ago as a new bride, my grandmother-in-law taught me how to make cream gravy from scratch on the stove with no lumps. Before I watched her make it, my attempts were always terrible, but she made it look so easy. I totally felt like a Wonder Woman when I made it to perfection the first time.
Here's how I like to make it:

In a frying pan add two tablespoons of cooking oil like canola or vegetable oil, or if you have leftover fat drippings that works really well, too. Then, turn the temperature to medium heat.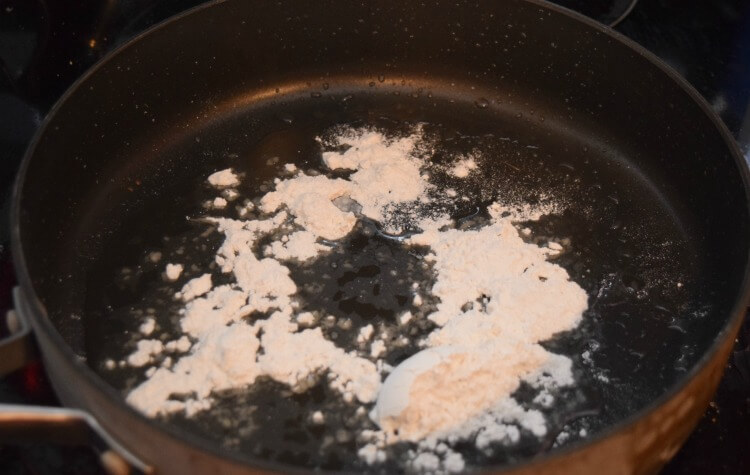 Next, add the flour in one tablespoon increments and stir it in.


Here is the consistency. See the picture on the left? That is too runny. You want to keep adding flour and mixing it into the oil until it looks like the picture on the right, almost like a dough consistency. This is the secret I learned to gravy.

Next, throw in the salt and pepper. Some people LOVE a ton of black pepper in their gravy, but it's always too spicy for my kids, so I only add 1/2 a teaspoon. Feel free to add more salt and pepper if needed.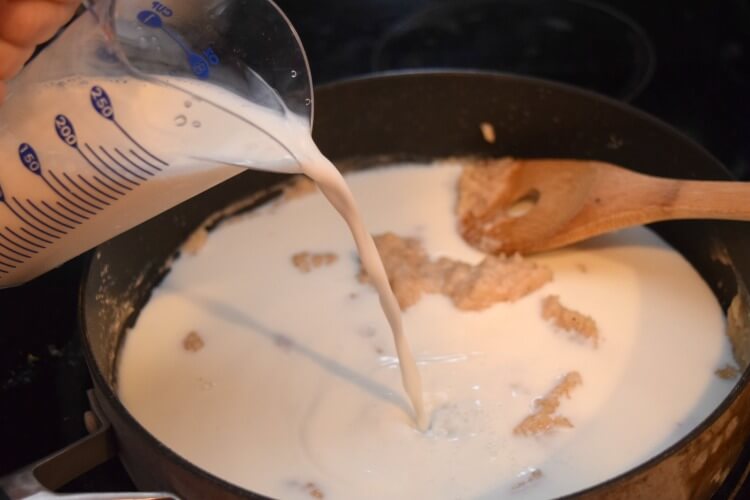 Now you'll add the milk 1 cup at a time and constantly stir. When you make this gravy, it only takes a few minutes, but you cannot leave the pan for a second. I find a wooden spoon does the best job as you constantly stir.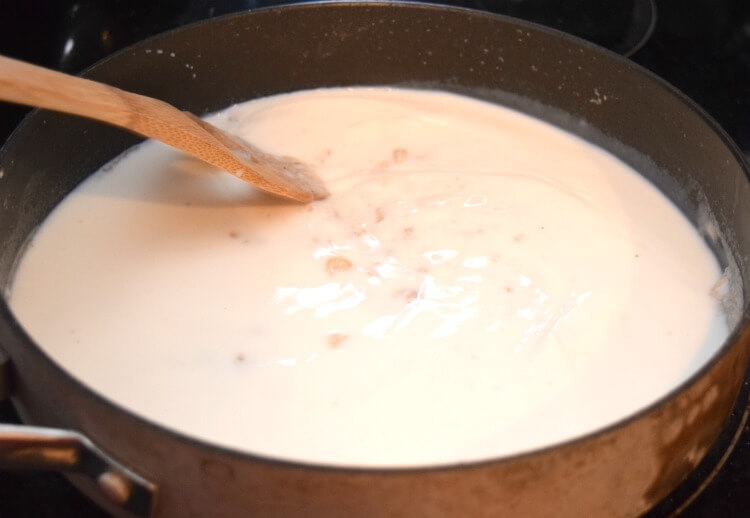 Stir it gently and continuously so the flour mixture can start to melt into the milk and become smooth and creamy as the milk heats up. If you don't stir, the milk can scald and the flour will turn lumpy.
As you stir, you'll gradually feel the gravy thicken. You'll notice when you scrap the pan as you're stirring, you'll see more and more of the bottom of the pan. When you can see a long streak of the bottom of the pan, it's usually thick enough.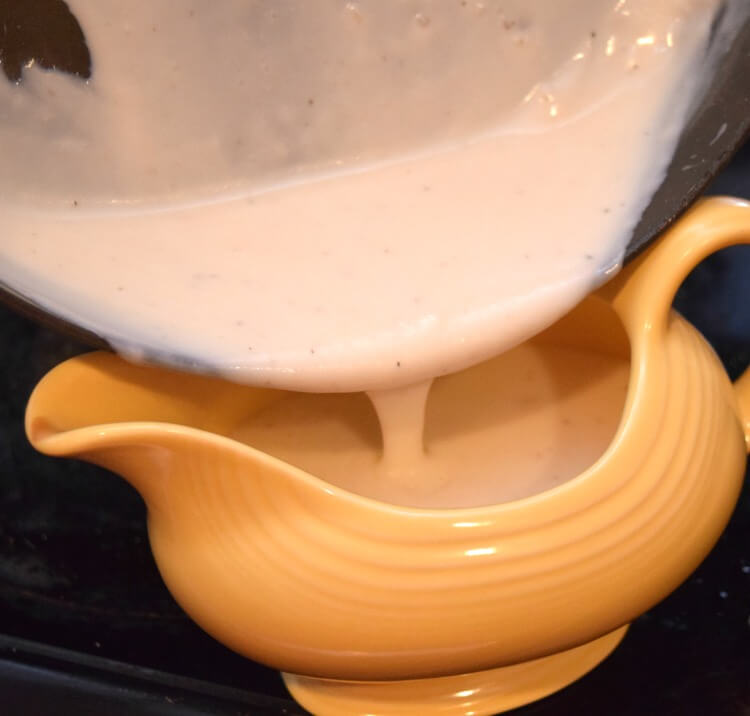 As soon as it begins to bubble and is thick enough, remove it from the heat and serve it as a delicious dip for your Tyson® Chicken Nuggets.
This recipe will make a little more than 2 cups of gravy. I give everyone a little ramekin of gravy to dip or pour over their food.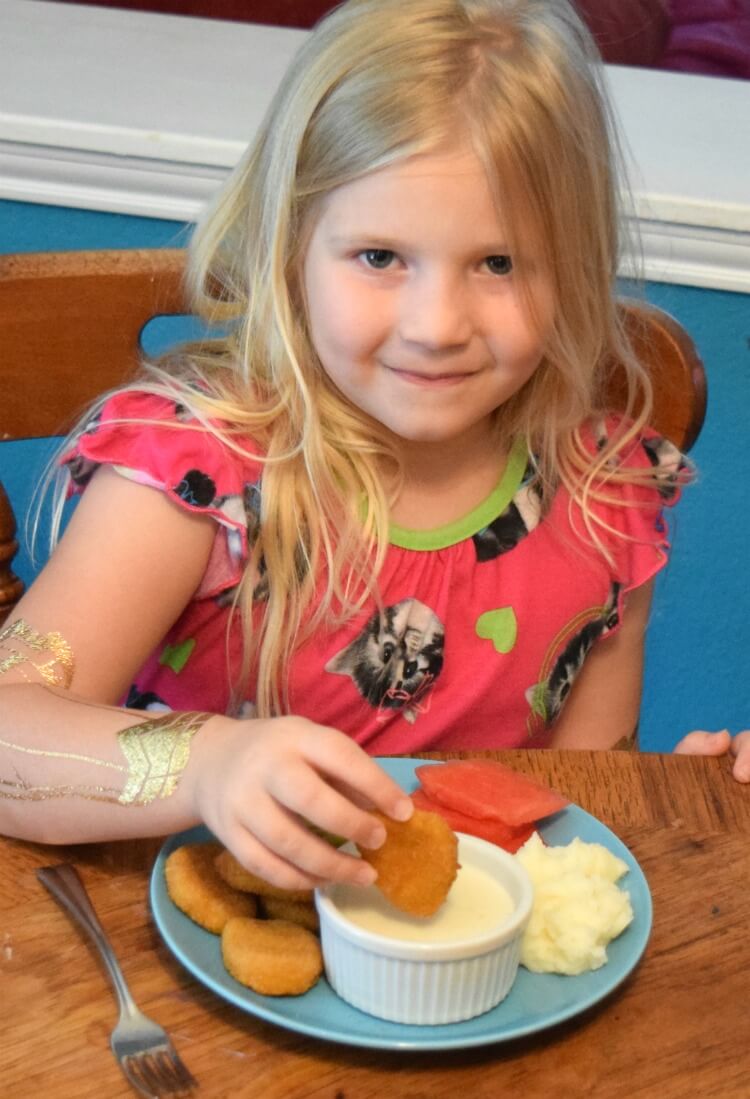 To finish off a great lunch, I make some quick mashed potatoes, some steamed veggies, as well as my kids' favorite fruit — watermelon. Yum!
Print
Tyson® Chicken Nuggets with Cream Gravy Dip
---
2 tablespoons

canola oil or fat drippings.

4 tablespoons

flour

2 cups

of milk

1 teaspoon

salt

1/2 teaspoon

black pepper
---
Add oil to a frying pan and heat up to medium heat.
Add the flour about 1 tablespoon at a time and mix up into the oil until it's a lumpy consistency that is no longer liquid, almost like a dough consistency.
Add the salt and pepper and mix up.
Pour in the milk 1 cup at a time and begin stirring constantly with a wooden spoon.
Stir continuously, making sure to scrape the sides every once in awhile until it has thickened, which happens after about five minutes or so.
You'll know it's thickened when you scrap against the pan and can see a trail of the bottom of the pan last 1-2 seconds.
Remove from heat and serve as a dipping sauce for chicken, steak fingers, mashed potatoes and more.
Keep leftovers refrigerated up to 4 days.
Recipe Card powered by
Next time you need an awesome lunch for the kids, pick them up some Tyson® Chicken Nuggets or Crispy Chicken Strips at Sam's Club and make this deliciously easy homemade cream gravy dipping sauce. They might think you're a Wonder Woman, too!
Excited to see the new Woman Woman Movie? Take this quiz to see what Wonder Woman power you have! Plus, get some great ideas for Tyson Foods! It said I shared her sense of WONDER!
Check out Tyson Foods on Twitter, Facebook, Instagram, Pinterest, and YouTube.