With a big family, it gets so expensive to eat out. So, we cook a lot at home. These Easy Baked BBQ Chicken Thighs are a simple meal I can easily make with a baby on my hip.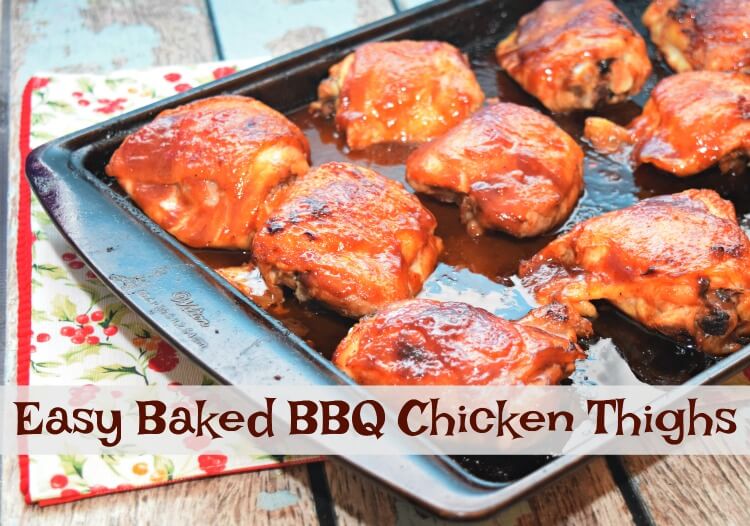 Recently, I showed him how to make this barbecue chicken. He and the kids just LOVE bbq chicken. This is so easy to whip together because it takes just three ingredients – chicken, bbq sauce, and apricot fruit spread.
Here's how I like to make it.
First make up the easy peasy bbq sauce. It's a bottle of your favorite bbq sauce mixed with a small jar of apricot fruit spread, jam, or preserves.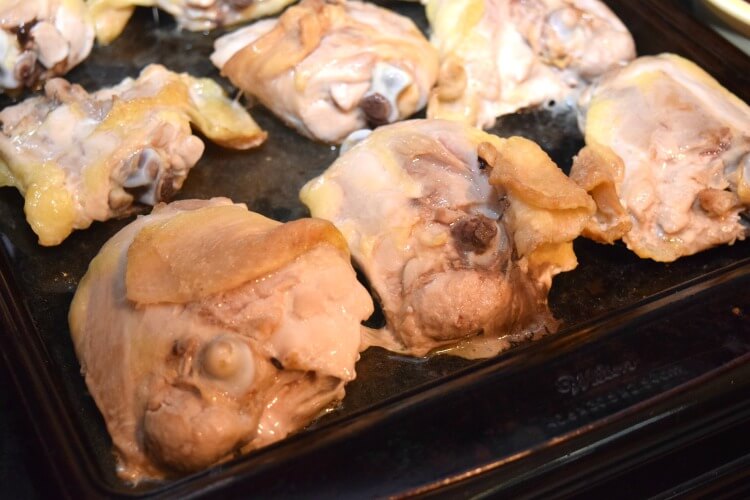 You'll bake the chicken for about 20-25 minutes. Skin side down and make sure to spray the pain beforehand with olive oil spray so the chicken doesn't stick.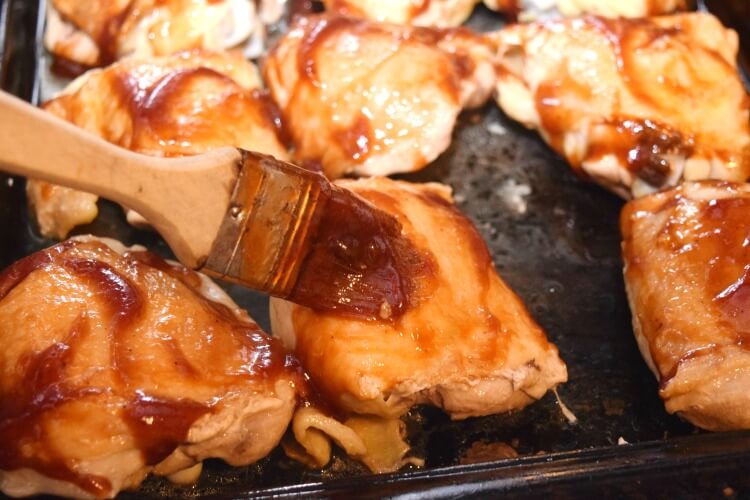 Once it's baked, we're going to baste both sides of the chicken and pop it back in the oven. You'll want to baste liberally for a good coating. Bake for just a few short minutes.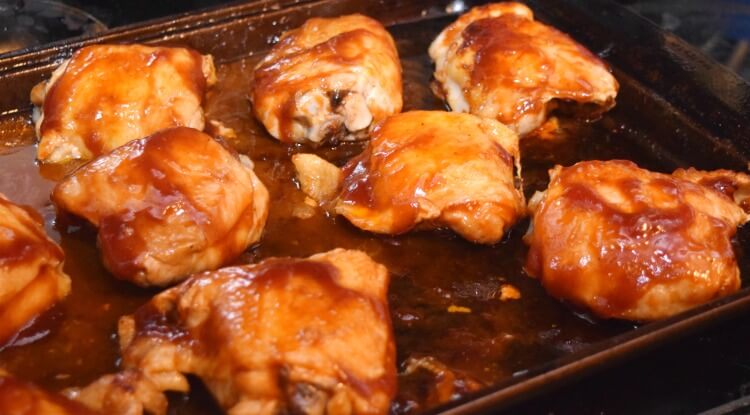 Take it out and baste both sides again, leaving the second side up this time. Bake for just a few minutes.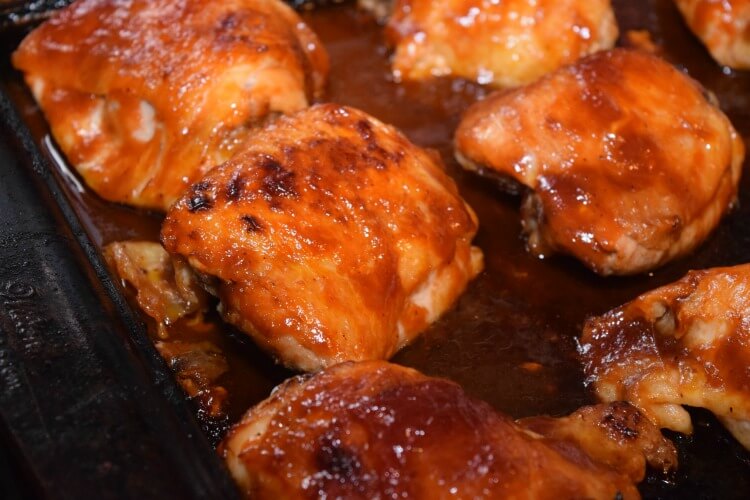 Now check to see if the sauce is sort of crystallizing on the chicken with some charring. If that's happening, check the internal temperature and if it's above 165 F degrees, you're good to go and can serve dinner. If not, baste again and bake for a few more minutes and keep checking for charring and the internal temp.
More Chicken Recipes
More Easy Dinner Ideas
Easy Baked BBQ Chicken Thighs
Ingredients
10 bone-in chicken thighs
1 jar of your favorite bbq sauce
1 jar Simply Fruit apricot fruit spread
Instructions
Preheat oven to 425 F degrees.
Combine bbq sauce and apricot spread in a microwavable bowl and heat for about 1 minute. Stir until well combined.
Spray cookie sheet with olive oil spray.
Place chicken thighs skin side down and bake for 20-25 minutes.
Remove the pan from the oven and baste both sides of the chicken with the bbq mixture.
Bake for 10 minutes.
Remove the pan from the oven.
Baste the first side again and flip the chicken over and baste the bottom side. Keep this side up.
Bake for another 10 minutes.
If the sauce is not starting to blacken a little, then it's getting done.
Check internal temperature of chicken. If it is 165 F degrees, it's done.
If not, flip the chicken over again and baste and bake for an additional 5-7 minutes.
I like to serve our oven baked bbq chicken with fresh mashed potatoes or corn on the cob and a few steamed veggies like broccoli, brussel sprouts, or green beans. It's a meal my family loves, and it's done in less than hour.