A few weeks ago I share my favorite Greek Steak Salad with you. Similarly, I've been making Garlic Butter Steak and Zucchini Bites lately to make less steak go around, and it's become one of our favorite family meals.
One thing I love about this meal is that it cooks fast, and it's great for meal prep for the week. You can easily divide the steak and zucchini up in containers, so all you need to do is reheat individual containers.
What kind of steak should you use for the steak bites?
I found sirloin works best. It comes out tender every time. Plus, it's easy to slice up before the cooking process.
Previously, I tried skirt steak and flank steak, and they both were such a chore to cut up. Strip steaks might be good, but they are priced pretty high right now. And, I feel like ribeye is too fatty for this recipe.
How do you make Garlic Butter Steak and Zucchini Bites?
We have a big family, so I get a large cookie sheet and cover it with foil. This way as the veggies and meat are done, I put them on the cookie sheet straight out of the skillet and pop it in the oven to keep warm.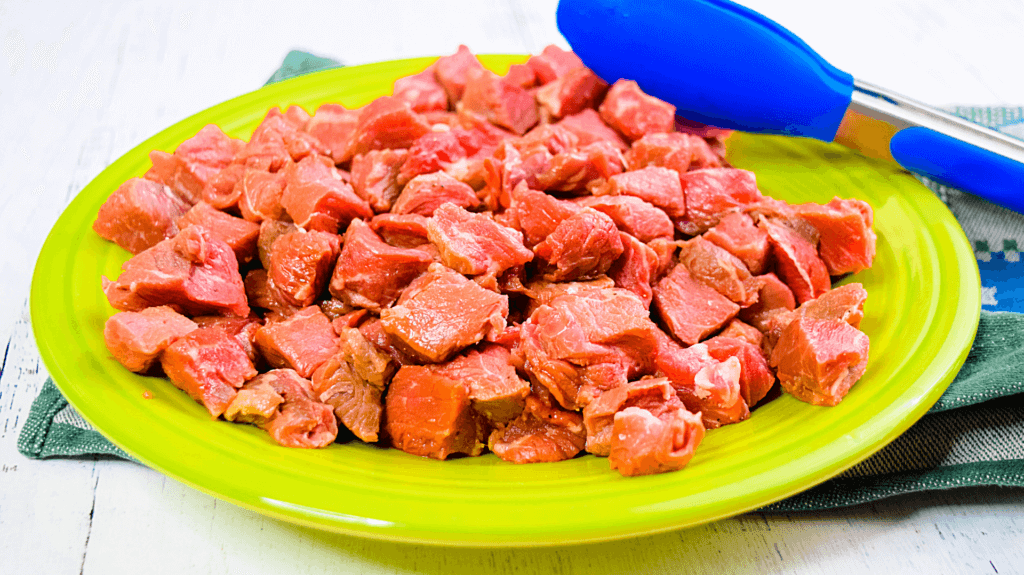 Start out by cutting up the steak into cube-sized pieces. I usually cut up 4 steaks for five people, including one teen and one tween.
I put the cut up steak into a bowl and add salt and pepper and a couple dashes of Worcestershire sauce.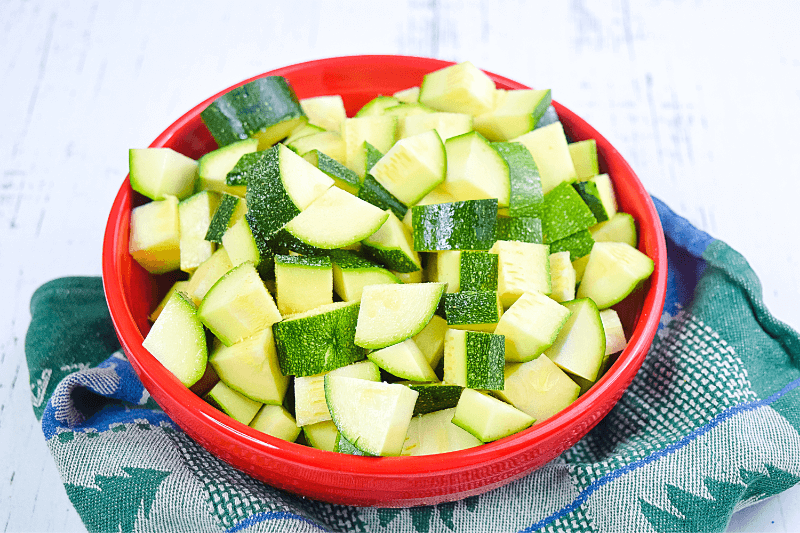 Then, I cut about 4 medium-sized zucchini into cube-sized pieces.
Since veggies take longer to cook than meat, I add some olive oil to a hot pan and sauté the zucchini on high. I use a large enough skillet that I can make just one layer of the veggies. Then, I let it sit untouched for about two minutes and then flip. I usually do this for about 8 minutes total, flipping four times. I like to wait until it's getting a little soft before I remove it.
Next, I use the same pan and add some more olive oil. Then, I cook the steak the same way. But, I typically only flip it once or twice. It's cooked in about 2-3 minutes, which is about half the time the zucchini is.
Watch the steak bites and as soon as all sides look seared, take it off the fire. I do this because as the steak rests, it continues cooking inside.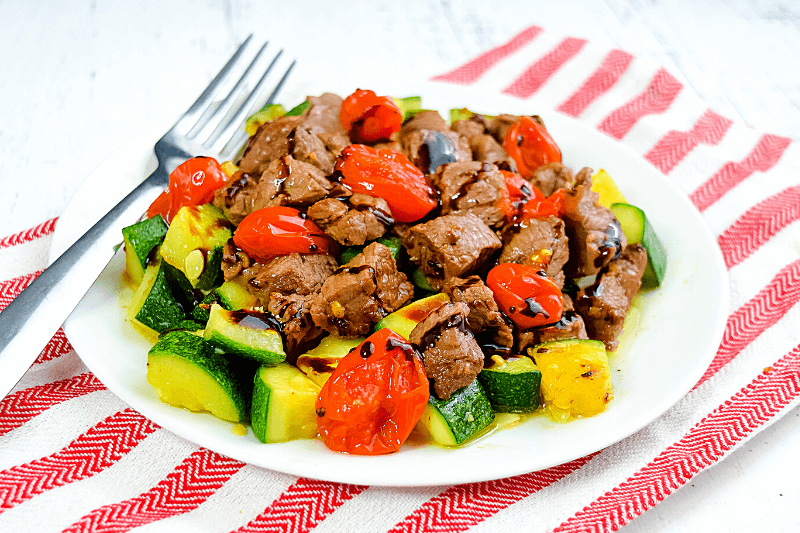 I love tender steak, and if it's get too well done, it's no longer going to be tender.
Then, it's time for garlic butter! I make one big batch of garlic butter in the same skillet and then drizzle it over the cookie sheet that has both the steak and zucchini. I give it a little toss, and then we are ready to eat!
I'm sure you can see the roasted grape tomatoes in the images. The rest of my family thinks I'm crazy, but I love those things on everything. So, I don't include the roasted tomatoes in the garlic butter drizzle. They are totally optional, so I just add them to my steak and zucchini bites at the dinner table.
Lastly, I add a balsamic glaze drizzled on top to add a little sweet and tart flavor. This is totally optional as the garlic butter is amazing.
More Easy Dinner Ideas
Yield:

4 servings
Garlic Butter Steak and Zucchini Bites
Ingredients
Sirloin Steak, 1 lb
4 Zucchini, cubed
2 tablespoons olive oil
1 stick of unsalted butter
1/4 teaspoon salt
1 tablespoon minced garlic