One of my favorites at Zoe's Kitchen's is steak kabobs. I get a Greek Salad as a side, and I turn my steak kabobs into a giant Greek Salad with Steak Bites. It's so good that I decided to start making a similar salad at home. This post contains affiliate links.
If you like an easy low carb meal, you're going to love this. I've been eating it at least once a week, and it's even better than Zoe's Kitchen.
What do you need to make a Greek Salad with Steak Bites?
These are the ingredients I put in my Greek Salad:
Sirloin Steak – cubed
Roasted Grape Tomatoes
Salad Mix (such as romaine or iceberg)
Feta Cheese
Balsamic Glaze
Greek Salad Dressing (copycat version of Zoe's Kitchen Salad Dressing)
Optional: Greek olives and slices of red onions and green bell pepper (I'm not a fan of any of these, so I leave them out.)
You don't need a big steak for this. You can actually make this salad for two with just a regular-sized sirloin steak. My husband loves this salad, too, so I usually cut up one sirloin steak and use it for both our salads.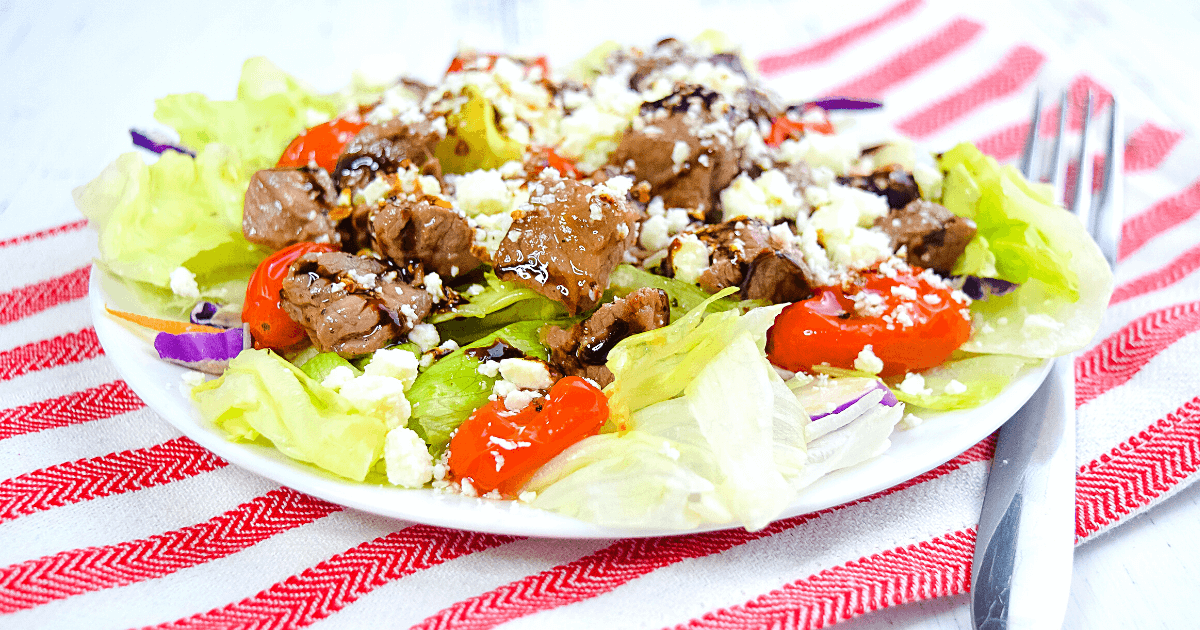 How do you make a Greek Salad with Steak Bites?
I start with sirloin steak and turn it into steak bites. I've tried using flank steak and skirt steak and even ribeye steaks. But, I have found sirloin is the best. It's the easiest to trim and cut into cubes.
I slice up a steak into cubes and season it with Worcestershire sauce, salt, and pepper. Then, I saute it with olive oil in a very hot pan for just about 4 minutes, so it's tender, juicy, and delicious. Steak cut into cubes cooks super fast!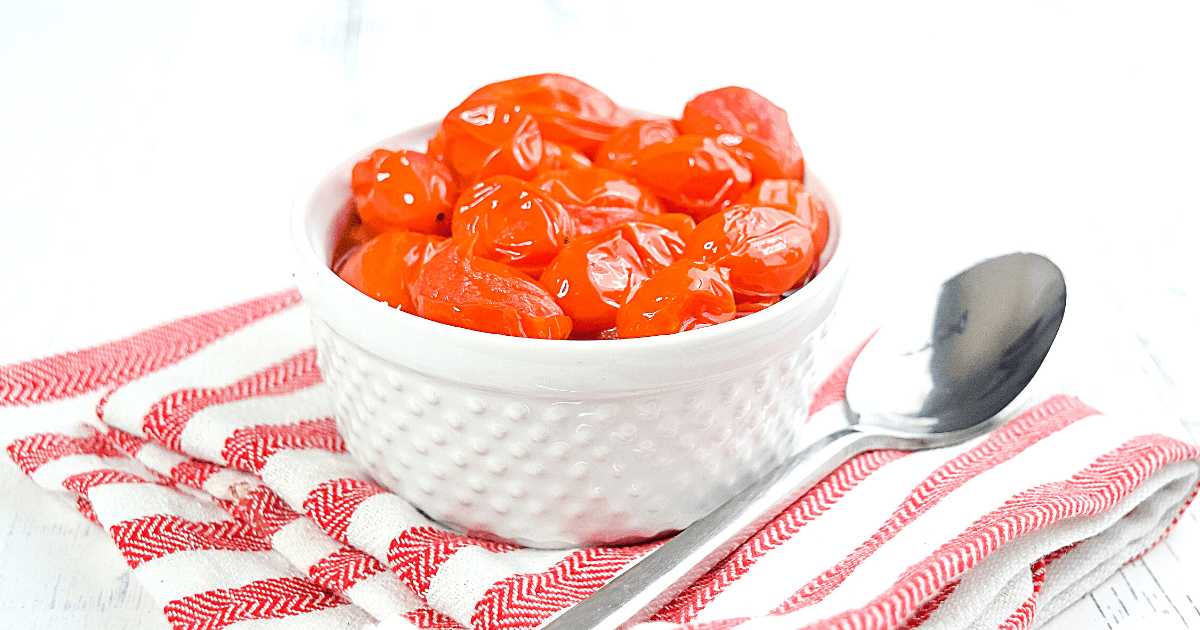 While all that is happening, if I don't have some roasted grape tomatoes already in the fridge (which I usually do), I will roast some right in the oven to top my salad.
Those roasted grape tomatoes are so good. They add some tanginess to each bite that I just love.
I layer salad, steak, roasted grape tomatoes, and feta cheese. If you want to add olives, onions, and bell pepper now is the time to do that.
Then, I add swirls of balsamic glaze and top it with the Zoe's Kitchen copycat dressing, which is basically a seasoned oil and red wine vinegar dressing.
Don't skip out on the balsamic glaze if you can. It reminds me of the mostarda sauce they use at Zoe's Kitchen in the steak kabobs. It's that yummy balsamic flavor with some sweetness. It really makes this salad amazing.
Yield:

2 servings
Greek Salad with Steak Bites (+Greek Dressing)
Ingredients
Garlic Butter Steak Bites
1 sirloin steak, cubed
a few shakes of salt
a few shakes of black pepper
a few shakes of Worcestershire sauce
1 tablespoon olive oil
Garlic Butter
2 tablespoons unsalted butter
1 teaspoon minced garlic
1/4 teaspoon salt
Greek Salad Dressing
1/2 teaspoon garlic powder
1 teaspoon dried oregano
1/2 teaspoon dried basil
1 teaspoon salt
1/2 teaspoon black pepper
3/4 cup canola oil
1/4 cup extra virgin olive oil
5 tablespoons red wine vinegar
Greek Salad with Steak Bites
lettuce or salad mix
5-6 oz garlic butter steak bites
10-12 roasted grape tomatoes
1-2 tablespoons of crumbled feta cheese
3-4 slices of red onion
3-4 slices of green bell pepper
5-6 Greek olives
2 teaspoons balsamic glaze
2 tablespoons Greek Salad Dressing
Instructions
Steak Bites
Cut the sirloin steak into 1-inch cubes.
Heat 1 tablespoon of olive oil in a skillet on medium high.
When it's hot, transfer the steak bites to the pan. Let them cook for about 2 minutes. Don't stir them around.
At 2 minutes, flip them over and let them cook for another minute or so before removing from the pan. They might be a little pink in some spots, but mostly cooked. They will continue cooking internally after removing from the pan.
When the garlic butter is ready, pour over the steak bites and toss them.
Garlic Butter
After cooking the steak, don't clean out the skillet.
Turn the fire to medium low.
Add two tablespoons of butter and 1/4 teaspoon salt.
Stir gently until melted.
Add the minced garlic and mix up for just a minute.
Remove from heat and pour over the steak bites.
Greek Salad Dressing
Combine all the spices in a small bowl. Use the back of a spoon to crush them together and mix.
Transfer to a mason jar and add the oil.
Seal with a pour spout lid and shake vigorously before pouring over salad.

Greek Salad
Lay out the lettuce or salad mix on a plate.
Add the roasted tomatoes.
Add the steak bites.
Add onions, bell peppers, and olives, if desired.
Top with feta cheese, balsamic glaze, and salad dressing.



Nutrition Information:
Yield:

2
Serving Size:

1
Amount Per Serving:
Calories:

78
Total Fat:

9g
Saturated Fat:

1g
Trans Fat:

0g
Unsaturated Fat:

8g
Cholesterol:

0mg
Sodium:

85mg
Carbohydrates:

0g
Fiber:

0g
Sugar:

0g
Protein:

0g
Any nutritional information on thetiptoefairy.com should only be used as a general guideline. This information is provided as a courtesy and there is no guarantee that the information will be completely accurate.