We've been on a homemade pizza kick for a week now. I can't wait to share with you how to Make Your Own Stuffed Crust Pizza! I have this amazing fresh pizza dough you can freeze recipe that I make all the time. My family swears our homemade pizza is better than ordering!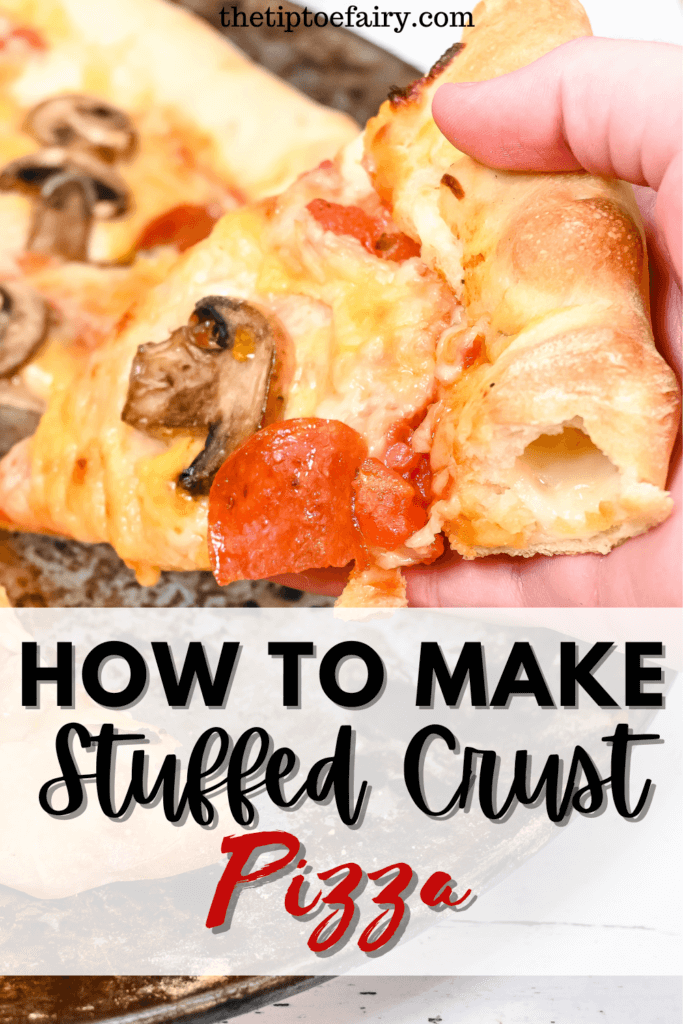 Want Secrets to Make the BEST Pizza?
If you haven't been successful at making a basic delicious homemade pizza, head over to my post about Making the BEST Pizza. I've got tons of tips and tricks to making it easy and delicious! You'll be so proud when your family gobbles it up! Your family will love this pizza more than delivery!
Then, use those tips on your stuffed crust pizza, too!
What do you need to Make Your Own Stuffed Crust Pizza?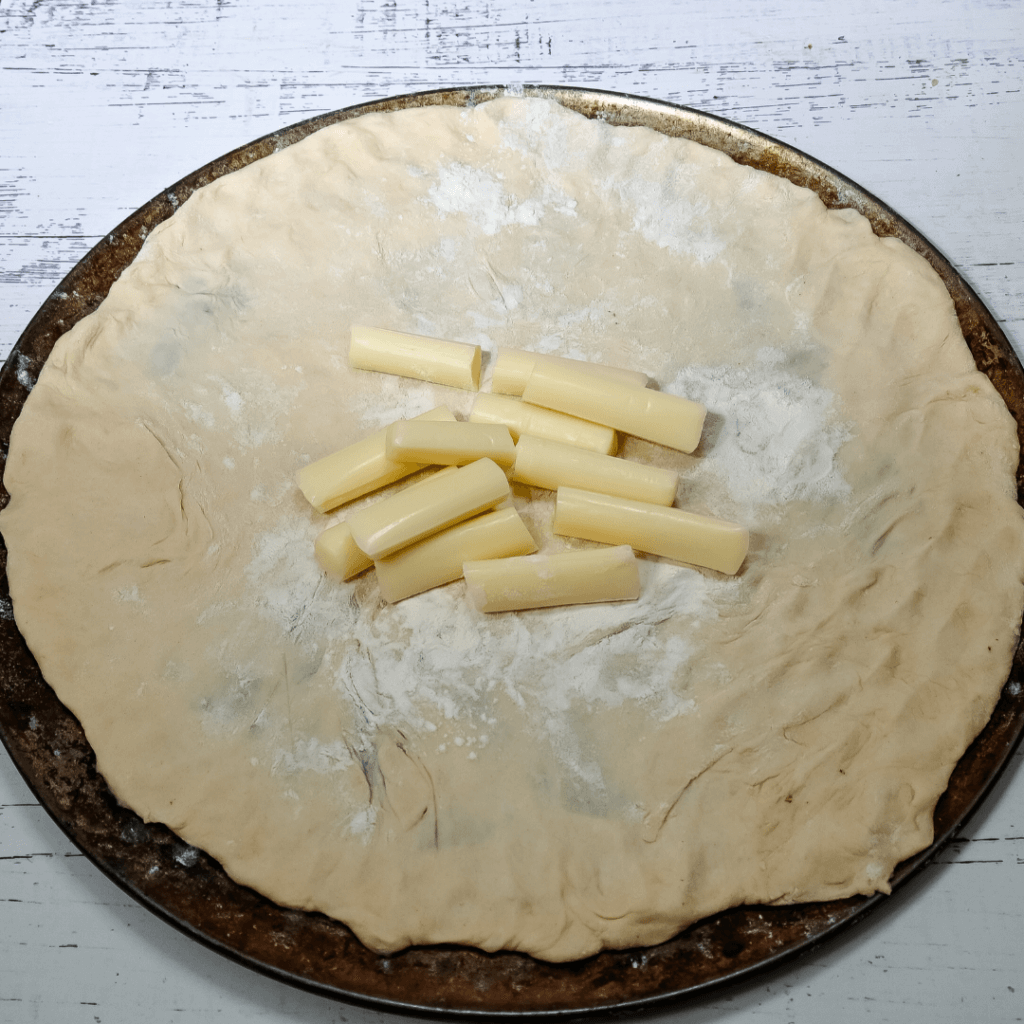 What are the Secrets to Make Your Own Stuffed Crust Pizza?
I was super nervous the first time I decided to experiment with this, but it came out amazing. Now I make a couple stuffed crust pizzas every time we have homemade pizza night, and those are the pizzas everyone reaches for first.
That's it! Can you believe it's that easy?
How do you Make Your Own Stuffed Crust Pizza?
Unwrap the string cheese and cut each string cheese in half.
You'll need about 6-8 or so full string cheeses (12-16 pieces cut in half) to go around the pizza crust.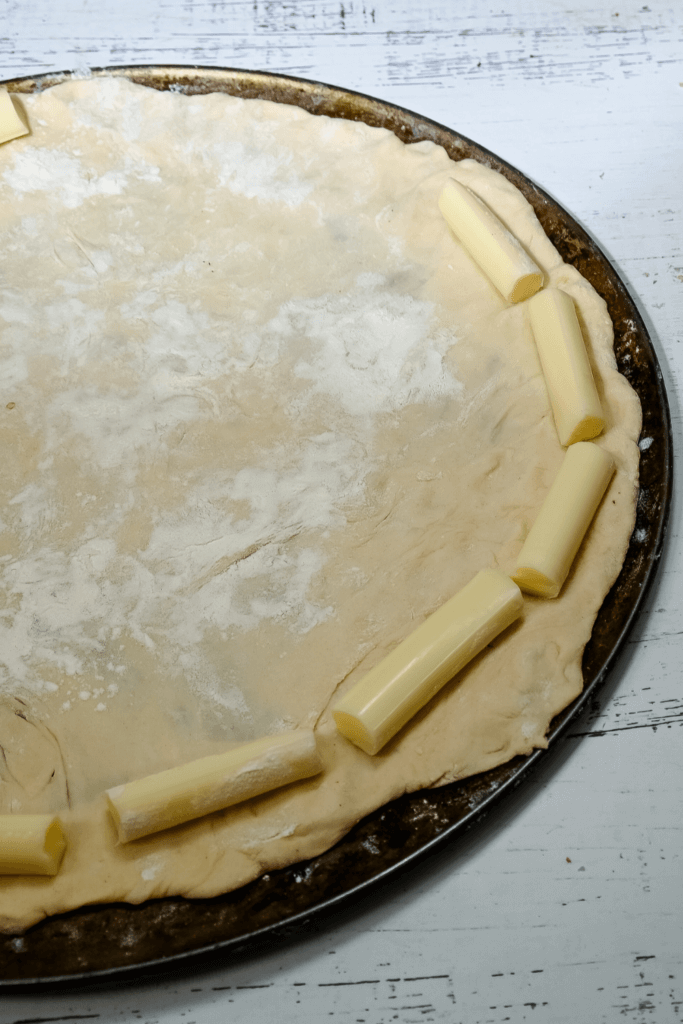 Lay the string cheese around the edge of the pizza.
Roll the dough edges inward to completely cover the string cheese. As you do this, tuck the dough under the string cheese so it won't ooze out while baking. Now, sometimes it still melts out a little and oozes, but it's still delicious!
Then, just make the pizza like you usual.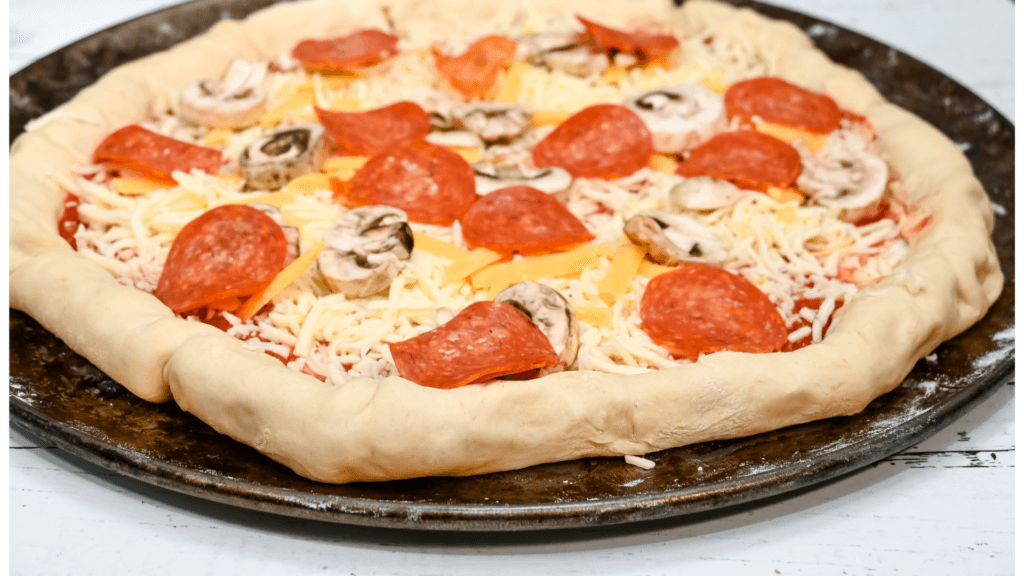 What temperature should you cook a stuffed crust pizza?
I found 450 F degrees makes the best tasting stuffed crust pizza. It gives the dough a crispy outside with a soft chewy inside.
I got these pizza pans that say they're safe to 450 degrees, so I don't like to go higher than that. I love these pans because they do an excellent job at cooking the underneath of the pizza.
How do you make basic pizza sauce?
After a lot of experimenting, I found a basic sauce made with crushed tomatoes, olive oil, oregano, and minced garlic was the perfect base for my pizzas. Just mix these ingredients together for the perfect sauce.
What kind of cheese do you use for actual pizza?
I believe this is the biggest secret to great-tasting pizza. I use a combination of low moisture mozzarella, whole milk mozzarella, and a bit of sharp cheddar.
This cheese was the game changer –> Sargento® Shredded Whole Milk Mozzarella Natural Cheese. It melts beautifully and tastes amazing. I always make sure I have this cheese when I make pizza. Here in the Dallas area, I regularly find it at Kroger.
I start with shredded low moisture mozzarella, then top that with the shredded whole milk mozzarella, and lastly, I add shredded sharp cheddar very sparingly. The sharp cheddar gives the pizza a bite that tastes so good.
Kids can make pizza, too!
This is the perfect activity to keep kids busy. My 12 year old helps make the stuffed crust part of the pizza, and my 5 year old is the one who does the toppings. My kids love making their own pizzas.
In my experience, if they make their own pizza, they usually will eat without any complaint. If you have a picky eater, this is definitely a way to get them to eat.
Recipes to go along with Pizza Night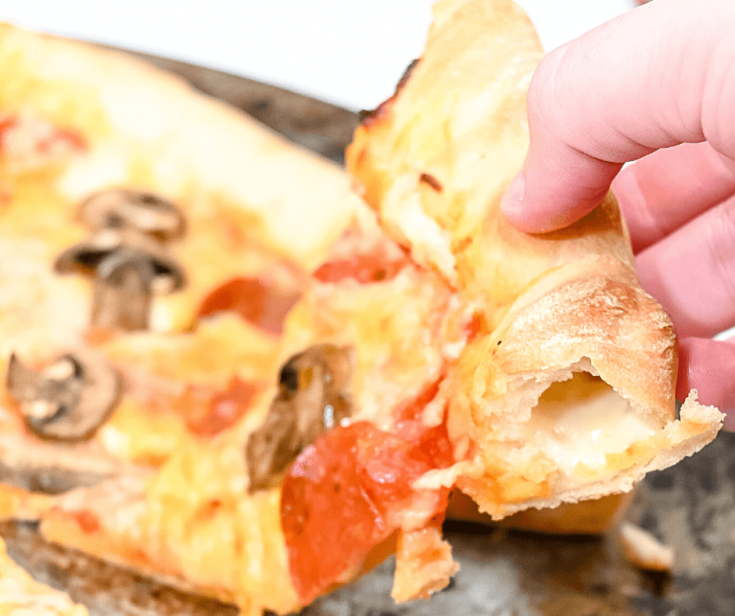 Yield:

3 pizzas
Stuffed Crust Pizza
Additional Time:
45 minutes
Total Time:
1 hour
13 minutes
Ingredients
15 oz can of crushed tomatoes
1 tablespoon minced garlic
1 tablespoon olive oil
1/2 tsp dried oregano
1/4 teaspoon salt
24 oz low moisture mozzarella cheese, shredded
24 oz whole milk mozzarella cheese, shredded
1 cup sharp cheddar cheese, shredded
your favorite toppings - pepperoni, sausage, onions, mushrooms, etc.
Instructions
Pizza Dough
Make the pizza dough and divide into three pieces.
Preheat oven to 450 F degrees.
Rub the pizza pans with olive oil.
Take each piece of dough and gently roll out onto the pizza pans.
Pizza Sauce
Mix together the crushed tomatoes, olive oil, garlic, oregano, and salt.
Make the Pizzas - for each pizza:
Unwrap the string cheese and cut in half.
Lay string cheese around the edge of the pizza.
Roll edges inward the completely cover and string cheese, tucking dough under the string cheese.
Spoon out 2-4 tablespoons of sauce and spread out over the pizza, leaving 1 inch around the edge.
Sprinkle 1 cup of the low moisture mozzarella all over the pizza.
Sprinkle 1 cup of the whole milk mozzarella all over the pizza.
Sprinkle 1/4 cup of the sharp cheddar all over the pizza.
Add any meats or veggies to the pizza.
Bake for 10-13 minutes, until cheese is bubbly.
Remove from oven and cut into slices.
Serve immediately.
Nutrition Information:
Yield:

12
Serving Size:

2 slices
Amount Per Serving:
Calories:

514
Total Fat:

34g
Saturated Fat:

18g
Trans Fat:

0g
Unsaturated Fat:

13g
Cholesterol:

105mg
Sodium:

1064mg
Carbohydrates:

21g
Fiber:

1g
Sugar:

4g
Protein:

31g
Any nutritional information on thetiptoefairy.com should only be used as a general guideline. This information is provided as a courtesy and there is no guarantee that the information will be completely accurate.
Come Join Us!
Liked this article and want more? Follow along on Instagram, Facebook, Twitter, Pinterest, TikTok, and YouTube!
Come over and join us on Facebook in the group Recipes, Crafts, and more with TipToe Fairy or Sewing and Crafting with The TipToe Fairy!
Visit Our Other Blogs!